Featured in:
More Home Tutor Resumes
Use these Home Tutor samples as a guideline or visit our extensive library of customizable resume templates.
Additional Teaching Resume Samples
How to Format a Home Tutor Resume
How you format your home tutor resume depends on what you wish to highlight. Are you a freelance tutor interested in marketing your skills and education specializations? Are you a professional tutor with a formal agency that wants to highlight the gradual growth of clients and responsibilities?
If the first, use a functional resume. This unique format, also known as the skills-based resume, helps you showcase considerable technical skills across various sections. If the second, use the more commonly seen chronological or combination resume.
Chronological
Home Tutor — Tutoring Agency
8

years in workforce

3

years at this job

AS

Education
Work History
Home Tutor, Redwood High School
August 2019 - now, Selma CA
Assists high school students prepare for college admissions tests such as preliminary SAT, ACT, and Advanced Placement (AP) tests in calculus, statistics, chemistry and physics.
Tutored an average of nine AP students a week for the academic year.
Tutored an additional five high school students for college admissions exams each year. The duration of tutoring varied from two months to two years, depending on the needs and requirements of each student and family.
Functional
Home Tutor — Independent
2

years in workforce

2

years at this job

HS

Diploma
Professional Skills
Basic Tutoring
Partnered with students and families to develop a targeted tutoring program based on a class syllabus.
Provided step-by-step support as students learned mathematical formulas or finished English and social study assignments.
Reviewed essays and written assignments. Provided editorial feedback to help students tighten their concluding arguments.
Advanced Placement
Assisted with college admissions exam preparation for the SAT and ACT.
Assisted students in STEAM-related Advanced Placement courses. Specialized in calculus, statistics, chemistry, physics, biology and environmental science.
Provided additional editorial feedback to help students develop strong writing and reading comprehension skills.
Home Tutor Resume Samples
No results found
0-5

years of experience
Provided creative and proper study aides and techniques to assist student with future assessments
Assisted student on their assignments for basic understanding
Reviewed mistaken questions to prepare for preventable errors
0-5

years of experience
Create lesson plans for students
Helped students improve in English and math
Created invoices
Contacted parents in order to arrange the tutoring session and to inform them of the students progress
6-10

years of experience
Worked with students, individually and in groups, as well as in varying grades, in multiple academic areas
Focused primarily on English grammar and writing
Aligned instruction with current curriculum used by Montgomery County Public Schools in Maryland
Researched and developed many resources while tutoring, including worksheets, lesson plans, and both formative and summative assessments to gauge students' learning.
Integrated technology in instruction, through using resources such as Khan Academy and Google Drive
0-5

years of experience
Create lessons for grades 4-12 students in reading, writing, social studies, math and science.
Assist students preparing for regents, SAT and state exams.
Administer assessment tests for individual students with learning disabilities.
Develop academic strategies to improve student self-sufficiency.
Load More
Teaching Cover Letter Examples
Create your own professional resume in just minutes.
Try our resume builder today
Build Your Resume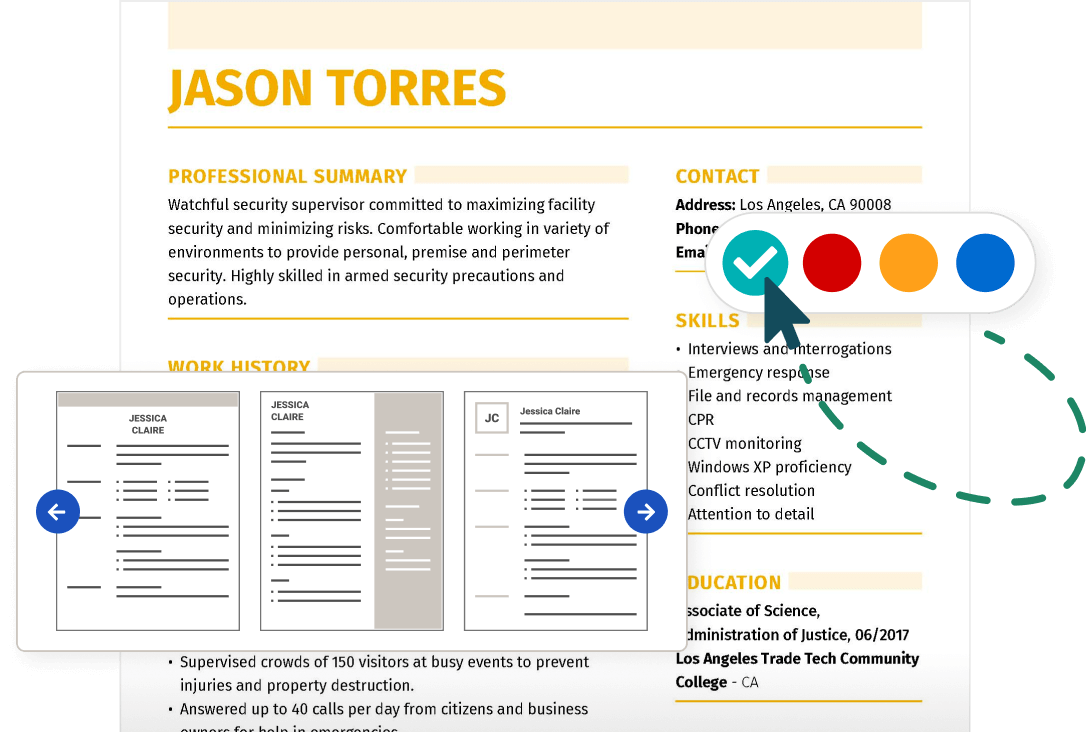 Home Tutor Resume FAQ
How do you become a home tutor?
Whether you want to be an entry-level tutor via campus or high school programs or a specialized private tutor, you can follow these simple "how to become a home tutor" steps to get started:
Graduate with a High School Diploma or GED.
Complete tutoring training, if required by the state board of education or for private tutoring.
Optional: Earn a state-approved tutoring certification.
Optional: Join a tutoring association to network and gain employment opportunities.
What is a home tutor job?
A home tutor, or private tutor, partners with students and families to help students develop and improve skills related to specific subjects. You may specialize in general education, STEAM, literature, social sciences or any combination of classwork. Additional tutoring skills that you can develop include the following:
Prepare lessons based on students' syllabuses.
Review and correct homework.
Prepare students for class tests.
Identify key subjects in need of improvement.
Review student progress.
Revise tutoring lesson plans based on student progress.
What skills are gained from tutoring?
Private tutoring can help you develop or hone an array of skills. These transferable skills are valuable if you wish to continue as a tutor, pursue an educational career, or develop interpersonal skills outside academia:
Organization
Written communication
Verbal communication
Patience and empathy
Attention to detail
Problem-solving
Time management
Scheduling