Featured in:
More Marketing Manager Resumes
Use these Marketing Manager samples as a guideline or visit our extensive library of customizable resume templates.
Additional Marketing Resume Samples
How to Format a Marketing Manager Resume
You may wear multiple professional hats as a marketing manager. Your resume can take one of two approaches to demonstrate your capabilities –– promotion-focused or skills-focused. Use a hybrid or chronological format like Candidate A to show gradual career progression.
However, use a functional resume if you're eager to detail crucial skills such as marketing, team management or data analysis. This skills-based resume uses multiple sections (summary of qualifications, professional skills and detailed skills lists) to highlight your technical, learned and social knowledge. You can see how Candidate B uses this format to downplay their recent job hopping and short work history in favor of their professional knowledge.
Chronological Resume
15

years in workforce

3

years at this job

BS

Business Management
Work Experience
Marketing Manager, Tea365
May 2020 - now, Minneapolis, MN
Identified flaws in existing marketing analytics and crafted new, accurate methods to collect and analyze site and sales performance data.
Created and distributed weekly marketing performance reports to interested internal parties.
Used Google Analytics to gather and track home and landing page performance.
Oversaw a creative team of three writers and five designers.
Functional Resume
4

years in workforce

1

years in current job

BA

English
Professional Skills
Marketing
Created and distributed weekly marketing performance reports to interested internal parties.
Used Google Analytics to gather and track home and landing page performance.
Developed new data analysis techniques.
Recorded a 20% marketing performance increase.
Team Management
Created individual KPIs to nurture the portfolios growth and facilitated the training of on-site teams.
Oversaw the assignment and creation of on-site promotions, marketing emails and new landing pages.
Managed a creative team of three writers and five designers.
Marketing Manager Resume Samples
No results found
0-5

years of experience

Oversaw marketing budget and optimized advertising sources (Savings: $300,000+ in 2012).
Improved web presence through SEO, A/B Testig, successfully increasing overall website traffic by ~15%
Utilized Google Analytics to gather and track website metrics
Drove initiatives such as marketing performance reports, developed new scoring techniques, reporting a 20% marketing performance increase to management in 6 months
Conceptualized and identified KPIs to nurture portfolio's growth and facilitated training of on-site teams
0-5

years of experience

Spearheaded affiliate shopping portal management for [company name] and Bill Me Later brands. Directly responsible for $8MM in annual commission revenue.
Effectively oversaw all promotions for both sites, including creative and offer selection.
Supervised offer strategy for all consumer marketing initiatives involving third-party merchant offers.
Delivered near-instant feedback on marketing initiatives in role as research panel administrator for the consumer marketing team.
Increased [company name] affiliate revenue by 350% in two years. Consistently achieved revenue goal every year, bringing in more revenue than the rest of the department combined.
Led the highest performing campaign in 2014 with a 25% open rate and average of $500k in daily sales, effectively resolving [company name] Credit program's loss in merchants and diminishing affiliate revenue. Drove engagement to affiliate offers by increasing email contact strategy, implementing a Flash Sale campaign monthly to close gap,
Enhanced alignment with brand strategy by leading the redesign of the [company name] shopping portal.
Directed a project to overhaul search experience with third-party vendor, TheFind.
Facilitated Bill Me Later's new name and positioning by managing quantitative and qualitative research for brand campaign.
Generated more stickiness for daily unique visitors by instituting a Deal of the Day program: the number one most clicked ad running on the site with a click rate of 5%.
Boosted conversion by 18% by developing new content strategy.
0-5

years of experience

Responsible for P & L reporting on assigned Latin American territories. Corporate Liaison for Subsidiary company in South America and remote warehouse in Uruguay.
Managed product regulations according to country electrical specifications
Trade show coordinator for International events
Responsible for inventory levels in remote warehouse
Designed and implemented product assortment plans for country specific accounts
Monitored and analyzed sales trends on new product launches
Increased Latin American sales by over 50% and achieved year end goal
0-5

years of experience

[company name] is a device protection service that integrates a mobile app, web portal, proactive communications, and remote device management and optimization into one service. It was acquired by Asurion for $100M in Oct. 2013.
Managed social media strategy across channels. Wrote creative copy for tech audience.
Created content for [company name].com pages based on qualitative and quantitative feedback.
Oversaw media outreach for product launch campaigns -- placed in TechCrunch and Pando Daily.
Created A/B testing campaigns. Analyzed data to improve messaging and increase user return rate.
0-5

years of experience

Provided consultation and training to retail managers and their sales teams on Internet advertising and related technologies.
Assisted with sales presentations, writing proposals and contracts. Conducted seminars to local business leaders on the benefits of online and new media marketing and advertising.
Developed and implemented customer service training concepts and policies.
Worked closely with online development team to research and design new online products and customer-driven contests.
Designed sales and marketing collateral, and user documentation for print and online sales teams.
Managed email sends and newsletters increasing brand awareness and client email database.
0-5

years of experience

With P&L responsibility developed and implemented strategic marketing plan for print catalog and website.
Presented to senior and executive management monthly sales projections, post mortem analysis, branding initiatives and product launches.
Managed all aspects of the advertising, marketing, promotional activities for the online business including banner advertisements, email promotions and search engine via Google Ads and Yahoo.
Developed and measured results of email blasts to in-house file to boost online sales.
0-5

years of experience

Wrote and edited promotional marketing communications such as articles, client letters, annual reports, practice group summaries, client advisory reports, biographies and other materials as needed for publication and distribution.
Wrote, organized and distributed press releases and communicated with the media.
Developed and monitored content for company website; worked with strategic alliances to verify that the firm's information was correct.
Created weekly news updates for dissemination to over 3,000 subscribed legal professionals worldwide via e-mail.
Scheduled and organized consultant briefing workshops to create opportunities for business development.
0-5

years of experience

Hired to lead business and marketing operations of this private group psychotherapy practice
Through strategic outreach successfully gained approval from Pennsylvania Department of Education as provider for continuing education credits for teachers and counselors
Developed agency's first pro-active social media presence, strengthening connections with community of clients, colleagues and referral sources
Revitalized marketing efforts, including complete revision of website, creation of new brochure, and improved presence at events, resulting in an increase in inquiries from prospective clients
Instituted new policies that streamlined systems for bookkeeping and tracking of key financial metrics and that improved communication and satisfaction of payment obligations
Led responsive and compassionate employee relations function, organized candidiate searches and hiring processes in tandem with agency director, and ensured legal and regulatory compliance; supervised administrative staff
Managed major IT initiatives including installation and successful system integration of HIPAA-compliant computer server and network
0-5

years of experience

Develop and present company sales presentations, began campaign for mass market mailing of post cards to key clientele
Develop collateral as needed for special jobs or bid proposals, instituted monthly newsletter for internal communications
Take pictures and keep a gallery of projects in progress and completed, wrote detailed synapsis of the technical portion of the jobs so they could be used in further marketing aspects
Lead role in development of new product offering requiring coordination with outside vendors, presentation, and sales training
Coordinate all employee events, community involvement events, press releases, and marketing campaigns.
0-5

years of experience

Oversaw all marketing programs for division, including direct mail, banner advertising, print advertising, and email.
Managed relationships and $500K budget for advertising agencies, print and production houses, ISPs, and interns.
Developed site-training instructions, created and compiled surveys, wrote press releases, and wrote content for charrette.com.
Served as customer service contact for new online customers.
0-5

years of experience
Developed, executed, and measured integrated, multi-channel marketing strategies to increase agency awareness, generate and nurture leads, and support business development efforts - increased site traffic by 15% year-over-year
Lead thought leadership and content marketing efforts to exploit unique positioning and present valuable insight and advice on issues of interest for customers and prospects
Supported account management in building deeper customer relationships by coordinating customer appreciation programs, holiday cards and gifts, and planning customer events and educational sessions
Provided direction and contributed to multi-functional team to reposition and rebrand agency to differentiate and align with new agency mission
Supported HR in enhancing employee work experience by planning employee events and assisting with internal communications
0-5

years of experience
Conducted qualitative and quantitative research to help guide new creative efforts for digital advertising products.
Conceptualized, developed and designed training materials, sales collateral and presentations for online sales initiatives across four Midwest newspaper properties under the SNG umbrella.
Worked as part of product development team providing creative brand representation and advertising campaigns for new products.
Developed and maintained digital "toolbox" providing much needed organization and updates of sales collateral.
Managed social media for multiple properties and provided promotional advertisements as needed.
0-5

years of experience

Reporting to the VP of Marketing, responsible for developing and launching the company key business into the Food, Drug, Mass -FDM- channel, and for expanding the main brands of probiotics, omega's oils, and fibers across all channels
Launched the company's key product categories to the FDM channel, doubling the business's size in 2 years
In the 52 weeks ending 3/16/13 (ACNielsen data) [company name] fish oils grew 28% and cleanses 41%
Current project: launched a line of 5 fiber supplements -Fiber Smart-. In just 3 months it is already being sold at key retailers like CVS, Target, and Walgreens, and it is been tested at Wal-Mart
0-5

years of experience

Managed entire life-cycle of the company's most profitable products from strategic planning to tactical activities
Responsible for 20 product launches, including writing content/copy for product web pages, developing the positioning and messaging strategy, creating brochures, creating "What's New" documents, updating the online store, creating online and print ads, communicating new product features and benefits to sales teams world wide, writing customer announcements and developing press releases
Collaborated with cross functional teams of engineers, sales and business development to ensure that requested product features were prioritized and implemented
Internally communicated new product features and benefits, including sales training to ensure a consistent message was applied across world wide sales teams
Participated in the re-branding of the company, including the re-design of the company logo, homepage, online product pages, presentations, product collateral, and tradeshow materials
Successfully led and organized the company's first ever Customer Summit event showcasing the company's new products, technical expertise and valuable speaker sessions
Worked closely with Microsoft and other partners on marketing activities relating to SiteBuilder for Windows and promotional activities relating to Plesk for Windows
0-5

years of experience

Created and executed individualized social media strategies tailored to both regional campaign focus in collaboration with the Florida Hospital West Coast Region and Florida Hospital Corporate initiatives
Developed digital strategies affiliated with specific campus driven campaigns and events
Maintained and enhanced external and internal web portals
Measured ROI on campaign efforts, both digital and traditional, with numerous analytics tools
Graphically designed on campus signage for collaboration with the Tampa Bay Buccaneers
Responsible for complete creation of e-newsletters and community magazines including copywriting, layout/design and artistic direction
Pitched and secured media placements on local and national outlets
Developed relationships within the community as part of the Florida Hospital Community Outreach Initiative while coordinating with doctors, clinical staff, administrators, and key hospital departments to help grow volume and meet program marketing targets
Served as interim Director of Marketing for six months, working directly with the community, administration, and service lines to help reach budget and marketing goals.
0-5

years of experience
Planned, organized, and implemented direct and digital marketing strategies resulting in an annual revenue increase of 63%
Developed and directed the company's 3-year marketing plan and re-branding campaign, including field marketing, a new website, increasing social media traffic and all advertisement materials. The campaign drove 160% additional traffic in the first year
Strategized partnership agreement that included devising profit goals and delivering ACCET rules and guidelines with Georgia Christian University. Led partnership negotiations with University of South Carolina Aiken resulting in multi-state market reach
0-5

years of experience

Contributed to development of sales and marketing strategies through lead nurturing, client communication and integrated content on multiple platforms
Developed marketing plan and singularly executed individual campaigns through content creation, design, sector
Implemented client retention program through post event feedback surveys, loyalty rewards and referral incentives
Created, implemented and managed the employee outreach and company culture programs
0-5

years of experience
Drove marketing strategy and implementation for key brands – PDR Main, PDR3D, and PDR
Launched first-ever PDR 'eBook' generating more than 90,000 downloads within four months; managed marketing of the nationally renowned Physicians' Desk Reference annual print and digital editions.
Launched marketing campaign in support of new online CME product for physicians resulting in a 47% increase in web traffic within six weeks, as well as more than 10 product-focused industry trade articles.
Secured media converge in top trades – Health Data Management, Health IT News, and HIStalk, among others – to support products; oversaw corporate/media relations.
Refocused Sales Team conversations around innovative electronic health record (EHR) system-based solutions by launching a new division – 4th Channel – to overcome strong association with legacy offerings.
Educated target audience on EHR systems by developing/implementing a unique 'roadshow' program – a hands-on experience allowing potential clients to work within live EHR systems.
Increased brand awareness and corporate profile by managing company presence at more than 10 annual industry conventions, overseeing speaking opportunities, booth exhibits, and sponsored events.
0-5

years of experience

Supervise Copywriter, Designers, and Marketing Assoc. to support online marketing initiatives, social media programs, and marketing assets for US market contributing to 2014 sales of $358MM
Develop, manage, and execute marketing plans and projects including video production, lifestyle photography, consumer eMail and online communications increasing website conversions YOY by 40%
Organically increase Facebook fans by 9% in one year. Work closely with agencies to develop social media content with an average of 7% engagement and 30% share of voice
Produce 20 + creative, high-quality demo videos leveraging same set and talent for photo shoots, coming in under $250K budget after conducting RFP to find the right partners
Reinstate monthly eNews including parenting articles, trade reviews and product launches with 15% open rate
Manage VTech's Expert Panel of Doctor's editorial schedule to provide parents information on tech trends, and developmental milestones via eNews, website and videos
Produce promotional eMail to 500K consumers with an average open rate of 12% increasing website traffic by 3% and improving software sales
Responsible for CMS through heavy collaboration with Hong Kong and US colleagues, lead US online initiatives and provide eComm support
Enhance user experience on vtechkids.com and improve conversions reducing 6-click ordering to 3-click
Use metrics and best practices to identify best call-to-action online, and for consumer communications
0-5

years of experience
Directed design of flyers, direct mail pieces and other marketing collateral
Coordinated compilation and completion of all active and upcoming communities and approved digital and print marketing
Worked closely with model merchandisers, landscape architects and on-site superintendents for model home openings
Managed department activities and its staff
0-5

years of experience

Develop and execute complete international marketing plan for [company name]
Manage and develop four employees covering different disciplines of marketing.
Created Sales / Marketing Reporting Database
Managed and participate in 4+ domestic and international trade shows
Deliver comprehensive competitive analysis of pricing information for our complete product line
Generated market segment analysis for future product development and prioritization of marketing efforts
Created new company / dealer store to increase control of brand image
0-5

years of experience

Managed Cisco/OPNET OEM Relationship
Launched two releases of Cisco OEM of OPNET's performance management, capacity planning, and network operations software offerings
OPNET's rebranded software marketed and sold to Cisco enterprise customers
Managed release schedules
Authored product requirement documents and functional specifications
Updated Cisco sales collateral (data sheets, product bulletins, sales presentations) per release
Drove Cisco product requirements through cross functional product development teams
Coordinated keynote speaker series for annual users conference
0-5

years of experience

Managed and posts content to over 20 social media channels
Wrote communication pieces for company blog, press release, intranet and company news
Updated company website and supports graphic design
Assisted and promoted company wide events
6-10

years of experience

Advocate for children in 28 Countries with the merging in USA
Managed Relation of Key Donors and key influencers
Spoke at 30-40 events to the audience of between 70,000-100,000 people a year for new customer acquisition and retention
Organized high level Donor and Sponsor vision trips to 26 countries for the purpose of awareness and new acquisition.
Articulate, share and understood the problem of children growing up in countries stricken by poverty.
Share my personal story as a person who grew up in poverty and as street boy as marketing tool for new sponsor and donor
Bring in at least 1.5million dollars a year through new sponsorship acquisition
Directly involved in raising over $60Million the last 9 years at Compassion International through sponsorship and large donor
Trained New International Students and interns in cross-cultural and best methods in sharing their stories as a marketing tool to raise funds for those in need.
6-10

years of experience

Helping in all phases for on-site tradeshow management from pre-convention thru the completion of the move-out
Web and Print content development
Managing SEO campaign with Google Analytics: Optimized website links, keywords, Meta tags
Achieve a strong, visible social media presence and develop concepts with viral potential
Planning and execution of email campaigns
Coordinated and completed bulk mailings containing marketing and promotional materials
Organized and created product and package labels
Facilitated the design and production of corporate product CD's for distribution
Organized customer database
0-5

years of experience

The Sales & Marketing Manager role was developed to support company growth through outside marketing efforts and the development of an internal sales team. At year end 2013, the firm boasted a 9% increase in sales, as of December 2014, that number is 13%.
Daily responsibilities include the management, training and development of the IMS Sales team.
Tracking and reporting of inbound leads, sales generation efforts and converted clients directly to the CEO.
Attending and coordinating company trade show efforts for various networking and professional groups
Management of ongoing marketing campaigns and coordinating the production of collateral.
Writing copy for company website, marketing materials and other standard company communications.
Maintenance of in-house CRM, company website and other technology used by the firm.
0-5

years of experience

Work with Clients to create a Farm Business Plan and Profile and Annual plan.
Assisted in decision making and tracking of clients brokerage accounts.
Stay up to date on all farm decisions made by the clients
Advised clients on how to sell Corn, Soybeans and Wheat.
Advised on when to buy Inputs and Energies
Obtained Clients through prospecting and cold calling.
Performed 6-8 on farm meeting per year per client.
0-5

years of experience

Executed re-branding campaign, including new logo, new website, new fleet art work, marketing materials and internal communications coaching.
Spearheaded e-mail marketing campaigns.
Social Media marketing
New business generation through internet marketing, social media and direct marketing strategies.
Facilitated the delivery of superior customer service by all staff members and the minimization of delinquent customer accounts.
Had responsibility for the creation and execution of plans to increase store profitability
Administered training to improve the skills of employees in sales, customer service and the resolution of delinquent customer accounts.
Had responsibility for the procurement, storage, distribution and management of inventory.
0-5

years of experience
Executed day-to-day social media initiatives including posting diverse content and developing strategies to improve user engagement and drive action across all major digital channels including Facebook, Twitter, Pinterest, YouTube, LinkedIn and Google+
Developed and managed monthly social media content calendar
Managed budgets and deadlines ensuring on-time and on-budget delivery of content
Developed domestic and international marketing collateral
0-5

years of experience

Executed all project-related initiatives for pharmaceutical client peer-to-peer education
Managed a team of cross-functional experts to execute deliverables
Primary point of contact for the client, partner agencies, and internal team members
Engaged project management methodologies (PMI) across all phases of the project from initiation through closing
Led all corporate Social Media endeavors including creation of corporate Social Media policies
Managed stakeholder for quality and approval on all project deliverables
Responsible for overhauling AvantHCM.com, brand guides for Avant and DWA, and creating branding for MCore business unit
0-5

years of experience
Oversee all retail, mortgage, small business and commercial marketing initiatives for 17 branch locations.
Work with marketing team on digital marketing campaigns: email marketing, digital displays, website ads, SEO and mobile app branding. Work with marketing team on tradition marketing: direct mail, print ads, branch and external signage and publicity and collateral materials.
Ensure corporate brand standards are compliant in all marketing sponsorships, initiatives, and executions.
Conduct research to assess market share, competition and gain insight into customer opinions: research techniques include data gathering, compilation of research and preparation of reports.
Worked with Small Business Managers to create an effective Bank at Work on-site program to expand client base.
Developed and implemented print-on-demand marketing collateral for all products and services.
0-5

years of experience

Create online advertising campaign to commemorate 25th anniversary in the business
Total graphic redesign of company's exhibit booth, marketing materials and promotional items
Solidify branding and name recognition in the industry
Research, develop, design new website. Optimize for SEO (HTML 5), while maintaining the site with consistent relevant content updates to keep it interactive
Manage and create content for B2B social media marketing strategy; focusing on LinkedIn, Instagram, Facebook, Twitter, YouTube
Execution of all social media activities (i.e. tweeting, sharing, engaging, liking, increasing social reach)
Communicate in a professional, but unique social media "voice"
Create and build a strong online presence, implementing social media SEO tactics
Weekly blog post and feature highlights of our company's services
Engage with our target audiences by sharing content, find ways to grow LinkedIn company followership, and improve overall engagement with our customers' LinkedIn company page
Conduct competitive analysis studies including digital footprint analysis, social media campaigns and calls-to-action that drive target buyers to our site and generate leads
0-5

years of experience

Achieved targeted revenue growth by generating new accounts through business development, marketing, direct mail, telemarketing, group maximization, direct promotions, email, social media and internet channels.
Addressed client concerns while strengthening relationships with internal and external partners, resulting in positive client and member satisfaction.
Coordinate Marketing and monthly promotions with branch managers at 6 Branches
Management and training of the marketing team and branch managers.
Increase overall deposits, loans, IRA's, auto recaptures, Visa transfers, Aflac policies and referrals.
Community development and involvement with assisting, coordinating and attendance at community and marketing events.
Insurance agent and insurance policy promotion.
Build relationships with centers of influence and key decision makers.
Directly and indirectly increase the overall revenue in the marketing department.
0-5

years of experience
Managed the execution of promotional and transactional e-mail campaigns
Managed e-mail campaign tracking and reporting for development of future campaigns
Responsible for implementing marketing database segmentation updates and coordinating efforts to update and expand the information available within the marketing database
Analyzed database to identify direct mail and telemarketing campaign opportunities
Managed LinkedIn Sponsored Update marketing campaigns
Coordinated segmentation efforts for the Custom E-mail/Newsletter Product
0-5

years of experience

Manage and forecast retail market P&L results.
Maintain a rolling 12-month business plan that optimizes volumes, price and margins.
Define channel strategy; develop relationships with customer base to understand requirements and business model.
Develop and communicate product information, pricing, programs and strategy to sales and customer base. Spearhead biweekly sales calls with field.
Forecast and manage retailer specific co-op/MDF programs to meet business model objectives.
Monitor equity across channels working to avoid channel conflict.
6-10

years of experience

Created sales and marketing images and videos for sale horses.
Captured, filed, and edited raw footage for sales images and videos.
Created plans of action, and coordinated with sales management for representation of each horse's skills and disciplines.
Placed, managed, and updated ads for each horse, and coordinated timing with sales management.
Managed paperwork for sales and consignment contracts.
Managed expense tracking, invoicing, and billing for consignment and training horses.
Managed daily and monthly sales report, including daily website analytics.
Updated inventory management spreadsheet daily.
Processed and filed all arriving horses' paperwork, feed transition schedule, and specific placement at the facility.
Processed and transferred registration paperwork for each horse at time of ownership change.
0-5

years of experience

Identify target markets and develop strategies to communicate with them
Correspond with Intelligence Council clients to ensure their needs are being met
Provide logistical support in Intelligence Council conference preparation
Assist Vice President of Marketing with managing and coordinating all marketing, advertising and branding
Maintain Rivel's internal database
Responsible for Rivel's internal office administration
Coordinated schedules, appointments, travel and bookings
Responsible for billing and allocation of payments
Prepared letters, reports and presentation materials
0-5

years of experience

Manage a $6.2 million global budget for the drill bits and down-hole tools division (a high profile business unit). Provide leadership in the development of marketing strategy to acquire and retain customers and grow revenue. Oversee the development of all marketing programs and materials including divisional branding, product marketing, and sales enablement and serve as hands-on leader (coach and player) in the creation of all marketing content produced (on-page, off-page, social and PR). Oversee a team of 7 employees and contractors.
Product Marketing: Lead marketing across a product matrix of 4 product lines with $1 billion business value. Drive go-to-market planning and then lifecycle management for multiple new products, including teaser ads, sales enablement & training, product positioning and value-oriented content generation.
Digital Marketing: Transform the division's online presence, building keyword rich content. Lead SEO/SEM strategy and advertising, garnering the best revenue-generating months in the history of the company. Build and launch social marketing initiatives on Facebook, Twitter, YouTube and industry-oriented sites. Increase page views by an average 20%.
Lead Generation: Drive customer acquisition and nurturing programs, using CRM to capture and capitalize on leads from advertising, customer events, white papers, seminars, and trade shows. Build email marketing using Microsoft Dynamics, segmenting customer lists and driving email engagement campaigns.
Branding & Content: Develop and implement strategies for brand awareness, including content calendar, content creation and cross-platform syndication. Manage ad agency and launch of first-ever billboard.
Customer Programs: Analyze customer metrics, seeking engagement and revenue patterns. Create customer engagement strategies by segment and geography. Build customer case study program and testimonials.
Sales Enablement: Provide sales teams with marketing strategy and support. Integrate sales into launch plans, including development of a sales toolkit, scripts, presentations, naming contest, and town halls.
Marketing Process & Measurement: Embed CRM throughout marketing programs to show results of lead generation and marketing. Establish, track and adjust the Key Performance Indicators (KPIs) for the team, developing a dashboard for reporting. Achieved the highest ROI for marketing and sales groups, 31%.
0-5

years of experience

Business Development
Manage CRM
Drive new business through segmented campaigns
Manage leads from multiple sources and track progress through the pipeline
Collaborate with our vendors (Ricoh, Savin, Kyocera) to customize marketing material for Atlanta marketplace
Coordinate marketing and sponsorship events. Attend networking events and manage marketing calendar
Assist Sales team with development of complex RFP responses, including technical writing
Build customer profiles for pre sales support
Assist VP of Sales
6-10

years of experience

Handle Radio Spots and Marketing Campaigns
Design direct mail pieces
Update and maintain web site
Analyze and maintain financial s on a regular basis
Train new employees to add items to a web site shopping cart
Process new hires
Hit sales goals set by the President of [company name]
Customer service and resolution of customer complaints
0-5

years of experience
Managed a 1.1 Million annual digital agency spend including redevelopment of an Ecommerce site, PPC, and digital marketing.

Co-developed content marketing and inbound marketing strategy.
Gained experience managing large acquisition budgets across multiple channels for growth marketing with a significant focus on paid search, mobile, and retargeting. Working with the agency we utilized media math for targeted conversion strategies.
Led efforts to expand a presence in video, display, direct mail to digital strategies and in-house P.R..
Developed start-up marketing plans for owners side projects including an India based news website.
I assisted the owners son with a Indian wrap, fast casual concept restaurant. I assisted with photography, digital analytics tool selection, the marketing plan and co-managing the development of the new website.
0-5

years of experience
Hire and manage the street team, book talent, assist with VIP sales
Create promotion materials
Create weekly graphics for marketing
Assisting owners with advertising placements
Managing weekly event performance
Load More
Create your own professional resume in just minutes.
Try our resume builder today
Build Your Resume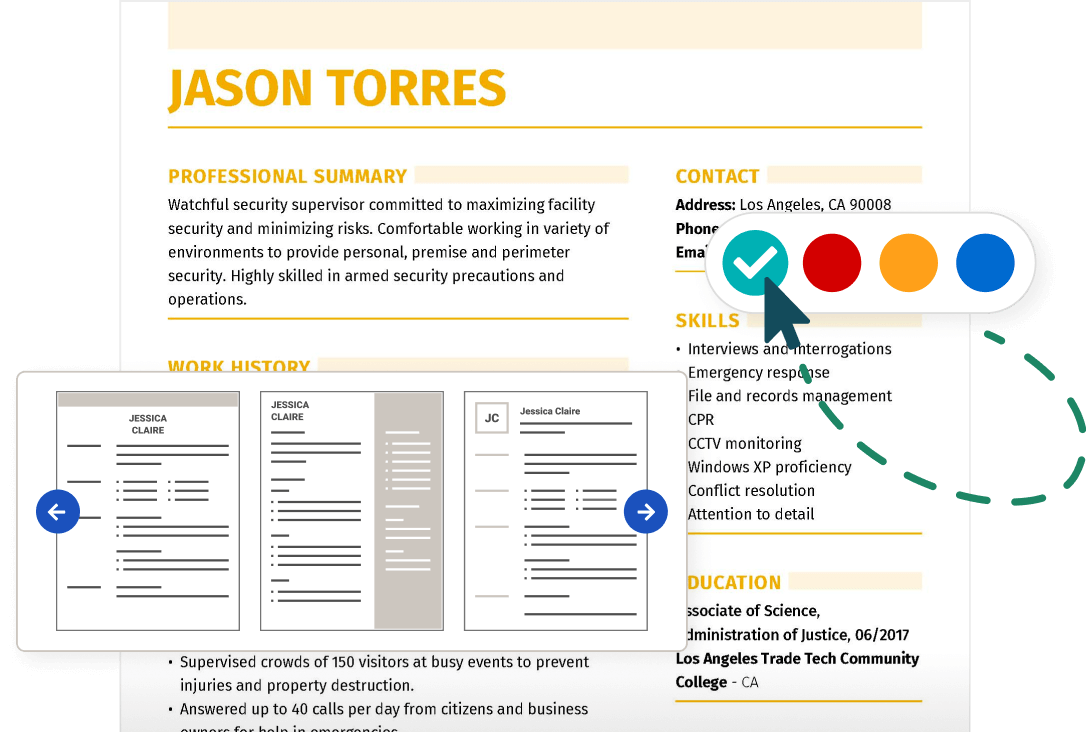 Marketing Manager Resume FAQ
How do you build a marketing manager resume?
When crafting your resume, follow these steps:
Tailor your resume to the open job description.
Strategically stack your resume sections.
Prioritize core accomplishments or profits
Quantify with numbers
What skills should I put on a resume for marketing managers?
There is no perfect combination of marketing skills –– each job opening and potential hire is unique and brings diverse qualifications to the negotiation table. However, you can boost your marketing manager resume by featuring these commonly requested skills throughout your resume sections.
Top resume hard skills:
Team management
Data analysis
Social media marketing
Valuable soft skills:
Verbal communication
Collaboration and teamwork
Creativity
How to describe "marketing manager" on a resume?
The smartest way to describe yourself as a marketing manager would be in your resume summary. This opening paragraph sits below your contact information and acts as an elevator pitch. A successful marketing managers resume summary pitches one to three skills and an accomplishment so effectively that hiring managers are encouraged to carefully read and review your entire application rather than simply skim your resume.
Good marketing manager resume summary:
Marketing manager with experience in improving website traffic by 22%, click-through rate by 43% and purchase rates by 19% with a targeted approach through SEO optimization on 20 key pages, A/B testing new CTA buttons across five core pages and implementing an email marketing campaign to reel in abandoned cart owners. The initiative saw an $8 million profit increase in the last half of the year. Excited to bring similar or better results to ABC Company.
Poor marketing manager resume summary:
Skilled marketing manager with SEO knowledge. Utilized an SEO keyword strategy to improve web traffic and increase profits.