Featured in:
More Laundry Supervisor Resumes
Use these Laundry Supervisor samples as a guideline or visit our extensive library of customizable resume templates.
Additional Janitorial Resume Samples
How to Format a Laundry Supervisor Resume
We normally recommend that job seekers pick a resume format based on the number of years they have worked. Usually, candidates with over 10 years of experience should use a chronological resume, job seekers with 3-9 years of experience use a hybrid resume, and applicants with less than three years use a functional resume.
However, a supervisor can use a hybrid or chronological resume to highlight their career knowledge or to demonstrate technical knowledge and accomplishments based on skills. We created two candidates with equivalent experience to demonstrate this. Candidate A uses a hybrid resume to explain what managerial tasks they accomplished under each unique job title. This allows hiring managers to track promotions or growth opportunities.
Candidate B uses a functional resume to highlight responsibilities based on the core needs of most laundry facilities. Grouping accomplishments and tasks under skills categories like site maintenance and business management help them demonstrate their managerial knowledge and potential.
Hybrid Resume
5

years of experience

2

years at this job

AS

HVAC Technician
Work History
Laundry Supervisor, Wash n' Sud
May 2021 - present, Des Moines, IA
Maintains safe and sanitary public laundry facilities following federal, state and corporate regulations.
Orders and maintains supplies and equipment necessary to maintain space and customer usage, i.e., single-use detergent, coins, and sanitation supplies.
Runs the wash and fold service and returns customer orders within 48 hours of drop off.
Functional Resume
3

years of experience

1

year at this job

HS

High School Diploma
Professional Skills
Laundromat Maintenance
Perform hourly sweeps of the laundry facilities to ensure a safe, comfortable and clean environment for customers.
Runs the wash and fold drop-off window and processes orders within 48 hours.
Oversees the staff schedules to ensure optimal profits during key operating hours.
Business Management
Orders and maintains supplies and equipment necessary to meet Center needs
Balances monthly budgeting costs against monthly profits.
Partner with local dry cleaning and tailoring businesses to provide all-inclusive clothes services for customers.
Laundry Supervisor Resume Samples
No results found
0-5

years of experience

Ensured that the everyday operation of the department ran in a smooth and timely manner.
Completed necessary paperwork forms needed for the pickup and delivery of laundry, filing, and inventory checks
Operated commercial laundry machines
Conducted checks of resident's rooms to ensure laundry services were properly performed
Managed various administrative duties such as call screening and documentation maintenance
Supervised jail inmates that worked the day shift to assist with laundry services
0-5

years of experience
Performed hiring, training, scheduling and firing of department employees.
Supervised 20 plus employees on daily work duties.
Trained employees on use of scrubbers, buffers, host carpet shampoo machine, stripping, and refinishing flooring.
Trained laundry staff on how to deliver clothes to resident rooms, and pack up residents' rooms.
Maintained inventory, ordered, and monitored supplies for housekeeping department.
Answered telephone's and assisted other departments as needed.
6-10

years of experience
Interviewed, hired, trained and managed 6 staff.
Maintained low staff turnover through effective motivational management.
Ensured all machines were functioning properly.
Skilled in resolving customer service issues and finding "Win Win" solutions.
Demonstrated attention to detail and ability to motivate others.
Handled inventory and addressed concerns from other Departments.
Certificate for Most Valuable Player (2014).
Employee of the Quarter (2015).
6-10

years of experience

Plan, direct, or coordinate the work activities and resources necessary for distributing all processed linens to all departments located on the clinic main campus grounds
Consistently met or exceeded overall department goal of 130 (PPOH) pieces per operator hour by 2.5%
Provide knowledgeable, responsive service to internal departments, discuss and to address their evolving needs.
Provide inventories of expendable supplies to Laundry Manager according to department policy.
Maintain a safe work area according to laundry policy.
Provide continuous verbal performance feedback to employees
0-5

years of experience

Directed operation of laundry facility, to include industrial washers and dryers, sewing, inventory, and customer service.
Instrumental in the planning and implementation of a centralized laundry process.
Assisted in the reorganization and improvement of laundry room processes resulting in better utilization of resources and increased customer satisfaction.
Assigns schedules and duties to laundry staff.
0-5

years of experience
Supervised staff on cleanliness in resident rooms, common areas, and laundry
In charge of ordering supplies and remaining under budget
Created monthly schedules for all department employees
Hands on supervisor and assisted with cleaning and laundry when needed
6-10

years of experience

Start up new Laundry operation at FOB Frontenac (Afghanistan)
Ensured all policies were carried out.
Trained other Laundry personnel to process laundry successfully.
Submitted material order request using DYNMRO networking.
6-10

years of experience

Coordinated and supervised work activities among departments.
Assign employees their duties to ensure clean, orderly, and attractive rooms in the facility.
Prepared reports concerning room occupancies, building examinations to determine repairs or replacements of furniture or equipment.
Ordered and maintained inventory stock to ensure adequate supplies.
Screened job applicants, hired new employees and determined promotions, transfers, and dismissals.
0-5

years of experience

Provide planning and oversight of all Laundry Operations
Manage a diverse/multicultural staff outsourced to the organization
Provide support services to over 15,000 U.S. Military Forces, 2,000 Coalition Forces and Department of State personnel
Develops training programs to build on individual skill and education levels aiding in professional development, to build high-performance, cross-functional teams that achieve aggressive operational goals.
Ensured compliance with KBR Standard Operating Procedures (SOP) and applicable army regulations
Implement daily Total Safety Task Instructions (TSTI)
Developed and implemented job functions and work schedules for expatriates and subcontractors
Managed a materials budget annually and ensured inventory control.
0-5

years of experience

Overseen the day to day activities of the nursing home housekeeping and laundry department
Plan, scheduled, and organized work to ensure proper coverage
Communicate and enforce policies and procedures
Ensure all staff is properly trained and have the tools and equipment needed to effectively carry out their respective job duties
Conduct pre-shift meeting and review all information pertinent to the day's activities
Establish laundry par levels for supplies and equipment
Promote team work and quality service through daily communication and coordination with other departments
Assist with deep cleaning, floor and carpet cleaning projects
0-5

years of experience

Provide leadership and direction to oversee all laundry operations, ensuring work is accomplished in a timely and cost effective manner
Maintain inventory of supplies, keep necessary records, and write reports
Schedule and supervise laundry workers, ensuring employee awareness and compliance with applicable company directives, policies, and procedures
Define and implement training requirements, develop employee skills, and promote continuous improvement
Help in laundry process, operate washers and dryers, select soaps and cleaning formulas, mend and distribute articles
Ensure machines and laundry area adhere to safety and cleanliness standards, stay in working order, and that maintenance is contacted promptly for repairs
Perform other duties as assigned
0-5

years of experience

Assign worker their duties and inspect work for conformance to prescribed standard of cleanliness.
Investigates complaints regarding housekeeping service and equipment, and takes corrective action.
Obtain list of rooms to be cleaned immediately and list of prospective check-outs or discharges to prepare work assignments.
Coordinate work activities among departments.
Conducts orientation training and in-service training to explain policies, work procedures, and to demonstrate use and maintenance of equipment.
Inventories stock to ensure adequate supplies
Makes recommendation to improve service and ensure more efficient operation.
0-5

years of experience

Issued all State necessities to all inmates as they entered the facility
Monitored inmates while they conducted laundry duties
Entered various forms of paperwork into computer software and filed all paperwork
Kept track of all inventory as well as ordering items as they were needed
0-5

years of experience

Responsible for planning, organizing, developing and directing the overall operation of the Laundry Department in order to assure that the Laundry Department is maintained in a clean, safe, and sanitary manner and that an adequate supply of laundry/linen is on hand at all times to meet the needs of the patients and administration.
Responsible for proper running of equipment and proper amounts of chemicals.
Assigns schedules and duties to laundry staff.
Sets up par level of linens for units and assures proper amounts are sent to nursing units. Recommends equipment, linen and chemical purchasing needs to Department Head in budget preparation. Schedules preventative maintenance of laundry equipment.
0-5

years of experience

Managed a staff of 70 employees in two service departments.
Supervised daily housekeeping and laundry operations.
Provided guidance and supervision in critical care areas.
Supervised daily maintenance of hospital grounds.
0-5

years of experience

Responsible for scheduling all environmental services employees and laundry personnel
Responsible for grounds, lobby areas and all waste removal
Observed personnel in completion of their duties while monitoring safety, quality control and production standards
Handled all customer service related issues
0-5

years of experience

Inspect cleanliness of articles removed from the washer, dryer or dry cleaning machines and place in clean linen carts.
Set dryers to designated times and temperatures based on fabrics contained in load
Remove lint and debris from dryer screens, dry cleaning filters, and drain trap after each load.
Fold cleaned articles into designated size, either by hand or using folding machine.
Maintain accurate records of items laundered.
0-5

years of experience

Serve as Supervisor of Laundry Department in Orange Beach.
Order linens for 600 rental condos and houses.
Supervision of 5 co-workers involved in bagging linens and amenities.
Order cleaning chemicals, unit supplies and amenities.
Provide WVR guests with a consistently high standard of service.
0-5

years of experience

Start washers, dry cleaners, driers, or extractors, and turn valves or levers to regulate machine processes and the volume of soap, detergent, water, bleach, starch, and other additives.
Sort and count articles removed from dryers, and fold, wrap, or hang them.
Clean machine filters, and lubricate equipment.
Inspect soiled articles to determine sources of stains, to locate color imperfections, and to identify items requiring special treatment.
Clean fabrics, using vacuums or air hoses.
Hire, train, and evaluate personnel.
Provide staff with assistance in performing difficult or complicated duties.
Prepare sales and inventory reports for management and budget departments.
0-5

years of experience
Coordinates the daily operation against the linen requirement of the hotel outlets and guest laundry promptly.
Inspects and maintains the standard quality of all processed article.
Attained guest complaints, requests and inquires.
Ensure the production is maintained and checks the logbook is updated.
Ensure daily uniform production is maintained.
Ensures the availability of chemicals and other operation supplies are in stock at the all the time.
0-5

years of experience

Formulating washing formula for stained loads
Ensuring the washing of linen and uniform as per standard
Coordinating with engineering department for routine maintenance of the equipment
Develop new methods for increasing laundry efficiency
Direct all Laundry staff and train new employees
Record and monitor laundry cost
Approve distribution of linen to guestrooms and food and beverage department areas
6-10

years of experience

Attend to customer complaints and manage customer service
Check in, check out, and take reservations with work volume that can exceed 100 guests a day
Train new employees to date. Four for front desk and two for laundry
Fold, wash, and dry sheets and towels for up to a 100 rooms a day
Keep inventory up to date with [company name] standards
0-5

years of experience
Setup and tear down of breakfast buffet.
Oversaw laundry operations to ensure standards were met.
Performed preventive maintenance among serviceable repairs.
Answered and routed phone calls to guests' rooms or various managers.
Created reservations as well as completed guest check-ins/outs.
Provided guest with information on local attractions, directions and dining referrals.
Accommodated guests' special requests and room amenity requests.
Provided guests with clean and safe accommodations.
Ensured the highest standard in laundry cleanliness and hotel's presentation.
Handling all methods of payments.
0-5

years of experience

Direct activities for stopping the spread of infections in facilities such as hospitals.
Inspect work performed to ensure that it meets specifications and established standards.
Plan and prepare employee work schedules.
Issue supplies and equipment to workers.
Forecast necessary levels of staffing and stock at different times to facilitate effective scheduling and ordering.
Evaluate employee performance and recommend personnel actions such as promotions, transfers, and dismissals.
Confer with staff to resolve performance and personnel problems, and to discuss company policies.
Maintain required records of work hours, budgets, payrolls, and other information.
Screen job applicants, and hire new employees.
0-5

years of experience

Responsible for daily report logs and spreadsheets and environmental reports
Manage inventory selection and order supplies according to clients demands and needs
Train all new personnel according to the company standards
Handle all aspects of housekeeping
Make recommendations to improve service and ensure more efficient operations
0-5

years of experience
Assists in standardizing the method in which laundry tasks will be performed.
Makes rounds and inspections to assure that laundry personnel are performing required duties, appropriate laundry procedures are being rendered, and quality control measures are continually maintained.
Also performs all duties of Linen Service Workers.
Load More
Janitorial Cover Letter Examples
Create your own professional resume in just minutes.
Try our resume builder today
Build Your Resume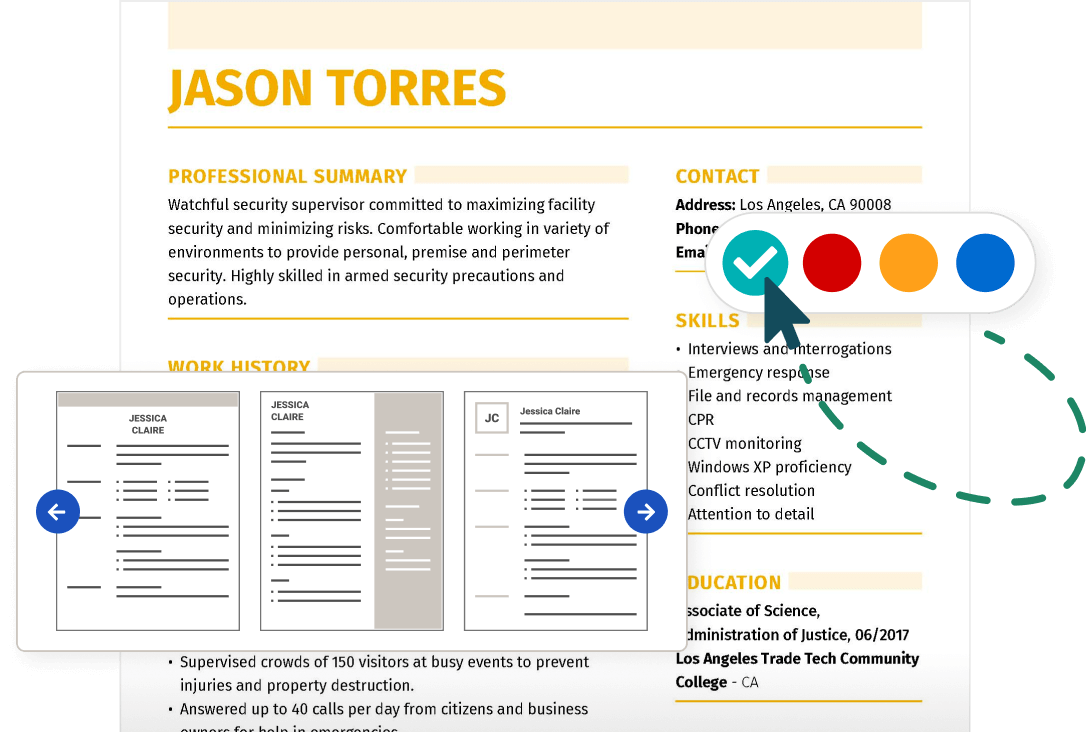 Laundry Supervisor Resume FAQ
What are the duties of a laundry supervisor?
Most laundry supervisors are responsible for the following daily duties:
Supervise the work of laundry attendants.
Wash, sort and fold dropped-off laundry.
Oversee weekly schedules and laundromat assignments.
Approve and accommodate schedules for paid-time off and leaves or absences
What should I put on my resume for a laundry supervisor position?
If you're applying for a laundry supervisor position, your resume should include the following skills:
Loading and unloading change machines.
Troubleshooting tap-to-pay washing machines and dryers.
Maintaining a clean laundry area and equipment.
Hire and train laundry staff in proper cleaning procedures, machine maintenance and laundering standards.
Order and store facility maintenance supplies and equipment.
File and organize receipts, invoices and staff schedules for budgeting purposes.
How do you describe laundry supervision on a resume?
We created a few sample resume sections to show you how to describe your laundry management experience using key skills. Visit our resume-writing guide and professional resume examples to find additional examples of how you can showcase multiple skills across your resume.
Resume summary example: Experienced laundry facilities manager with over 14 years experience. Oversaw a well-trafficked laundromat with 36 washing machines, 24 dryers, 3 industrial-sized drums, and a weekday wash-and-fold service.
Work history sample:
Laundry Supervisor, Sudsy Stuff Laundromat
April 2021 - current, Los Angeles
Clean and maintain laundry equipment and sales floor to optimize the customer experience.
Manage, train and schedule a laundry staff of twelve over an 18-hour business day.
Operate the specialty wash and fold orders to ensure minimal damage or shrinkage to specialty fabrics such as linen, silk and rayon.
Sample skills section for laundromat supervisor:
Budget facility and staff costs.
Certified in laundry equipment maintenance and repair.
Provide warm customer service.
Launder according to customer requests.
Specialize in environmentally friendly laundering services.