Featured in:
More Technical Recruiter Resumes
Use these Technical Recruiter samples as a guideline or visit our extensive library of customizable resume templates.
Additional Human Resources Resume Samples
How to Format a Technical Recruiter Resume
As any good technical recruiter knows, choosing the correct resume format is essential. Generally, the most popular format — the chronological — is the best choice for job seekers. The chronological resume features work experience, beginning with the most recent job and working backward, making it easy to read a candidate's work history at a glance.
The other two formats — functional and combination — are well-suited for people who are new to the workforce, changing careers or simply lack professional experience. Functional resumes, also known as skills-based, put skills and abilities as the focal point, a way of showing an employer you can do the job even if you've never held the position. Combination resumes bring skills and work history into equal balance.
Take the candidates below, for example. Candidate A has been a technical recruiter for 10 years and working for the same company for five years. Candidate B has a more checkered work history, so she's using a functional resume to make a better case for herself.
Chronological Resume
10

years of experience

5

years at this job

BA

Communication
Work History
Technical Recruiter, Method Recruiting
01/2018–Current, Pasadena, CA
Developed a comprehensive candidate assessment tool that improved company matching by 20%.
Revised the interview and follow-up process, increasing candidate satisfaction by approximately 25% in retrospective surveys.
Negotiated salary and benefits with 300+ job candidates over three years, becoming the firm's go-to person for sensitive negotiations.
Functional Resume
5

years of experience

1

year at this job

BA

Sociology
Professional Skills
Strategy
Created a system for updating and maintaining the candidate database to remove duplicates and simplify the evaluation process.
Devised an in-depth candidate assessment protocol that gave the employee-candidate matches a 95% success rate.
Developed new sourcing techniques that led to a 25% increase in finding qualified candidates.
Communication
Facilitated negotiations between employers and candidates more than 100 times to the mutual satisfaction of both parties.
Conducted screening and first-stage interviews in person and over the phone, making the notations more streamlined for decision-makers.
Regularly followed up with candidates, leading to a 90% satisfaction rate in a follow-up survey.
Technical Recruiter Resume Samples
No results found
0-5

years of experience

Responsible for conducting end-to-end recruitment process from sourcing to applicant closure. Used Boolean searches to identify elite engineering talent by top 50 CS schools, target companies, groups, and tech stack. Approached, intrigued, engaged, and closed passive talent using compelling narratives, uncovering unmet needs/goals/aspirations, rapport building, and excellent salesmanship. Screened qualified applicants for computer science fundamentals, domain experience, relevant production experience, tech stack (languages/libraries/tools/etc), as well as communication skills, and cultural fit. Successfully identified and recruited software engineers with different specialties including: UI, business logic/application tier, full stack, platform (distributed systems/web services/REST APIs), infrastructure, and SDET/QA engineers. Generated new clients by proactively marketing top candidates to Engineering Directors and Managers to uncover existing needs and opportunity costs as related to engineering headcount and production schedule goals. Performed intake calls to understand client needs, and performed searches on behalf of clients using the VerticalMove database, LinkedIn, job postings, and working with existing and past candidates to generate referrals. Managed several critical client accounts simultaneously educating Engineering Managers and Directors on best practices to improve hiring efficiency.
Won merit based company contest for a trip to Hawaii by placing the most candidates in Q3 of 2012.
Created and maintained a high volume pipeline of candidates for numerous clients by daily making 50+ cold calls, emailing 100+ candidates, asking for referrals and posting jobs after winning new recruiting assignments.
Earned numerous public recommendations and endorsements from candidates.
Earned production-based promotion from Sourcer to Recruiter in 3rd month of employment.
0-5

years of experience

Identified highly technically skilled, bright, talented job seekers by using direct and indirect sourcing methods and matching them to ideal positions
Established candidate motivators and tailored closing strategies for some of the most competitive job candidates in the industry
Consulted Hiring Managers and Team Leaders to define sought after competencies and managed requisitions
Negotiated offer details and closed hires at an 85% Acceptance Rate for Full-Time Hires and 80% Acceptance Rate for Intern Hires
Reviewed compensation and benefit packages to all hired candidates, including breakdown of annual salary, signing bonuses, bonus structure, healthcare coverage, vacation/paid time off, and stock awards
0-5

years of experience

Built a network of candidates by sourcing with tools such as LinkedIn (and other social media outlets), Connectifier, Monster, Dice, Indeed, Washington WorkSource, Craigslist and Boolean string searches.
Reviewed all applications for technical positions and stack ranked candidates based on skills needed for position requirements. Those that met qualifications were scheduled for recruiter interviews.
Conducted recruiter interviews and evaluated candidate responses; those qualified were submitted to the hiring managers. Provided feedback to candidates who were not qualified.
Created job descriptions and posted on the applicant tracking system (ATS), Indeed, Craigslist, and other posting tools.
Created job descriptions and researched job requirements to create appropriate qualification questions.
Ensured positive candidate experience throughout the sourcing and interview stages.
Produced quarterly reports to understand and analyze hiring trends and pipeline.
0-5

years of experience

Accountable for preparing and carrying out strategic sourcing strategy, to find the most talented IT professionals for clients in the Charleston IT market.
Conducted phone and in person interviews, reviewed resumes and evaluated candidates to find the most qualified IT professional for client's requirements.
Responsible for continuously updating and maintaining recruiter database for daily activity pipeline management and forecasting data.
Performed detailed and thorough reference checks, reviewed candidates qualifications to meet customer's requirements and business initiatives.
Validated and locked down candidate's commitment to new position reviewing all possible avenues for applicant hesitation
Negotiated appropriate contract rate for open position with applicant and client.
Built and maintained contractor relationships through business lunches, paycheck delivery, and out of office activities.
0-5

years of experience

Provided staffing support for Air Systems Engineering, which was compromised of nine (9) independent engineering departments located in Ft. Worth, TX, Palmdale, CA and Marietta, GA.
Sourced, screened and presented qualified candidates to Hiring Managers.
Recruited seasoned engineers in all disciplines while focusing on a diverse slate of candidates in accordance with Lockheed Martin's Functional Affirmative Action Plan (FAAP) goals.
Addressed a wide spectrum of staffing planning to include job analysis, legal compliance, performance appraisals, and compensation.
Selected to represent [company name] at the 2011 Women of Color Conference in Dallas, TX.
Load More
Human Resources Cover Letter Examples
Create your own professional resume in just minutes.
Try our resume builder today
Build Your Resume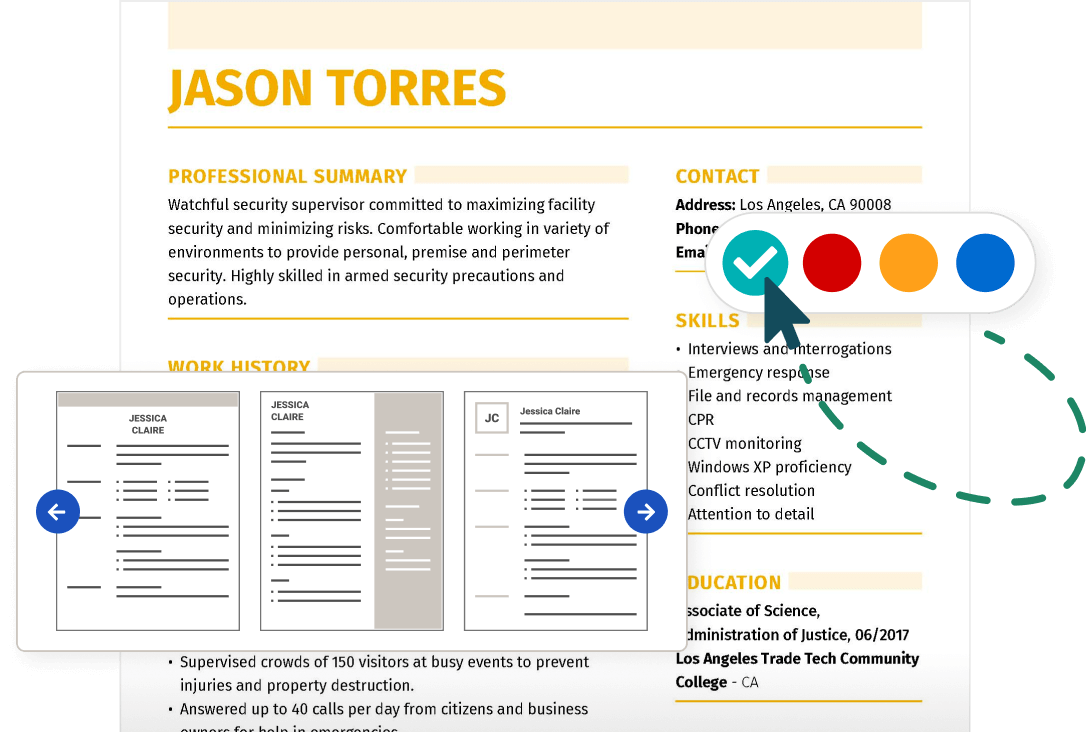 Technical Recruiter Resume FAQ
What should a technical recruiter put on a resume?
The first step in deciding what to include on a resume is always reading the job description to identify the most critical skills and experiences they're looking for. Considering their occupation, technical recruiters should be finely attuned to the need of including keywords and specific skills on a resume.
The second step is tying those skills to quantifiable accomplishments. For example, rather than saying you successfully sourced candidates for technical roles, say exactly how many candidates you sourced yearly.
Now, here are some of the experiences that you might find on a technical recruiter resume:
Identifies 50+ appropriate candidates for new roles, accurately assessing their skills, qualifications and work experience.
Assists in creating and reviewing job specifications and helps draft the job description.
Maintains communication with up to 30 candidates simultaneously, keeping them informed on application status, interview scheduling and follow-up requests.
Conducts phone interviews with 20+ candidates per week to find the most qualified candidates for the hiring manager.
What does a technical recruiter do?
Technical recruiters are HR associates who source, interview and send offers to job candidates who work in the technology sector. Working closely with placement agencies and employers, they may be responsible for writing and posting job listings, setting realistic job requirements and discussing compensation. Some technical recruiters attend job fairs and campus events to boost recruiting efforts and act as the face of a company.
What technical skills are required for a technical recruiter?
Technical recruiters aren't run-of-the-mill HR employees — they need to have a more technical understanding of their industry and possess the skill set expected of all recruiters.
Here are some of the skills recruiters must have:
Applicant tracking system (ATS) proficiency
Sourcing candidates
Latest tech industry knowledge
Technical knowledge of a given role
Project management
Critical thinking
Data entry and database maintenance