Featured in:
More Hotel Receptionist Resumes
Use these Hotel Receptionist samples as a guideline or visit our extensive library of customizable resume templates.
Additional Hospitality Resume Samples
How to Format a Hotel Receptionist Resume
Hotel receptionists are the face of hospitality. Impress recruiters with the right type of resume format. Choosing the right format will impact which of your credentials the recruiter sees first.
Let's look at two sample resumes to better understand how to leverage a format. Candidate A has been a hotel receptionist for over 16 years. Candidate B has been working for two years full-time. The two applicants can choose different resume formats to show off their skills and experience. Check out these examples of ways you can highlight your professional achievements depending on your level of experience.
Chronological Resume
16

years in the workforce

10

years at this job

BA

Hospitality
Work History
Hotel Receptionist, Wyndham Resorts
July 2012 - January 2022, Atlantic City, NJ
Responsible for providing efficient reception for guests, including check-in/out and answering phones.
Ensured that both the front office manager and reception supervisors were kept up to date of any relevant feedback from guests and other departments.
Provided professional and friendly customer service at all times.
Functional Resume
2

years in the workforce

2

years at this job

High School
Professional Skills
Communication Skills
Effective communicator, greeted, registered and assigned rooms to guests.
Answered telephonic and in-person queries related to hotel services and resolved any issues.
Designed a digital manual of local tourist attractions that was emailed to the guests during check-in.
Leadership Skills
Piloted an internal system that responded to guest queries and to address incident reports, daily activity reports or other reports requested by management.
Brought together resources to create customized vacation packages.
Created teams in charge of marketing outreach to promote tourism.
Hotel Receptionist Resume Samples
No results found
0-5

years of experience

Responsible for providing efficient reception for Guests, including check in/out and answering phones.
Ensured that both the Front Office Manager and Reception Supervisors were kept up-to-date of any relevant feedback from guests and, or, other departments.
Provided professional as well as friendly customer service at all times.
Assisted other departments whenever needed.
0-5

years of experience

Greeted, registered, and assigned rooms to guests
Answered telephonic and in-person queries related to hotel services and resolved any issues
Processed guests' check ins and outs
Prepared and completed room and restaurant bills
Assisted guests' in storing valuables in secure deposit box
Liaised with other departments of hotel
Handled payments through cash, checks and credit cards
0-5

years of experience

Greeted, registered, and assigned rooms to guests
Operated the switchboard and PBX
Answered telephonic and in-person queries related to hotel services and resolved any issues
Processed guests' check ins and outs
Prepared and completed room and restaurant bills
Assisted guests' in storing valuables in secure deposit box
Liaised with other departments of hotel
0-5

years of experience
Registered hotel guests, made reservations, transmitted and received messages
Calculated bills, collected payments, ran various reports via computer for management
Reviewed and handled guest comments and complaints
Managed Front Desk operations including cashier, ensuring that policies and procedures were maintained
Supervised and trained Front Desk staff
0-5

years of experience

Greeted, registered, and assigned rooms to guests.
Answered phone calls and in-person inquiries.
Processed guests' check ins and outs while providing excellent customer service.
Handled and resolved customer complaints and/or issues.
Improved front-desk efficiencies while providing positive customer service.
0-5

years of experience

Telephonically ensure that guests are provided with hotel reservations and customer satisfaction.
Coordinated successful check in and check out procedures for all guests.
Responsible for billing to ensure guests are being charged appropriately.
Assisted guests with registration in the rewards program and explain the procedures of use.
Ran daily credit card transactions through a settlement process.
Recorded daily room occupancy and rate totals.
Recorded revenue totals for cash, checks, and credit card transactions.
Generated automated accounting reports for the manager's review.
Handled 3rd party reservations and ensuring proper processing.
Settled Corporate Accounts and sending reports to those entities for billing purposes.
0-5

years of experience

Informed visiting guests about availability of rooms
Allotted rooms and checked the identity of the person through valid identity proofs
Greeted customers and answered their queries
Maintained records of guests and visitors coming in and going out of hotel
Offered guests something to drink as per the availability of the resources
0-5

years of experience
Welcomed guests in the hotel in a polite, friendly and helpful manner
Handled late arrivals and assisted with early check-in and check-out
Arranged brief tours of hotel's rooms and facilities
Operated switchboard and directed calls appropriately
Took reservations using hotel's accounting system and website
Dealt with and resolved customers' complaints
Managed group bookings for meetings and conferences
0-5

years of experience
Managed hotel cash flows and processed guest payments.
Managed hotel telephone bookings system.
Facilitated guest arrivals, departures and room allocation.
Provided prompt and exemplary customer service.
Trained reception staff on hotel's computerized booking system.
0-5

years of experience

Answered/directed phone calls to appropriate places
Arranged daily continental breakfast for guests
Greeted and checked in guests
Managed online reservations
Balanced monthly reservation report
Controlled daily intake of money/credit card transactions
0-5

years of experience

Completed and secured daily financial reports at the end of each shift
Handled gift shop purchases and receipts
Greeted guests upon arrival
Received and directed incoming calls to the correct associate professionally
Assisted in-house guests with requests
0-5

years of experience

Dealing with bookings by phone, e-mail, letter, fax or face-to-face.
Completing procedures when guests arrive and leave.
Preparing bills and taking payments.
Taking and passing on messages to guests.
Answering questions about what the hotel offers and the surrounding area.
0-5

years of experience

Build Restaurant sales through development of hospitality staff, proactive table visits and being an active member of the community.
Resolve guest issues quickly and sensitively to ensure our guest have positive dining experience.
Ensure restaurant food quality by completing thorough line checks and tasting/testing food on a consistent basis.
Prepare appropriate work schedule for hospitality staff based on projected business volume
Work closely with the restaurant operating partner to identify and develop employees for future leadership roles.
Motivate, support and communicate with staff during regular pre-shift meetings.
Check-in/Check-out hotel guests
Process all payments
Provide information to any guest or visitor inquiry
Registration for foreign guests
Functions of reservation department, call-center, business-center
6-10

years of experience
Welcome and greet guests with a smile and in a warm manner
Compose reservations and pay attention to special requests
Assist guests with storing luggage, ordering taxis, reserving tables at restaurant and in storing valuables
Conduct administrative tasks like answering calls, taking payments, preparing bills and processing foreign exchange payments
Monitor and supervise the activities of housekeeping and maintenance staff to ensure outstanding service to guests
Assemble arrangements for business meetings held in the hotel conference
0-5

years of experience

Welcome guests to hotel in a polite, friendly and helpful manner
Answer telephone inquiries promptly and professionally
Responsible for directing calls to appropriate members of head office
Perform basic administrative tasks such as filing records and scheduling service appointments for the hotel
Manage group bookings for conferencing, the restaurant and accommodation
Deal with and resolve any customer complaints
Provide a high level of customer service to all guests and customers
Ensure all relevant paperwork has been completed in order for a smooth transition at the end of shift
Be aware of and make full use of hotel reservation software.
0-5

years of experience
Welcome and greet guests with great courtesy
Manage room reservations using a computerized reservations system
Address guests concerns and special requests in a professional and personable manner
Load More
Hotel Receptionist Duties and Responsibilities
Current job listings commonly included the following duties among the core responsibilities of a hotel receptionist:
Check-in Guests Hotel receptionists greet incoming guests and welcome them to the hotel. They confirm reservations, explain hotel amenities, give directions to rooms, and produce room keys. They also arrange for luggage to be brought to rooms upon request.
Handle Guest Inquiries and Complaints From providing additional linens to handling complaints about noise or room temperature, hotel receptionists are responsible for accommodating guests during their shifts. They contact necessary personnel, such as managers or housekeeping, to handle specific requests or complaints.
Answer Phones Hotel receptionists take all incoming calls at a hotel. They handle phone reservations, confirm previously-made reservations, give directions to the hotel and answer any questions customers have about the lodgings.
Process Payments When a guest's stay is over, hotel receptionists handle check-outs. At this time, they will issue payments such as additional room charges and process debit or credit cards to pay for room fees.
Hotel Receptionist Skills
Strong interpersonal, verbal communication, and customer service skills are the top abilities needed for hotel receptionists. They should be patient and display above-average organizational skills. The abilities to deal effectively with crises and work with a diverse population are essential for this position. The following skills are commonly sought after by employers:
Administration - while some on-the-job training will be provided, receptionists need a level of comfort in computer, bookkeeping, phone, and other administrative skills
Math skills - calculating guest charges and settling room payments as well as processing invoices and completing payment transactions require basic math skills from receptionists
Attention to detail - in order to maintain a functioning front desk, receptions are highly organized and detail-oriented
Multitasking - hotel receptionists often juggle many requests at a time and are good at prioritizing tasks without missing a beat
Customer service - as the first in line to respond to guest complaints and special requests, hotel receptionists excel at dealing with people in a professional, calm manner. They are natural listeners who understand the importance of verbal and non-verbal communication
Hotel Receptionist Salary and Outlook
The Bureau of Labor Statistics (BLS) reports that the median annual salary for hotel receptionists is $22,070. Those earning in the tenth percentile realize a median salary of $17,470, while top earners can make $31,850. Higher salaries tend to be paid in the northeastern and western US, with those working in Hawaii ($41,010), District of Columbia ($34,300), and New York ($30,790) earning the highest mean annual wages. The overall projected employment growth rate for all receptionists is expected to be 9 percent through 2026, according to the BLS. An increase in automated services and interactive websites may alter this position in the coming years; for instance, guests are increasingly able to make reservations online, thus eliminating the need for hotel receptionists to serve in this capacity. This would generally have little effect on the need for this occupation, however, as all hotels will need hotel receptionists to deliver customer service and address the needs of patrons.
Hotel Receptionist Resources
Below you will find additional resources to help you learn more about becoming and working as a hotel receptionist. Professional associations, blogs, and books detail what it's like to work in this field.
AICR The International Association for Deputy Managers and Front Office Managers of Luxury Hotels - Founded in 1964, this professional association offers hotel receptionists and other hotel personnel educational courses, a mentoring program, and more
National Association of Professional Receptionists (NAPR) - Hotel receptionists can find useful resources and support, such as educational opportunities and accreditation, through this organization
Front of House Magazine - This publication covers various topics relevant to hotel receptionists, from amusing stories to best practices regarding stress management,
guest relations, and telephone etiquette
How to Be a Hotel Receptionist by Matt Shiells-Jones - Containing scenarios and best practices for customer complaints, telephone calls, and more, this book details everything a potential hotel receptionist would need to know to succeed in this career
Tales From the Front Desk by Elisha Forrester - Written by a hotel receptionist, this book explores real-life situations and events - some of which are comical - that give a sense of what can transpire in the daily life of this profession
Hospitality Cover Letter Examples
Create your own professional resume in just minutes.
Try our resume builder today
Build Your Resume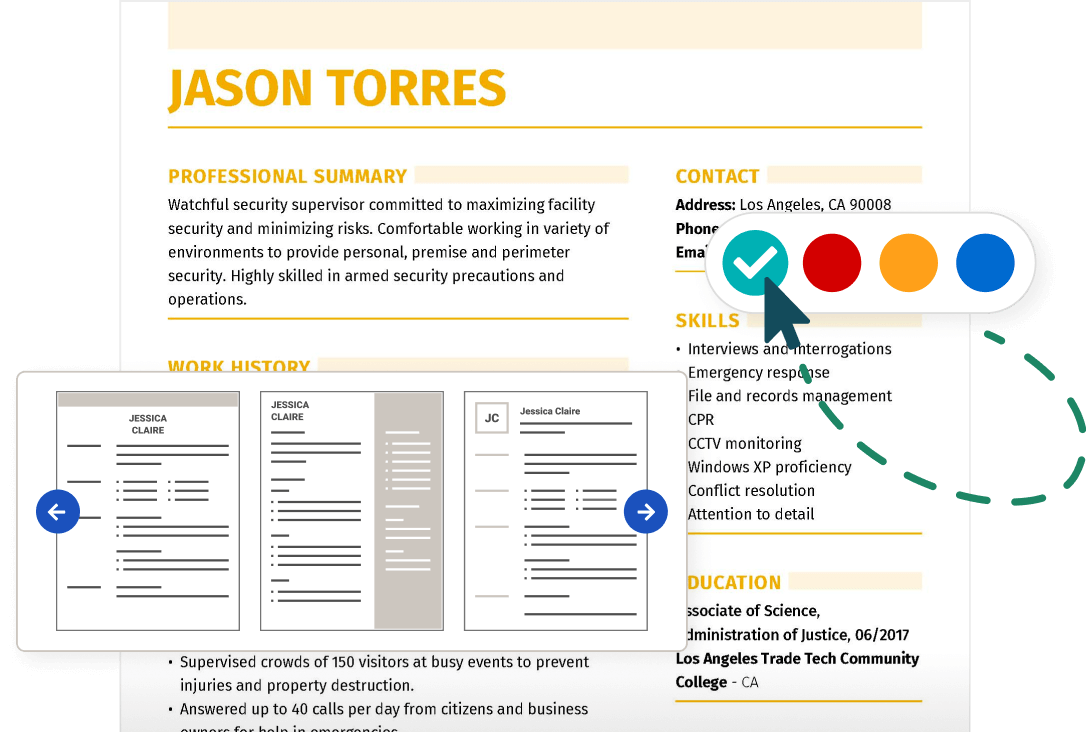 Hotel Receptionist Resume FAQ
What does a hotel receptionist do?
A hotel receptionist sets the tone for guests with a positive attitude and friendly demeanor. They greet visitors and provide an outstanding guest experience.
They are the first to tackle guest complaints in a timely manner and accommodate special requests. Their duties may include managing guest registrations and recordkeeping.
They check-in and check-out guests and perform administrative tasks at the front desk. Another important factor is that they ensure all lodging facilities are compliant with certain accessibility regulations.
What qualifications do you need to be a hotel receptionist?
Since it is a high-performance job, recruiters look to hire candidates with prior experience in the hospitality industry. Among the top skills required to be a hotel receptionist are strong customer service skills, attentive listening and supherb communication.
Bookkeeping, account management and front desk operations are the expertise requirements that recruiters look for. Be ready to work with guest management software, accounting software and Microsoft Office. Stand out with the right credentials. Having an associate degree in management or hospitality can get you noticed, for example.
What are five skills of a hotel receptionist?
The role of the hotel receptionist is very important because they become the face of the hotel. A great receptionist is a fast thinker and problem solver, ensuring that clients and customers feel that they're in good hands.
A receptionist's duties and responsibilities include greeting visitors, helping them navigate through the hotel and local area. In addition, they maintain guest calendars, sort mail and coordinate travel arrangements.
The top five duties of a receptionist are:
Problem-solving
Empathy
Communication
Multitasking
Social skills
An ideal receptionist should be versatile and ready to work in any environment. They should be highly trained, with an eye for friendliness and professionalism.