Featured in:
More Cook Resumes
Use these Cook samples as a guideline or visit our extensive library of customizable resume templates.
Additional Culinary Resume Samples
How to Format a Cook Resume
How you format a cook's resume depends on your training and experience. You can write a combination or chronological resume if you have over three years of relevant experience, such as training courses, apprenticeships or formal cooking employment. These resume formats break down your skills and accomplishments by each former job and allow you to demonstrate your gradual career progression.
However, if you're relatively new to the culinary industry, write a functional resume. These formats downplay your past job titles and dates of employment. It dedicates multiple sections to detailed skills known as "professional skills" or "summary of qualifications," and multiple task-based skill lists such as technical skills, cooking skills and team management skills.
These sample candidates demonstrate how you can define your experience. Candidate A has a long work history with over a decade of kitchen experience. Candidate B is a recent graduate with two years of technical training in a culinary school.
Chronological
Cook
Candidate Info
14

years in workforce

5

years at this job

AA

Communication
Work History
Cook, Flour + Water
April 2017 - current, San Francisco, CA
Experience in the safe operation of food service equipment, including slicers, ovens and dishwashers.
Partner with the head chef to create strong business relationships with vendors and pick the best ingredients.
Partner with junior kitchen staff to prep ingredients and stations for dinner service.
Close workstations and clean them to ensure they are sanitized and prepared for the next day.
Functional
Cook
Candidate Info
2

years in workforce

1

year at this job

BS

Culinary Arts
Professional Skills
Culinary Skills
Specialized in roasts, broils and sauces.
Familiar with English roast styles and Brazilian steak dishes.
Followed menu recipes to create a loyal customer base. Made weekly specials to encourage regular repeat visits.
Kitchen Management
Familiar with customer-facing point-of-sale (POS) and kitchen inventory systems.
Manage and oversee the daily and weekly kitchen cleaning and organization schedule.
Cook Resume Samples
No results found
0-5

years of experience

Developed a variety of menu items catering to patients with food allergies and diet restrictions such as gluten-free and vegan.
The menu was dedicated to the patients and their wants and needs but we created the classics that they all grew up with and executed them with perfection and elegance.
Learned skills in texture diets, dietary special needs and proper cooking technique while following a select menu.
Took on kitchen manager responsibilities, and helped train dietary aids.
Prepared food for 130+ patients and guest for the entire facility.
0-5

years of experience
Prepared meals in an assisted living setting, including main special and short order cook when requested
Prepped salads and desert's for the following day
Maintained a clean and sanitary kitchen ensuring it met state guidelines for food safety and inspections
0-5

years of experience
Prepped and prepared at various cook stations based on class rotation.
Worked in all stations to facilitate food order including baking, salad prep, pizza prep, char grill, flat grill, saucier, dining room assistant, and expediter.
Prepared and prepared homemade soups from scratch and variety salad dressing based on cook book recipes.
Expedited orders based on the customer's request, which requires to be able to know the menu.
Participated with classmates and restaurant patrons to ensure quality satisfying visit and return customers.
Closed work stations, also cleaned to ensure they are sanitized and prepared for the next day.
Maintained kitchen hoods, exhaust system, and drains to ensure proper ventilation and drainage throughout each scheduled lunch.
0-5

years of experience

Prepped food at night for next day
Cooked food to order following a specific menu
Stocked cooler with food needed for that day
Inspected product ensuring that labels are right and that there are no defects
Inspected the product ensuring that there are no bubbles, bulges or missing pieces
Made sure all paperwork was included
0-5

years of experience

Handling multiple orders at once, while maintaining to cook the food in a timely manner
Take safety precautions while handing large fish fryers
Experienced in Dishing out food to the front line, and preparing for more orders
Maintenance of cleaning the fryers and filtering the oil in between rushes
Close up after hours, wash dishes, sweep, and mop, dock dates on food for next upcoming shift
0-5

years of experience
Followed menu and recipes to prepare and/or cook breakfast, lunch and snack in a timely manner to stay on schedule.
Stayed aware of all allergies and regulations following health procedures and codes.
Briskly washed, sanitized, dried and put away cleaned dishes on carts or in cupboards to maintain a safe work environment.
Accurately measured portions for individual class sizes and put correct milk on carts for children with and without allergies.
Effectively wiped down counters and sinks, took out trash and recycling and swept and mopped floor on a daily basis to keep a clean and healthy kitchen.
0-5

years of experience
Set-up and clean equipment for daily food preparation
Receive, inspect and stock kitchen supplies
Maintain safe, sanitary and orderly work area
Able to follow specific instructions, guidelines and recipes accurately
Experience in the safe operation of commercial food service equipment, including slicers, ovens and dishwashers
Perform multi-tasks smoothly and effectively in a fast-paced environment
0-5

years of experience
Utilize leftovers and create a delicious meal for the employee break room.
Make sure the health care kitchens lunch special is ready.
Create a lunch special for the main dinning room.
Cook to order meals for 70-150 residents in the main dinning room from 10am-1pm.
Bake, cut, and plate150 desserts for dinner service in the main dinning room.
Prep any items needed for the line to complete the next day of lunch service in the main
Expedite orders to the sauté and grill cooks and then check to ensure the quality of food
Help produce any food needed for all functions going on that day or the following day.
6-10

years of experience
Work stations including pizza, sandwiches, and dessert at a busy restaurant
Ensure freshness of food and ingredients by checking quality, keeping track of old and new items and rotating stock
Help with preparation, set-up and service for catering events
Prepare daily food items, and cook simple foods and beverages
0-5

years of experience
Cook recipes to a certain level of expertise in a safe and sanitary manner
Prepare and maintain a consistency of quality in the foods that are made
Brew sodas in 310 gallon kettles to exact specification while monitoring pressure gauges and valve lines.
0-5

years of experience
Prep food for breakfast and lunch daily menu
Cooked breakfast and lunch meals weekly
Cleaned work area after daily duties and prep food for the next day
Load More
Culinary Cover Letter Examples
Create your own professional resume in just minutes.
Try our resume builder today
Build Your Resume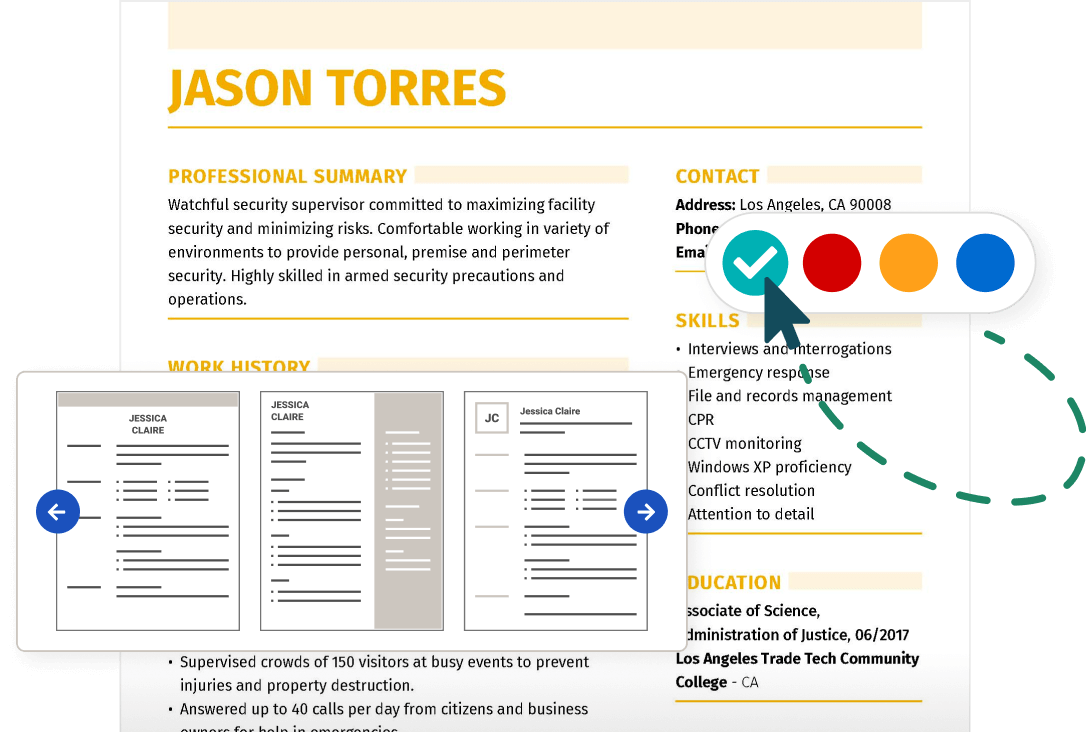 Cook Resume FAQ
What experiences do I put for a cook on my resume?
Whether this is your first cooking gig or you are an experienced chef, you should highlight your recipe knowledge, prep speed and attention to detail. It would help if you also prioritized the exclusive needs of the hiring restaurant or commissary kitchen on your cook's resume.
To accurately do this, double-check the open job description for specialized skills such as knowledge of specific cuisines or tasks. For example, you wouldn't describe your experience at a steakhouse when applying to a vegan restaurant — you would highlight knowledge of spices, food science and recipe experimentation.
What skills would you list from being a cook on your resume?
Soft skills for a cook resume
Teamwork
Verbal communication
Problem-solving
Improvisation
Decision making
Attention to detail
Organization
Cleanliness
Hard skills for a cook resume
Food safety and handling
Restaurant inventory management
Team management
Food preparation
Food presentation
Knife skills
Culinary tool maintenance
What are a cook's duties and responsibilities?
Your cook duties and responsibilities will vary depending on your level of seniority, experience, staff number and kitchen size. However, most cooks will be responsible for the following back-of-house tasks:
Cleaning and organizing ingredients.
Maintaining food storage areas such as walk-ins, pantries and lowboys.
Ensuring freshness and food grade of ingredients.
Maintaining a sanitary workstation.
Manning cooking stations.
Preparing, plating and garnishing food.
Preparing weekly specials based on excess ingredients.