Featured in:
More Office Administrator Resumes
Use these Office Administrator samples as a guideline or visit our extensive library of customizable resume templates.
Additional Administrative Resume Samples
How to Format an Office Administrator Resume
How you format your office administrator resume depends on what you want to showcase; your skills or your experience. Since Candidate A has over six years of steady employment in office administration, they use a hybrid resume. This resume format lends equal importance to your skills and work history but uses the exact time of your past jobs to illustrate how your knowledge and experience evolved over your six years.
However, suppose you'd rather break down your experience based on everyday tasks such as office maintenance, budget management, scheduling or organization. In that case, you can use the skills-based approach of the functional resume format. Candidate B uses this knowledge-forward approach to demonstrate their office management and organization experience while downplaying their two years of experience.
Hybrid Resume
6

years of experience

2

years at this job

ABA

Business Administration
Work History
Office Administrator, Summer Shades
March 2021 - present, Fargo, ND
Handle copy services, word processing, mail and distribution services, office reception, office equipment, utility services and communication systems.
Coordinate on- and off-site company events, including team-building exercises, happy hours and holiday parties.
Create and alter office policies and procedures for improved workflow, optimal file organization and well-stocked office supplies.
Functional Resume
2

years of experience

2

years at this job

HS

High School Diploma
Professional Skills
Office Management
Handle copy and printer maintenance.
Process and distribute incoming and outgoing mail.
Monitor and transfer incoming and outgoing calls.
Organization
Help executive leadership manage the budget for office-related items and staff.
Oversee overall office administration.
Alter office conference room scheduling process to streamline meetings and minimize double booking.
Office Administrator Resume Samples
No results found
0-5

years of experience

Developed and implemented scheduling techniques which resulted in a 50% increase of productivity.
Processed, tracked and posted all insurance claims with 100% to date completion,
Coordinating with patient's responsibility of payment if any.
Presented patients with treatment and financial planning, instrumental in 95% case acceptance by means of listening, educating and reasonable financial planning for the patient using resources available such as Care Credit financing.
Instrumental in ordering supplies, inventory and budgeting assuring no over spending.
Organized and introduced new systems to better facilitate insurance processing.
0-5

years of experience

Managed daily office operations, communications, and office scheduling for company
Planned, scheduled and produced all company meetings, including meetings with VIP clients
Researched & selected marketing items for upcoming sales year
Led weekly staff meeting for office personnel
Prioritized and completed assigned projects by required deadlines
Data organization & upkeep, and miscellaneous tasks as required
10+

years of experience

Responsible for front office operations including patient & insurance account receivables, scheduling, payroll, banking, and supply inventory.
Managed patient relations including maintenance of required patient documentation, office-to-patient correspondence, & coordination of patient recare appointments (resulting in a consistent 85-90% rate in scheduled follow-up appointments.
Responsible for practice financial goals. Consistently maintained account receivables at 90-98%, billed and collected.
Optimized hygiene patient schedules resulting in a 30% increase in production.
Functioned as liaison between commercial insurances; coordinated patient bill responsibilities including payment plans and collections.
Responsible for migrating practice management and patient records from paper based workflow to electronic workflow; coordinated office conversion to Dentrix.
Active participant in back office operations including set up of treatment rooms, sterilization of instruments, & maintenance of dentist and hygienist treatment times with patients (including periodontal charting); CPR certified.
0-5

years of experience

Worked with one other office administrator in managing daily activities for the business. Became a co- leader for the company's Human Resources department.
Entered accounts payable receipts and invoices into company system for payment.
Helped managers with monthly billing process.
Entered employee's time for payroll; help him/her with any HR questions/concerns.
Redesigned new hire packet documents and implemented procedures for tracking employees
Developed new business forms to improve production and management of products for the company.
Answered phone calls, assisted clients or directed them to appropriate manager.
0-5

years of experience

Performed office administrative tasks such as planning and coordinating meetings, handling office mails, transcribing meeting agendas and minutes, compiling data, creating reports, ordering office supplies, maintaining office library by cataloging travel brochures, keeping records of the sold tickets both electronically and hard copy filing system
Demonstrated excellent knowledge and proficiency in using MS office suite that includes Excel, Word, PowerPoint, Outlook and OneNote.
Organized on-site and off-site meetings with airline representative and have actively contributed in decision making on airline contracts
Actively supported and resolved queries related to issued tickets by corresponding with the clients and airline representatives and in parallel supported the call enquiries, walk-in clients, handling multiple phone lines and directing phone calls in professional manner
Established excellent knowledge of SABRE (software used to issue tickets) and updating clients record with all necessary details
Worked in QuickBooks and Tram Software for the payroll and creating other accounts reports
Composed, prepared and proof read the correspondence, office memos, and reports for the office
Maintained discipline and improved working methods and plans and organizing new standards for the benefits of the company
0-5

years of experience

Teamed to support 2 owners, 2 partners and 4 managers directly
Assisted in all general office duties; including catered events/meetings, receiving and shipping, reception coverage, executive calendar scheduling and maintenance, and supply ordering
Approved and processed expenses for 50+ employees bi-weekly, including quarterly report metrics for employee travel, expenses and housing
Coordinated 50+ employee apartments including processing of all bills for each unit
Managed and allocated all credit card bills to assigned companies
Created contracts for all incoming contractors and manage all new hire paperwork
Approved and reconcile hours and payment for 250+ contractors and vendors
6-10

years of experience

Organized office of family-owned painting contractor company by setting up filing systems and implementing procedures such as call logs and work order charting that enabled the business to run more efficiently
Performed bookkeeping/light accounting duties including posting account receivables, preparing checks for payables, reconciling bank accounts on QuickBooks
Collected data and prepared company financial reports for CPA using QuickBooks
Administered employee wage garnishments including communicating with child support enforcement agencies
Formatted charts of financial and other data using Microsoft Office programs
Communicated both verbally and in writing with customers, vendors and other third parties
Scheduled remedial work order service which involved dealing with dissatisfied customers
6-10

years of experience
Increased revenue through event bookings and tenant contracts by $2,000-5,000 per month. Events, included film parking, film shoots, weddings, concerts, etc.
Reduced disruptions/issues between tenants with monthly meetings to create awareness in all parties of ongoing activities and fostering a positive work environment.
Identified savings opportunities in technology related assets, saving the annual budget of $1,000.
Maintained active engagement with film crews, managers, city officials, and other guests to ensure the best conditions for event productions ranging in size from 50 to 800(+) participants.
0-5

years of experience
Scheduled and assigned CNA/HHAs based on patient needs using a 5 point matching system
Recruited, selected, oriented and trained multiple employees
Submitted claims/appealed unpaid and denied claims to insurance companies
Managed accounts receivable/payable; Reconciled all accounts from start of company
Restructured billing and payroll process using Quickbooks
0-5

years of experience

Greeted visitors and callers and handled their inquiries and directed them to appropriate individuals
Answered phones and gave information to callers and took messages
Created, maintained, and entered information into databases
Recorded information and maintained current documentation
Maintained scheduling and event calendars
Scheduled and confirmed appointments for clientele
0-5

years of experience
Researched, built and currently maintain a strong email marketing campaign using IContact.
Increased customer base and sales through daily advertising of specials, new products and stock inventory listings.
Prepare the master internal and customer stock inventory listings.
Enter all customer orders using Southware NetLink webportal (from $2.5 to $3 million monthly sales).
Prepare and review open order reports to expedite shipping of in stock items.
Investigate estimated time of arrival for out of stock items using Southware Excellence Series.
Load More
Administrative Cover Letter Examples
Create your own professional resume in just minutes.
Try our resume builder today
Build Your Resume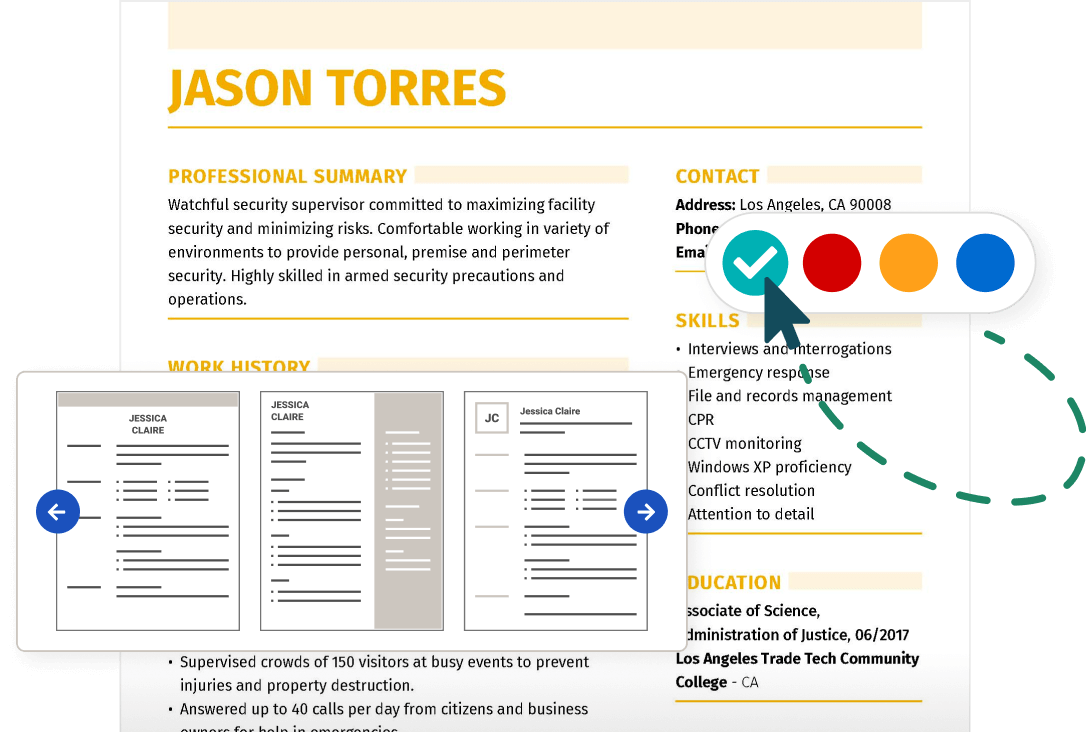 Office Administrator Resume FAQ
What should an office administrator put on a resume?
Your office administrator resume should highlight the following office maintenance skills:
Organization
Time management
Written and verbal communication
Multitasking
Budget maintenance
Problem-solving
Teamwork and collaboration
Conflict resolution
Pro tip from our certified resume writers: Use numbers or percentages to indicate your effectiveness. For example, an office administrator who negotiated a better catering contract and saved the company 23% on meal budgets while maintaining staff satisfaction looks more impressive than a candidate who claimed to reduce the office supply budget without providing further information.
What are the duties of an office administrator?
An office administrator is generally responsible for the day-to-day procedures:
Manage incoming and outgoing correspondence.
Design, organize and maintain filing systems.
Review and approve supply requests.
Manage office supply budgets.
Assign scheduling and clerical duties.
Prepare and process payroll.
Monitor ingoing and outgoing invoices.
Organize and communicate daily office operations and procedures.