Featured in:
Case managers help supervise and arrange social service programs for clients. They also oversee and direct those who provide social services to others. Most case managers are employed full-time, and they are often employed by nonprofit and government agencies and organizations. Case management is the perfect field for anyone with a strong interest in social work and community service. Case managers typically work with at-risk and low-income populations.
Our team of certified resume writers have created a library of resume examples to show you how to craft a strong resume. Study them to learn to write your own.
One extra step to impress a manager: A growing number of hiring professionals read cover letters to determine whether they'll interview a candidate or not. Use our cover letter templates to craft a complete application that lands you the interview.
Case Manager Duties and Responsibilities
Case managers help vulnerable members of society gain access to the social services they need. The tasks case managers are required to complete will vary from location to location, but in general, most case managers will be expected to do the following on a daily basis:
Help Individuals Gain Access to Community Resources
Case managers are responsible for helping individuals learn more about the social and community resources available to them. They may help others gain access to health care, housing, education, and drug and alcohol addiction programs. Many work with specific groups of individuals, such as children or the elderly.
Analyze the Effectiveness of Programs
Case managers must evaluate how well certain programs and services benefit the community. Many of these services are offered by the government and nonprofit agencies, who depend on case managers to provide feedback.
Visit With Clients
Case managers are often required to meet their clients in their homes. Many clients, especially older and infirm individuals are unable to travel, and case managers must meet with them to determine their needs and evaluate their progress.
Manage Outreach Programs
Many individuals do not know about the services and programs available in their communities. Case managers, along with social workers, often organize outreach programs to raise community awareness.
Compile Reports
When a case manager works with a client, they must collect personal information so they can determine their particular needs. This information is often private, and it must be regularly updated and filed properly for future reference.
Case Manager Skills and Qualifications
The skills and qualifications needed to become a case manager will vary from employer to employer. A bachelor's degree in social work or psychology is usually required, but for higher-level positions, a master's may be needed. Employers also seek out candidates with the following skills and abilities:
Social work/psychology background - an in-depth understanding of the social work industry and its concepts and techniques is required. Some employers may even require candidates to have prior social work or mental health experience
Understanding of current social issues - case managers should understand the social ills that plague their communities or the demographic they serve. They should understand issues such as domestic abuse, poverty, drug addiction, and homelessness
Managerial experience - managerial or supervisory experience is usually required to become a case manager. This experience should come from directing others in a work environment
Problem-solving skills - case managers are faced with countless problems and challenges on a regular basis, so they should be able to come up with unique and effective solutions
Communication skills - Case managers often work in one-on-one and small group settings, often with vulnerable populations. This means they need to be able to communicate in a calm, professional, and compassionate manner
Case Manager Education and Training
To become a case manager, individuals will need to earn either a bachelor's or master's degree in social work or psychology. A bachelor's degree can be earned in three to four years from most colleges and universities, and an additional two years of study will be needed to earn a master's degree. During their studies, case managers study topics such as mental health and substance abuse, social welfare policy, community outreach, and social development. Some on-the-job training and supervision may be required.
Case Manager Salary and Outlook
According to the Bureau of Labor Statistics (BLS), the median annual income for social and community service managers in 2017 was $64,100. Those in the top 10 percent earned more than $109,990 annually, while those in the lowest 10 percent earned less than $39,730 annually. Case managers employed full-time usually receive benefits such as sick leave, health insurance, and vision insurance.
The employment rate for social and community service managers is expected to grow by 18 percent between 2016 and 2026. This is a much higher rate than the national average of seven percent for all professions. This increase is attributed to an expanding aging population and an increase in poverty in urban and rural areas.
Create your own professional resume in just minutes.
Try our resume builder today
Build Your Resume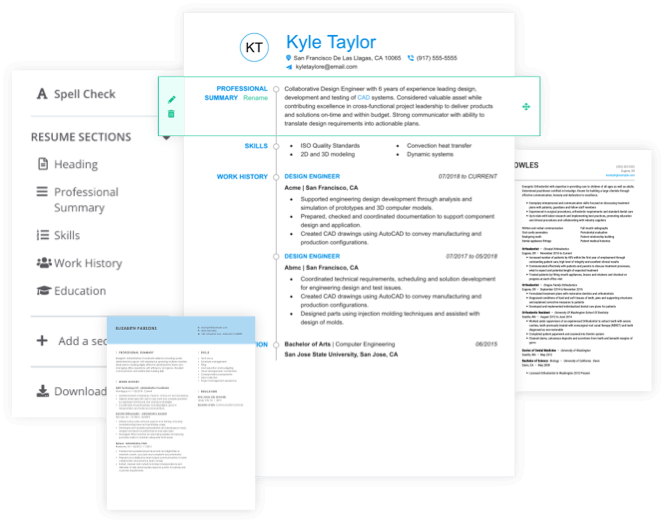 Helpful Resources
Would you like to become a social worker someday? The following resources can help you learn more about the field.
the NASW is a nonprofit organization that aims to provide social workers and case managers with a variety of professional and personal resources. It also strives to educate the public about the importance of social work and community services.
case managers spend the vast majority of their waking hours helping others. There is nothing wrong with this, and as a matter of fact, it is to be expected, but endlessly focusing on others can be a recipe for burnout, anxiety, and depression. The authors of this compact book offer practical tips and sound advice for detaching from stressful situations and avoiding burnout. Simply put, this is a musthave for anyone who wants to be a case manager.
a compilation of reallife stories from 58 social workers, Days in the Lives of Social Workers delves into the innerworld of the profession. Each story provides readers with an emotional glimpse of what social work has to offer, and explores the fears, challenges, and joys those in the helping profession face on a regular basis.
Case Manager Resume Help
Explore these related job titles from our database of hundreds of thousands of expert-approved resume samples: