Featured in:
Sales clerks work in retail settings and are responsible for a variety of tasks involving the front end of a retail environment. Part of this position involves cashier duties, which requires basic math skills and knowledge of point of sale systems. The other part of this position involves sales tasks, such as helping customers find products and upselling promotional products. Sales clerks work in a retail environment, interacting with new people on a daily basis. Sales clerks are on their feet for long periods of time. It is a great job for those who like to help people and can't stand the idea of sitting at a desk.
Sales clerk is an entry-level position. They answer to a sales supervisor or front-end manager, depending on their industry. The biggest employers of sales clerks are the grocery, clothing, and building supply retail industries. According to the National Bureau of Labor Statistics, demand for retail sales workers, which includes sales clerks is set to grow 2 percent through 2026.
Need cover letter guidance? Add a cover letter to your resume using our cover letter formats how-to guide and add value to your resume.
Boost your resume with an extra click. Our cover letter templates match our resume templates' designs for a cohesive application. Use a template in our builder to help you quantify and expand upon the experience from your resume and impress employers.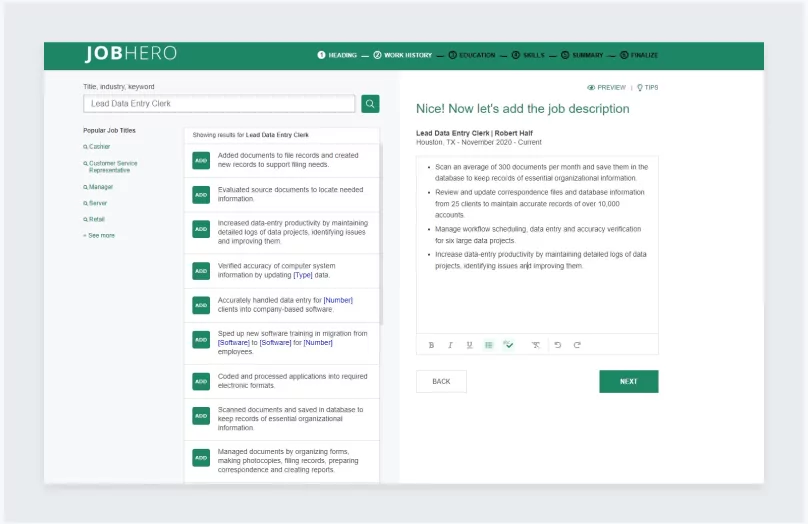 BUILD MY RESUME
Sales Clerk Duties and Responsibilities
Front-end retail environments require sales clerks to perform a number of duties and responsibilities, which include:
Greet and Service Customers
First and foremost, sales clerks are the frontline in greeting customers and setting the tone for an excellent shopping experience. They are also responsible for answering customer questions, as well as upselling products once customer needs are identified.
Maintain the Sales Floor to Company Visual Standard
Sales clerks have to have an eye for detail, as they are the ones who make a sales floor look so neat. This requires one to be an expert on company visual standards and also may require one to put promotional signs and kiosks together.
Check Customers Out at Point of Sale
Sales clerks need to have basic math skills and the ability to learn a point of sales system to facilitate the purchase of merchandise. This requires a positive attitude and good interpersonal skills.
Assist Stock Clerks with Replenishing Sales Floor
Part of maintaining the visual standard is replenishing the sales floor throughout the day. Sales clerks collaborate and communicate with stock clerks to fill the floor efficiently.
Conduct Regular Price Audits on Merchandise
Companies change the prices of their products all the time based on promotions and inventory markdowns. It is the responsibility of the sales clerk to conduct regular price audits and re-tag items with incorrect prices.
Sales Clerk Skills
Sales clerks mostly need soft skills to do their job well, but there are a couple of technical skills required. Good sales clerks enjoy interacting with people. They are upbeat and personable, good listeners, and patient. Sales clerks are team players and multitaskers. In addition to these qualities, good sales clerks possess the following skills:
Providing excellent customer service using employer's customer service strategy
Organizing and merchandising the sales floor based on company visual standards
Diffusing conflict using conflict resolution skills to deal with customer complaints
Using basic math skills to calculate discounts and operate the point of sale system
Sales Clerk Tools of the Trade
Sales clerks use a few basic tools in the retail environment. These include:
Pricing gun – sales clerks use pricing guns to price items
Point of Sale Software – sales clerks use point of sale software to facilitate sales
Sales Clerk Education and Training
Sales clerk is an entry-level position that only requires a high school diploma to obtain employment. Most education and training takes place on the job. This involves learning how to operate point of sale software, pricing guns, and scanners. It also involves learning company visual standards and gaining knowledge about the products being sold. It can involve learning a proprietary sales strategy or general sales tactics.
Sales Clerk Salary
According to the National Bureau of Labor Statistics, the national median salary for retail sales workers, which includes sales clerks, is $11.01 an hour. Those in the top 10 percent make above $19.91 an hour, while those in the bottom 10 percent make below $8.56 an hour.
Create your own professional resume in just minutes.
Try our resume builder today
Build Your Resume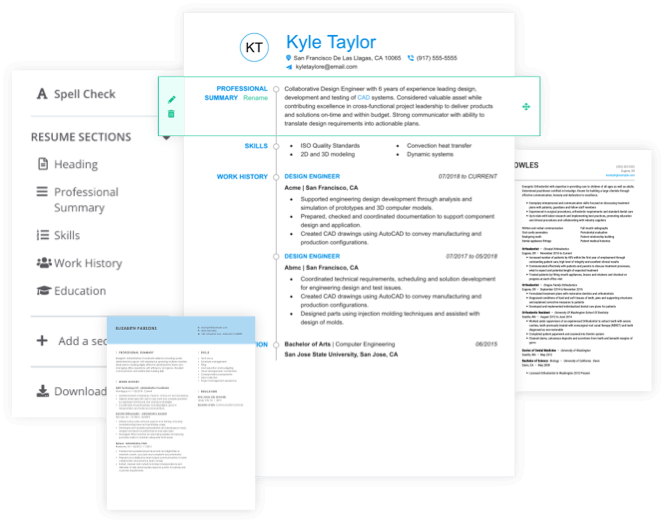 Sales Clerk Resources
Sales clerk is a stepping stone for many into the world of retail management. The following resources are geared towards those interested in making a career in sales:
Sales Clerk Resume Help
Explore these related job titles from our database of hundreds of thousands of expert-approved resume samples: