Featured in:
As the first person encountered when someone enters a building, a security receptionist plays a large role in both operational flow and facility safety. Through interaction with visitors, the security receptionist quickly guides them to their proper destination. When a person seems out of place or suspicious, the security receptionist takes action, such as asking the intruder to leave or by notifying authorities. Though stationed at a desk, security receptionists may also walk around the premises to look for abnormal activity or undocumented guests. Hours tend to be full time and correspond to the establishment's operating hours.
Our certified resume writers have created a library of resume samples to show you exactly what a strong resume looks like. Use them as-is or customize them to your needs.
Boost your resume with an extra click. Our cover letter templates match our resume templates' designs for a cohesive application. Use a template in our builder to help you quantify and expand upon the experience from your resume and impress employers.
Security Receptionist Duties and Responsibilities
As the name implies, there are two critical elements involved in this position. The balance between security duties and receptionist responsibilities varies by employer. However, our analysis of job listings shows that all security receptionists should be prepared to meet the following expectations:
Greet Visitors
Security receptionists are positioned at entranceways to welcome everyone who comes through the door. Establishing contact serves several purposes. Visitors can state why they are there, and the security receptionist can guide them to the appropriate destination or perform an action such as signing for packages. The security receptionist's presence and interest also subtly tells strangers that someone is keeping an eye on them.
Perform Security Measures
Security receptionists may ask incoming and outgoing visitors to sign a log that includes the time of arrival or departure and the purpose of the visit. Security receptionists may also issue badges for guests to wear while in the building and check the IDs of people who work there. Other safety measures can include inspecting bags and backpacks, operating a wand or metal detecting station, handing out bathroom keys, monitoring cameras positioned throughout the establishment, asking questions to people who seem out of place, and walking around to observe. Security receptionists who have undergone training may take physical action when warranted, such as escorting a loiterer out of the building or breaking up a fight.
Report Problems
All security receptionists need to be well-versed on what to do if a potentially unwanted situation arises. While remaining calm and keeping tabs on developments, they must notify authorities or activate appropriate alarms. Communicating information to others in the building also may be necessary, such as providing a description of an unauthorized visitor. Security receptionists keep an eye on the building itself for possible hazards, such as a lightbulb that needs changing or an icy entranceway, and relay observations to maintenance.
Answer Phones
Security receptionists may perform basic office tasks such as making copies, sorting mail, or entering data. However, their primary secretarial duty is handling incoming calls. Actions can include providing basic information, such as hours of operation or directions to the facility, taking messages, and redirecting the call to the appropriate person or department.
Monitor Control Systems
In addition to observing foot traffic within a building, security receptionists monitor the company's control systems and conduct closed-system TV surveillance.
Security Receptionist Skills and Qualifications
If you're the type who notices every time a colleague wears a new outfit, your observational skills may lend a hand in your career as a security receptionist. This position demands an eagle eye to spot signals of possible problems. In addition to being highly attentive, security receptionists remain calm in the face of potential danger and take proper action. Other abilities essential to the position include:
Interpersonal Skills – Patience, listening, and communicating with a confident but friendly attitude are all people skills a security receptionist must tap into while assisting visitors
Physical Requirements – In establishments where they act much like guards, security receptionists should be capable of restraining someone
Memorization – When you know the names and routines of those who work in the facility or frequently come by, spotting intruders or unusual activity is easier
Multitasking – Balancing both security responsibilities and receptionist tasks requires staying on top of things and prioritizing
Attention to Detail – Security receptionists have a keen eye for what's transpiring in the building, including visitors, safety violations, and security breaches
Security Receptionist Education and Training
Necessary background really depends on the organization's needs, though all candidates should possess a high school diploma and be prepared for a background check. On the administrative side, aspiring security receptionists should be proficient at basic computer usage and office tasks. The desired amount of security training varies from minimal to highly qualified. Security receptionists at some places focus on monitoring and alerting authorities, whereas ones at other establishments act more as guards and may be authorized to carry weapons.
Security Receptionist Salary
According to Glassdoor, the average annual salary for a security receptionist in the United States is $28,729.
Create your own professional resume in just minutes.
Try our resume builder today
Build Your Resume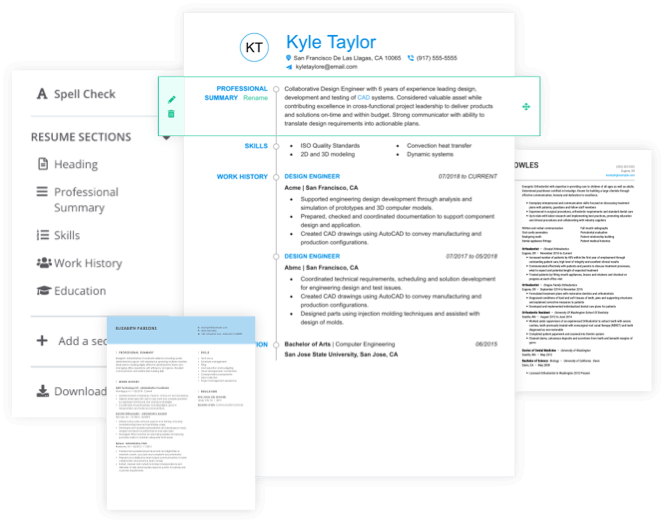 Helpful Resources
Up to the challenge of being a security receptionist? If so, learn more about this important position with these sources:
Security Receptionist Resume Help
Explore these related job titles from our database of hundreds of thousands of expert-approved resume samples: