Featured in:
The main function of a Retail Supervisor is to oversee the work of retail staff in a store environment. They are in charge of monitoring employee activity, coordinating the shipping and receiving of merchandise, solving problems at a day-to-day level and assisting customers.
Retail Supervisors can work for any kind of retail store, whether it be a clothing, electronics or home goods store. No matter which specific type of retailer they work for, their job is to ensure the smooth day-to-day operation of a store, from the shelving of merchandise to customer satisfaction. Retail Supervisors work in a mixed environment that typically consists of both an office and a sales floor. They may also be required to travel to meetings with higher-up staff members within the retail company.
Need cover letter guidance? Add a cover letter to your resume using our cover letter formats how-to guide and add value to your resume.
Want to boost your resume? Your Jobhero subscription comes with a complimentary cover letter builder. Once you choose a cover letter template, the builder will suggest job-specific skills and prewritten entries, allowing you to save multiple letters for various applications fast.
Retail Supervisor Duties and Responsibilities
In order to ensure that their store runs efficiently and effectively, Retail Supervisors perform a wide array of tasks. We analyzed several online job postings to identify the following core duties and responsibilities.
Manage Staff
Managing and overseeing store staff takes up a large chunk of Retail Supervisors' time. Sales associates, cashiers, greeters, stock people and any in-store staff will all need to be properly managed to ensure that they complete their assigned tasks in a timely manner. Additionally, Retail Supervisors must train, counsel, discipline and promote employees as they see fit.
Monitor Finances
In addition to managing staff, Retail Supervisors will also need to monitor their store's finances. This can include drawing up budgets, scheduling expenditures, analyzing discrepancies between the budget and actual expenses, analyzing profitability ratios and implementing corrective measures.
Maintain Store
As anyone in sales can attest, a store's presentation is vital to its success with customers. Retail Supervisors will be charged with delegating and performing tasks related to upkeep and organization, including the rearranging of shelves, the setting up of displays and the cleaning of the store and products.
Maintain Inventory
Part of a Retail Supervisor's job is to make sure that all items are in stock while always striving to eliminate as much waste as possible. This involves coordinating deliveries, checking inventory numbers, recording missing or stolen merchandise and planning special discount offers as needed.
Assist Customers
As the highest-level employee present at the store, Retail Supervisors will need to assist customers on a regular basis. From finding specific items to correcting pricing mistakes to administering refunds or discounts, Retail Supervisors will spend a significant amount of time attending to customers' needs.
Retail Supervisor Skills
Successful Retail Supervisors are energetic, detail-oriented people who possess a great deal of patience. They're just as adept at resolving interpersonal conflicts as they are at analyzing budget sheets, and they feel comfortable both behind-the-scenes and in-the-spotlight. In addition to these general skills and personality traits, employers are looking for Retail Supervisors with the following skills and qualifications.
Communication skills - Due to the social nature of their work, Retail Supervisors must display excellent written and verbal communication skills. This can help them effectively communicate with staff members, customers, vendors and higher-ups.
Customer service skills - In order to meet customers' needs, Retail Supervisors must have advanced customer service skills. These skills can help them solve problems, diffuse tense situations, resolve conflicts and more.
Management skills - Retail Supervisors are usually required to oversee a large number of staff members, from cashiers to fitting room attendants. Thus, they must be able to efficiently and effectively manage people in a retail environment.
Organization - Since Retail Supervisors will be in charge of monitoring and analyzing a variety of important documents, they need to be organized at all times.This way, they'll be able to keep track of budgets, expense reports, employee files and more.
Financial skills - To understand and analyze the various financial documents under their care, such as budget sheets, Retail Supervisors need to have beginner to intermediate level financial skills. This skill set should include basic accounting.
Retail Supervisor Tools of the Trade
In order to accomplish their daily goals, Retail Supervisors use a variety of tools. If you're planning on becoming a Retail Supervisor, make sure that you have at least a basic understanding of the following tools.
Recent versions of Microsoft Office software suites – Several programs available in Microsoft Office, including Excel and Word, will come in handy to Retail Supervisors.
Standard office equipment – In order to print and post schedules, notices and more, Retail Supervisors must be familiar with standard office equipment such as printers and copiers.
Telecommunications equipment – To quickly communicate with staff members as well as higher-ups, Retail Supervisors need to know how to operate telecommunications equipment such as telephones, walkie-talkies and more.
Retail software – From Point of Sale (POS) systems to financial software, Retail Supervisors must be comfortable using a variety of software typically used by retail companies.
Retail Supervisor Salary
According to the Bureau of Labor Statistics, Retail Supervisors earn an average annual salary of $39,040. The lowest paid earn $24,530 per year, while the highest paid can earn $66,480 per year or more. Retail Supervisors in the Rhode Island, the District of Columbia and Connecticut enjoy the highest median annual salary in the United States, earning $47,290, $46,530 and $45,750 per year respectively.
Create your own professional resume in just minutes.
Try our resume builder today
Build Your Resume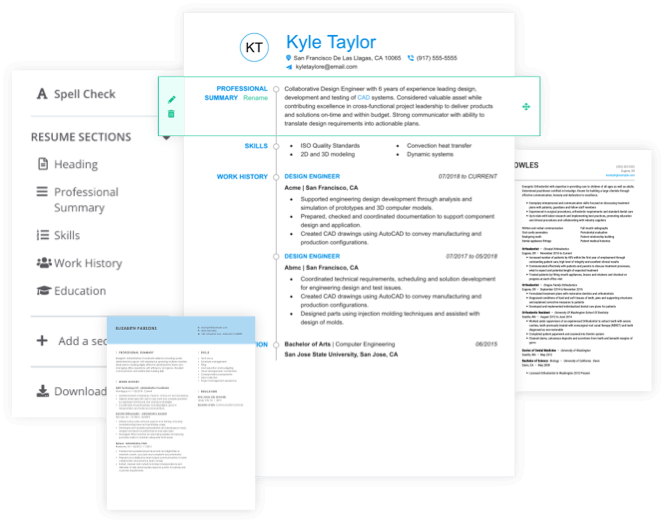 Additional Retail Supervisor Resources
We put together this list of resources to help you keep exploring your career as a Retail Supervisor.
Retail Supervisor Resume Help
Explore these related job titles from our database of hundreds of thousands of expert-approved resume samples: