Featured in:
Retail specialists work in large and small retail stores, providing customer service and completing sales while also maintaining oversight of stocking shelves and effectively merchandizing products. At larger or chain retail stores, a retail specialist needs to meet daily or weekly sales numbers by informing customers about a product's features or benefits and upselling higher-margin items to support overall profitability.
Retail specialists tend to collaborate with several other retail workers. They may work shifts that change from week-to-week and include weekends, nights, and extra hours during holidays and other busy seasons. Because they are the front line of customer service, retail specialists ensure that customers have a positive shopping experience.
Studying resume samples and examples are a great way to get inspiration for your own. Study our library of examples today!
Want to boost your resume? Your Jobhero subscription comes with a complimentary cover letter builder. Once you choose a cover letter template, the builder will suggest job-specific skills and prewritten entries, allowing you to save multiple letters for various applications fast.
Retail Specialist Duties and Responsibilities
While a retail specialist's duties can vary depending on the store they work in, many of the core responsibilities remain the same:
Complete Retail Sales
The retail specialist's primary duty is to help customers buy items. This can include helping the customer find a particular product, placing a special order for out-of-stock or specialty items, and providing information about products. The retail specialist also processes payments and accepts cash, which frequently involves making change, applying coupons or promotions, and bagging the customer's items after the sale.
Respond to Customer Questions
In many cases, the retail specialist answers customer questions about products, stock availability, promotions, and store policies. A customer may want to know about the shop's return and exchange policies, for example, or ask whether a promotion applies to a specific item. This part of the job requires a high level of familiarity with the store's offerings, policies, and events.
Arrange Displays
Retail specialists ensure that stores look their best and that customers can reach items by arranging displays and merchandizing items. This can include arranging seasonal and holiday displays, placing sale items in a central location for customers to browse, and front-facing items such as books to create a visually and aesthetically pleasing shopping experience. Retail specialists also make sure that items are correctly priced before they are added to shelves.
Maintain Stock and Inventory Records
Retail specialists maintain stock and inventory records while restocking items and completing sales. The retail specialist may visually review inventory levels or complete a periodic inspection, comparing current inventory levels to internal records. The retail specialist then takes note of any discrepancies or missing stock. In many cases, a retail specialist may submit a list of low-stock items to a buyer to ensure that the store has sufficient product on hand at all times.
Process Returns and Exchanges
Retail specialists process returns and exchanges according to store policy. In this aspect of the job, they may check a customer's receipt to determine whether their item is eligible for a refund or exchange and may offer the refund in the form of store credit if the customer is returning an item after a certain amount of time has passed. The retail specialist records these returns and exchanges and removes damaged items from inventory.
Upsell Value-Added Items
Finally, retail specialists support store profitability by upselling high-margin or value-added items to customers. These items can include insurance or protection plans for consumer electronics or devices, or "impulse buy" items placed near the counter, such as snacks and drinks.
Retail Specialist Skills and Qualifications
Retail specialists provide day-to-day sales support and customer service at a variety of shops. Most retail stores tend to hire applicants with at least a high school diploma and the following skills:
Salesmanship - retail specialists sell items directly to customers, so they need to successfully inform customers about products, locate in-demand items, and upsell other products at the point of sale
Customer service - effective customer service skills are also important in this role, as retail specialists may need to complete returns or exchanges, answer questions about products, and create a positive customer experience
Cash management - because they handle customer transactions and are in charge of balancing cash drawers, retail specialists should also possess effective cash management skills and be trustworthy
Inventory control - many retail specialists also conduct activities related to receiving, stocking, and inventory management, so they should have some experience with inventory control practices
Time management - in the course of a day, the retail specialist switches between tasks like checking out customers and stocking shelves, so they should be able to manage their time and handle a frequently changing schedule
Communication skills - retail specialists should be effective communicators, able to talk to customers, vendors and suppliers, and managers throughout the course of their shifts
Retail Specialist Education and Training
Retail specialists do not need formal education, although most have at least a high school diploma or GED. Experience with customer service or retail sales, or familiarity with the store's specific sector of the retail market, can also help while applying for jobs in this field. There are many opportunities for on-the-job training in this role as retail specialists familiarize themselves with the store's offerings, point-of-sale (POS) system, and policies regarding customer sales and returns.
Retail Specialist Salary and Outlook
According to the Bureau of Labor Statistics (BLS), retail sales workers (including retail specialists) earn a median hourly wage of $11.16. The highest-paid 10 percent of retail sales workers earn more than $19.85 per hour, while the lowest-paid workers in this role earn less than $8.61 per hour.
The BLS expects employment to grow 2 percent for retail sales workers by 2026, which is a slower-than-average pace. This slow increase is mainly due to the growing market share of online retailing.
Create your own professional resume in just minutes.
Try our resume builder today
Build Your Resume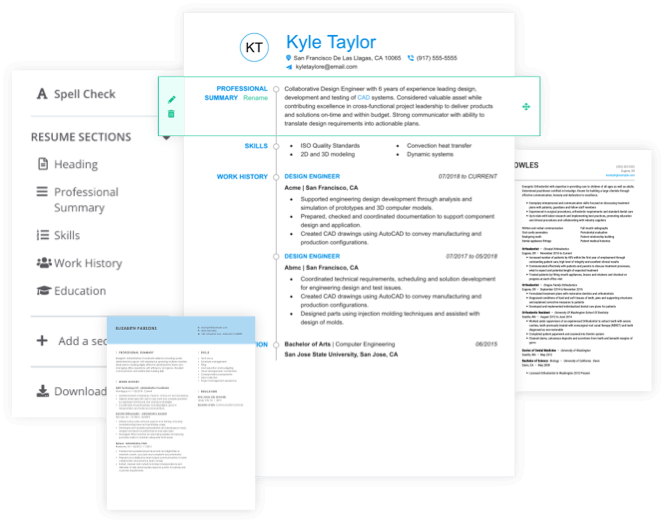 Helpful Resources
We searched the web and found several resources if you'd like to learn more about working as a retail specialist:
read this blog post to learn how to improve the customer's experience and drive sales volume through proactive techniques and customer loyalty initiatives
Robin Lewis and Michael Dart explore the changing nature of the retail world in the digital age and share advice on surviving and thriving
this interview with a luxury retail specialist provides advice that stores catering to a wide range of customers can use to improve sales
No Thanks, I'm Just Looking: Sales Techniques for Turning Shoppers into Buyers
in this book, retail guru Harry J. Friedman provides advice and guidance on closing sales and building a customer base
Retail Specialist Resume Help
Explore these related job titles from our database of hundreds of thousands of expert-approved resume samples: