Featured in:
Retail clerks work at places that sell goods directly to consumers. Their knowledge of the facility and its offerings enable them to help shoppers find what they want. Because a clean, safe store promotes easy movement and a better customer experience, retail clerks work to maintain an attractive environment.
Retail clerks spend a good amount of time standing on their feet and moving around the store. Being able to bend, lift, stretch, and maintain stamina is crucial to success. Since stores are open various days and hours, the shifts of retail clerks vary considerably, and workers can be either part-time or full-time. The holiday season may require putting in extra hours to keep up with crowds. Despite the popularity of online shopping, the overall demand for retail clerks, categorized by the Bureau of Labor Statistics under "retail sales workers," is expected to grow 7 percent between 2014 and 2024.
If you are having writers block, our resume examples can help. Choose from hundreds of job titles to find the right example for your needs.
Impress your future boss! According to a 2020 survey, most hiring managers read cover letters for candidates they're considering interviewing before making their final decision. Make a cover letter that seals the deal with our professionally designed cover letter templates.
Retail Clerk Duties and Responsibilities
Retail clerks serve both their employers and those who come to shop. Thus, their primary duties involve tasks directed at pleasing both of these groups. Our look at job postings for retail clerk positions revealed these activities as being common:
Serving Shoppers
For brick and mortar stores, outstanding customer service can be a way of convincing shoppers that it's worth their trip rather than simply ordering online. A friendly greeting at the entrance gets things off on the right foot, and asking people if they need any help finding items shows caring and concern for their time. As shoppers move around the store, they generally encounter other retail clerks. Their presence gives buyers the comfort of knowing help is nearby whenever they have a question. And for the employer, having employees scattered throughout helps prevent shoplifting.
Completing Purchases
Retail clerks may work at the register scanning items customers wish to purchase, bagging items, totaling the bill, collecting payment, and issuing a receipt. Sometimes, retail clerks act as liaisons with the stock clerks, calling them to transport a large item directly to a person's vehicle.
Facility Maintenance and Appearance
Gathering carts from the parking lot, putting discarded items back in the right place, and picking up trash in the aisles are some of the tasks retail clerks may be assigned to perform to keep the place orderly. Retail clerks also may be called upon to set up displays that highlight certain products.
Training
Experienced retail clerks may show new employees the ropes and look after their progress.
Retail Clerk Skills
At the heart of a retail clerk's position is the desire to serve customers. Good retail clerks are comfortable interacting with anyone who comes through the door. In addition to outstanding interpersonal skills, employers love to see résumés that include evidence of the following:
Following directions
Getting along with teammates
Dressing according to company policy
Looking and acting like a professional at all times
Perceiving what needs to be done and doing it, such as requesting more stock for an empty shelf or opening a new checkout line during the evening rush
Learning about new items and procedures willingly and quickly
Retail Clerk Tools of the trade
Operating a retail establishment involves a variety of items. Some of the most common include:
Scanners – equipment that reads codes in order to display the price of an object and collect information to keep inventory counts up to date
Registers – places where customers pay for their purchases through a monetary or electronic transaction
Receipts – lists customers receive as proof of what was purchased, when, and for how much
Stock – merchandise on hand available for purchase
Shopping carts – containers with wheels in which customers can transport their potential purchases
Displays – arrangements of merchandise designed in ways to draw the attention of those passing by
Retail Clerk Education and Training
Becoming a retail clerk does not involve any formal educational credentials. Most workers hold (or are in the process of obtaining) a high school diploma. The variety of hours available proves convenient to college students, parents, and others looking to balance a job with other obligations. Many retail clerks get a foot in the door when retail establishments bring aboard extra people during the holiday season. All people hired as retail clerks should expect a period of on-the-job training.
Retail Clerk Salary
Retail clerks are usually paid by the hour rather than an annual salary. They also may receive discounts on merchandise. The median hourly wage for retail clerks, categorized by the BLS under "retail sales workers," is $10.90. The lowest 10 percent earn about $8.55 per hour, and the highest 10 percent make in excess of $19.90. Retail sales workers in the District of Columbia, North Dakota, and Rhode Island make the highest medians in the U.S. — $16.94, $15.49, and $15.41, respectively.
Create your own professional resume in just minutes.
Try our resume builder today
Build Your Resume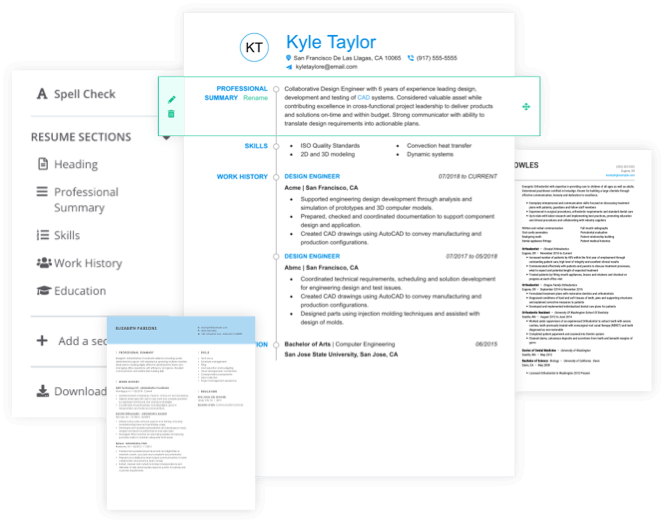 Retail Clerk Resources
If the information we've presented makes you excited about the prospect of becoming a retail clerk, here are some other sources you might want to check out to further aid your decision:
Whether you're interested in holiday buying trends or finding a scholarship to use toward furthering your career, this organization is a great place for aspiring retail clerks to learn more about everything related to the retail industry.
The author of this handbook is the former executive vice president of operations at Walt Disney World, so he knows a thing or two about making customers happy. Readers describe his book as "easy to read" and "understandable, but profound." Among his rules: "Ask Yourself 'What Would Mom Do?' and Treat Every Customer Like a Regular." His universal wisdom can help retail clerks become better at their jobs.
Written by an expert in retail behavior, this guide looks at shopping habits and how retailers can use this information to build a better customer base. One reviewer calls it "a funny and insightful book for people on both sides of the retail counter."
Retail Clerk Resume Help
Explore these related job titles from our database of hundreds of thousands of expert-approved resume samples: