Featured in:
Companies hire QC (quality control) inspectors to examine parts and products for acceptability. Little flaws can cause big problems, so spotting defects and errors before a car is assembled or a batch of hazardous toys makes its way into the hands of children is worth the effort. Workplaces include assembly lines, laboratories, and quality control departments. Some QC inspectors spend a great deal of time on their feet, while others perform their role sitting down. Likewise, some environments expose workers to noise and grime; other places are quiet and clean. Full-time, standard business hours are the norm. However, places that operate evenings, nights, and weekends also hire for those shifts. Experienced employees generally get the most choice as to when they work. QC inspectors also sometimes need to put in overtime when deadlines near.
Studying resume samples and examples are a great way to get inspiration for your own. Study our library of examples today!
Boost your resume with an extra click. Our cover letter templates match our resume templates' designs for a cohesive application. Use a template in our builder to help you quantify and expand upon the experience from your resume and impress employers.
QC Inspector Duties and Responsibilities
While QC inspectors in, say, a pharmaceutical lab are bound to have different responsibilities than someone in a manufacturing plant, some core duties go along with the position regardless of location. Our analysis of job listings reveals that all candidates should prepare to do the following:
Inspect Products
Using their company-provided training on acceptable standards, inspectors monitor the quality of output and physically remove problematic items. For instance, a sorter of produce may rely on visual inspection to weed out damaged food. A lab worker may test samples for bacteria levels. An inspector dealing with automated equipment may read sheets of output data to check that numbers fall within predetermined ranges.
Read Instructions
Communication methods such as blueprints convey information to QC inspectors. Directions for a furniture inspector, for instance, may provide details about the color and finish for a batch of tables. Inspectors then judge whether what is created matches what was desired. Errors lead to unhappy customers, so following specifications is imperative.
Report on Performance and Quality
QC inspectors record what they find. These reports keep management in the loop on both satisfactory performance and problematic findings. Information presented contributes to decision-making and future action, such recalibrating machines or sampling more batches.
Meet Production Goals
Employers set objectives as to what needs to be accomplished to keep operations on schedule. They expect QC inspectors to meet these goals on a daily basis through hard work and focus.
Examine Surroundings
QC inspectors make sure that the work environment doesn't cause production problems. Compliance with health and safety regulations reduces inaccuracies and ensures employee well-being. Likewise, routine inspection of machinery keeps them working up to par.
Train New Hires
Experienced QC inspectors get new hires up to speed. They may teach safety procedures, demonstrate correct operation of machinery, assist in interpreting results, and monitor output.
QC Inspector Skills and Qualifications
Trainable individuals who listen closely to instructions and follow procedures to a tee make good QC inspectors. Other factors critical to job success include:
Mathematics - measuring and performing basic calculations requires comfort with numbers
Physical fitness - depending on the job, inspectors may routinely stand, lift, and carry material; most positions require hand dexterity to manipulate parts and operate instruments
Attention to detail - spotting inadequate products requires a keen eye
QC Inspector Education and Training
QC inspectors typically do not need more than a high school diploma or the equivalent to be hired and then trained on the job to use relevant instruments, read blueprints, report results, and employ safety practices. Postsecondary training in science, however, helps candidates looking to perform quality control inspection in labs. Likewise, hiring managers may look for candidates with a college degree for positions involving sophisticated equipment. QC inspectors hoping to advance their career often obtain a CQI (Certified Quality Inspector) certificate through the American Society for Quality. Gaining this distinction involves a mixture of education and work experience plus passing an exam.
QC Inspector Salary and Outlook
The median annual salary for a QC inspector, according to the Bureau of Labor Statistics (BLS), is about $37,000. Workers in the lowest 10th percentile make less than $23,000 per year, while the highest 10 percent pull in more than $64,000.
Automated inspection equipment decreases the need for QC inspectors. So while about 520,000 Americans worked as QC inspectors in 2016, the BLS expects that figure to fall to about 465,000 by 2026 – a decrease of 11 percent.
Create your own professional resume in just minutes.
Try our resume builder today
Build Your Resume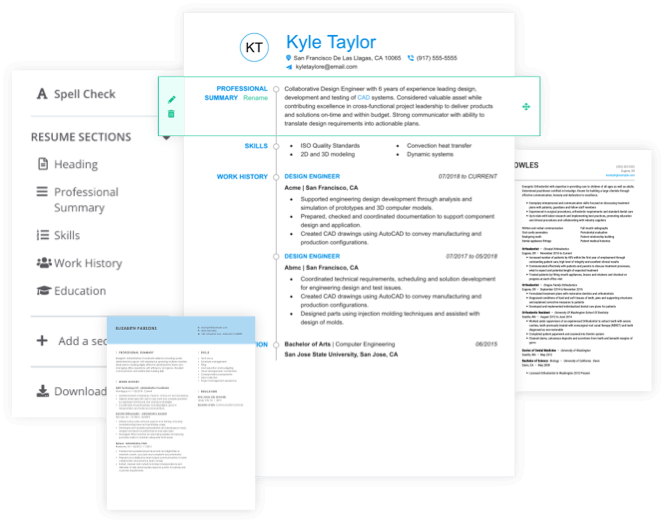 Helpful Resources
For more information on a career as a QC inspector, take a look at the following sources we've compiled:
QC Inspector Resume Help
Explore these related job titles from our database of hundreds of thousands of expert-approved resume samples: