Featured in:
Welder Fabricators may work on projects as big as bridges or as small as bicycles, but their job is essentially the same; designing, cutting and shaping metal. A Welder Fabricator may be involved in the creation of new structures or objects or may be hired to repair existing ones.
Welder Fabricators are generally part of a team of other skilled workers, however, their duties are often performed with minimal supervision so Welder Fabricators must be comfortable working independently in a factory setting. Welder Fabricators rely on the construction and manufacturing industries for employment. The field is expected to grow 6 percent through 2023, according to the Bureau of Labor Statistics, adding nearly 11,000 jobs annually.
Need cover letter guidance? Add a cover letter to your resume using our cover letter formats how-to guide and add value to your resume.
Impress your future boss! According to a 2020 survey, most hiring managers read cover letters for candidates they're considering interviewing before making their final decision. Make a cover letter that seals the deal with our professionally designed cover letter templates.
Welder Fabricator Duties and Responsibilities
The type and scope of a project will greatly determine the duties of a Welder Fabricator, but there are some primary duties that are consistent across the board. We analyzed current job listings to identify the following primary tasks and responsibilities.
Read Blueprints
Welder Fabricators must be able to read and interpret blueprints and engineering plans. The Welder Fabricator will use the blueprints along with other data, such as work plans, to develop and design their welding projects
Fabricate Metal Objects
Fabrication involves laying out, cutting, fitting, measuring and welding metals to create the desired shape or object. This is highly detailed work and requires the Welder Fabricator to be knowledgeable of many techniques and tools.
Inspect Work and Equipment
A Welder Fabricator must constantly inspect and test welds and equipment. Welds are checked for durability as well as meeting specified standards and equipment must be examined to determine if repairs or new equipment is needed.
Welder Fabricator Skills
A successful Welder Fabricator enjoys working with their hands and has an analytical mind. They can physically meet the demands of the job and have an eye for detail. In addition to these traits, employers look for applicants with the following skillsets.
Professional Skills
Highly experienced in a variety of practices and techniques related to welding
Operational knowledge of manufacturing and welding applying TIG and MIG
Profound knowledge of operating general metal shop equipment and tools
Familiarity with executing welding operations in compliance with Westport standards and safety policies
Core skills
: Based on job listings we looked at, employers want Welder Fabricators with these core skills. If you want to work as a Welder Fabricator, focus on the following.
Ability to use variety of tools and equipment
Basic math skills and mechanical aptitude
Ability to read blueprints and recognize welding symbols and specifications
Knowledge of industry safety practices
Advanced skills
: While most employers did not require the following skills, multiple job listings included them as preferred. Add these to your Welder Fabricator toolbox and broaden your career options.
Knowledge of specific welding processes, such as TIG, MIG and ARC
Ability to use heavy machinery, such as forklifts and cranes
Create your own professional resume in just minutes.
Try our resume builder today
Build Your Resume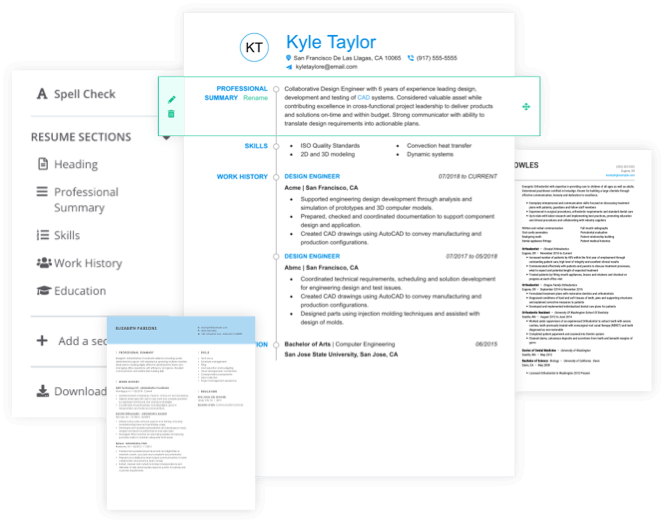 Welder Fabricator Resources
There are some helpful and informational resources available on the Web for those interested in becoming a Welder Fabricator. We scoured the internet and found these links full of learning opportunities and the latest industry news.
On the Web
This site is run by The Fabricators & Manufacturers Association, International (FMA) and is full of industry resources as well as articles and news.
A blog run by one of the industry's largest companies with information on latest trends and useful tips and advice.
Metal Fabricator and blogger, Jim Watson provides new and reviews on everything industry related. He also gives a good overview of the industry culture.
On Twitter
The Fabricator is dedicated to providing information on the newest technologies and best practices for running a metal fabrication business.
Follow the American Welding Society as they tweet about the science, technology and application of welding.
Get updates on the latest trends and newest products in the industry.
Industry Groups
Society The AWS provides information and services to welders and others industry workers. Founded in 1919, the nonprofit organization now serves more than 70,000 members worldwide.
The FMA is a professional organization offering educational workshops, training and networking opportunities to its members.
Welder Fabricator Resume Help
Explore these related job titles from our database of hundreds of thousands of expert-approved resume samples: