Featured in:
A mechanical engineering technician assists a mechanical engineer in all stages of the design, development, operation, and maintenance of mechanical devices. Creating sketches and preliminary layouts, working with data, and making calculations and estimates are all within the scope of duties in this job. Most people in this line of work commit to regular, full-time hours. However, occasional overtime hours and shift work are a possibility, depending on the employer. Most mechanical engineering technicians usually work under the guidance of a mechanical engineer but often with minimal supervision.
Need cover letter guidance? Add a cover letter to your resume using our cover letter formats how-to guide and add value to your resume.
Impress your future boss! According to a 2020 survey, most hiring managers read cover letters for candidates they're considering interviewing before making their final decision. Make a cover letter that seals the deal with our professionally designed cover letter templates.
Mechanical Engineering Technician Duties and Responsibilities
Although a mechanical engineering technician's daily duties and responsibilities may vary according to where he or she works, certain core tasks do not change. Based on our review of job listings, these tasks include:
Collaborating with Colleagues
Competently discussing initial project instructions or changes in drafting, design, manufacturing, and assembly with the appropriate team members is a necessary task. Discussions involving change often occur during the testing phases of a process or product.
Reviewing Project Requirements
The ability to review project instructions to identify requirements regarding fabrication, assembly, and testing is key. Determining test specifications, procedures and objectives from project instructions and blueprints are also important.
Creating Detailed Sketches
By using 3D software, the mechanical engineering technician will create layouts and drawings of parts, as well as the process for connecting the parts. Additionally, writing work orders and parts fabrication requests relevant to the drawings are often required.
Conducting Tests and Analyzing Results
The ability to simulate operational conditions to conduct testing of units and components to determine how to improve equipment performance is needed. Mechanical engineering technicians also analyze test results related to objectives, product design, or other specifications to make proper modifications or adjustments needed for optimal and specified performance.
Mechanical Engineering Technician Skills and Qualifications
A mechanical engineering technician should have a background in math and science, complemented with an associate's degree or some other form of related post-secondary training. However, a four-year degree in engineering is not required. Employers also seek applicants with these abilities:
Understanding of Mechanics - to ensure worksite safety, as well as troubleshoot logistical problems efficiently, understanding how various forms of mechanical equipment function is a vital skill for mechanical engineering technicians
CAD Draftsmanship - the ability to transcend project ideas from a vision to completed, actionable diagram via the use of computer software programs is a key skill
Quality Control Analysis - evaluating quality and performance of products and processes by running tests and conducting inspections is needed. Also, recording data and other relevant information in a way that can be referenced and utilized by others is required.
Interpersonal skills - the ability to obtain and convey information and participate in discussions to make needed changes are all important interpersonal skills
Creativity - a drive to think about and discover how mechanical products and processes will work best is also vital
Tools of the Trade
A mechanical engineering technician often uses the following technology and tools:
Architectural software (AutoCAD or SolidWorks CAD software)
Analytical software (STARAcoustics or MATLAB)
Welding or cutting apparatuses
Milling machines
Mechanical Engineering Technician Education and Training
Most employers prefer candidates in this field to have a strong background in math, science, and computer skills coupled with an associate's degree or other training, such as a certificate, in mechanical engineering technology. Locate two-year degree and certificate programs at community colleges and technical schools.
Mechanical Engineering Technician Salary and Outlook
The Bureau of Labor Statistics (BLS) states the national median annual salary for a mechanical engineering technician is $55,360 with a median hourly wage of $26.62. A mechanical engineering technician in the 10th percentile earns approximately $34,000 a year (or $16.56 an hour), while the highest paid in the field make $85,230 a year ($40.98 hourly). According to the BLS Occupational Outlook Handbook, over 46,000 mechanical engineering technicians are employed in the United States. Projected employment growth for this sector is 5 percent from 2016 to 2026.
Create your own professional resume in just minutes.
Try our resume builder today
Build Your Resume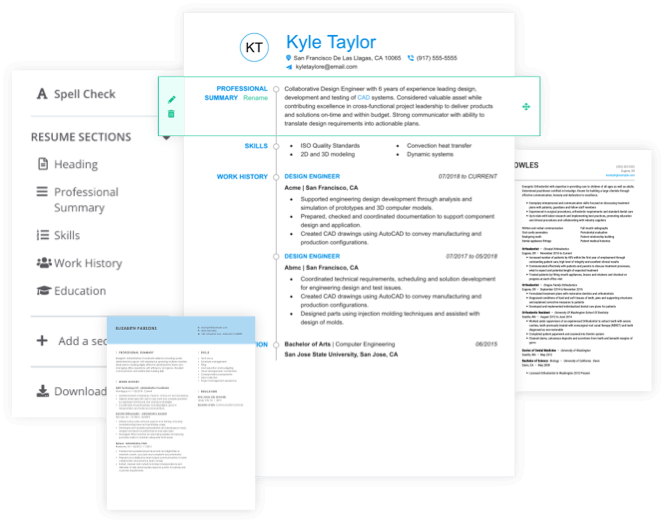 Helpful Resources
Here are some of the best industry resources to assist you as you gather information related to a mechanical engineering technician career. Use the following links to find out whether pursuing this career path is right for you.
Mechanical Engineering Technician Resume Help
Explore these related job titles from our database of hundreds of thousands of expert-approved resume samples: