Featured in:
Mechanical maintenance technicians are responsible for maintaining, troubleshooting, and repairing machinery. This machinery can include factory machines, medical equipment, construction equipment, laboratory equipment, or machinery in other industries. This is a job for people who excel at working with their hands. Spending most of their day on their feet, mechanical maintenance technicians have to have a certain level of strength and mobility to work on commercial machinery. Manufacturing, construction, HVAC, and medical industries are the largest employers of mechanical maintenance technicians. They are either employed directly by a company, or they are employed by an agency and work on a per-project basis. They typically work 40-hour work weeks, but this is often exceeded when there is a heavy project load.
Machine maintenance technician can be entry-level employees with no experience, or with years of experience, they might have responsibilities related to training and development. According to the National Bureau of Labor Statistics, the demand for general maintenance and repair workers, which includes mechanical maintenance technicians, is set to rise 8 percent through 2026.
If you are having writers block, our resume examples can help. Choose from hundreds of job titles to find the right example for your needs.
Boost your resume with an extra click. Our cover letter templates match our resume templates' designs for a cohesive application. Use a template in our builder to help you quantify and expand upon the experience from your resume and impress employers.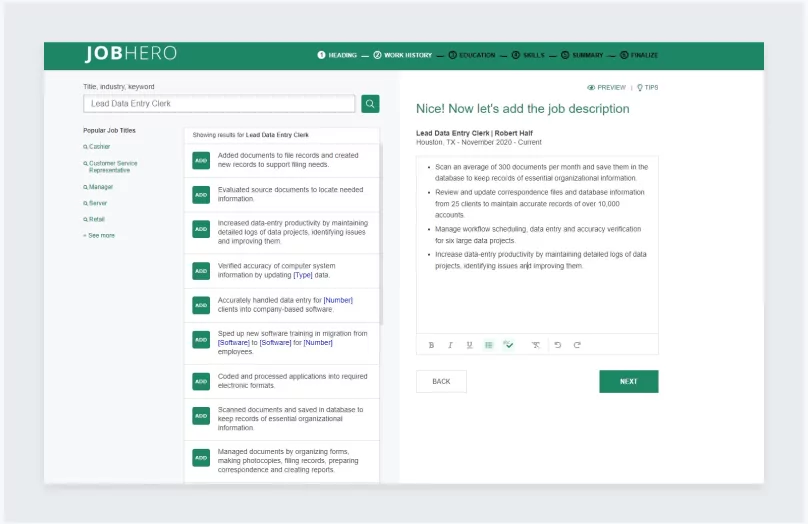 BUILD MY RESUME
Mechanical Maintenance Technician Duties and Responsibilities
Mechanical maintenance technicians keep the machines under their supervision functioning at optimal efficiency. We researched mechanical maintenance technician job descriptions to come up with the following list of common mechanical maintenance technician duties and responsibilities:
Create and Follow Maintenance Standard Operating Procedures
Mechanical maintenance technicians document each step of the maintenance standard operating procedure for all of the machines under their control. More experienced mechanical maintenance technicians make sure the new workers comply with these procedures.
Troubleshoot Faulty Machinery
Mechanical maintenance technicians troubleshoot faulty machinery. They run the machine and keep their eyes and ears peeled for anything unusual.
Perform Mechanical Repairs
Mechanical maintenance technicians repair faulty equipment.
Document Maintenance and Repairs in Daily Log
It is imperative that mechanical maintenance technicians document each maintenance and repair session. This allows other mechanical maintenance technicians on different shifts to see what has and hasn't been done.
Train New Mechanical Maintenance Technicians
Experienced mechanical maintenance technicians are responsible for mentoring new hires and teaching them various policies, procedures, and repair techniques.
Make Sure Machinery Complies with OSHA Standards
Compliance with OSHA standards is crucial for employee safety. This includes enacting injury and illness prevention plans, emergency fire and safety plans, and hazardous material communications reports.
Mechanical Maintenance Technician Skills
Mechanical maintenance technicians call upon mechanical knowledge and technical skills to perform their job duties, which includes diagnosing and repairing minor and major issues. They must have manual dexterity, as a fair bit of their job involves operating hand or power tools. Mechanical maintenance technicians also have to be experts in OSHA standards to keep the workplace safe free of incidents. A keen attention to detail and the ability to solve mechanical problems are needed to succeed at this position. Other qualities that hiring managers like to see when interviewing for mechanical maintenance technician positions include:
Creating and implementing maintenance standard operating procedures based on specific machine knowledge
Troubleshooting faulty machinery and diagnosing the root cause of the malfunction using diagnostic tools and problem-solving abilities
Performing mechanical repairs using hand and power tools
Collaborating with other mechanical maintenance technicians to solve complex mechanical issues
Keeping an organized daily log of all machine maintenance and repairs
Mechanical Maintenance Technician Tools of the Trade
Industry-specific machinery – the machines mechanical maintenance technicians repair, which vary by industry of employment
Hand and power tools – mechanical maintenance technicians use tools such as hammers, screwdrivers, metal cutters, and other hand and power tools to maintain and repair machinery
Mechanical Maintenance Technician Education and Training
A high school diploma is all that is necessary to find a job in this position, though many employers prefer candidates with an associate's degree or certificate from a vocational school in industrial maintenance technology. Coursework covers basic types of machinery and how to repair it. Vocational schools provide students with hands-on repair experience. When it comes to on-the-job training, some workplaces have an apprenticeship program where new hires learn the ropes from experienced mechanical maintenance technicians.
Mechanical Maintenance Technician Salary
According to Payscale, the national median hourly wage for mechanical maintenance technicians is $25.02. Those in the top percent make above $38.49, while those in the 10th percentile make below $18.71.
Create your own professional resume in just minutes.
Try our resume builder today
Build Your Resume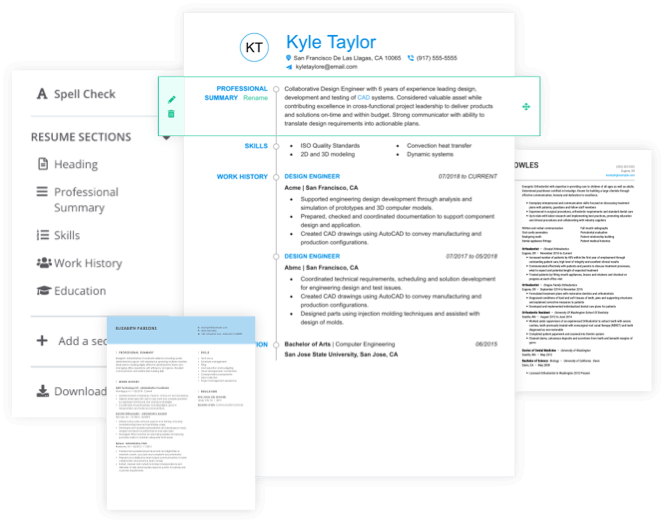 Mechanical Maintenance Technician Resources
Check out the following list of resources to learn more about the world of mechanical maintenance and engineering:
Mechanical Maintenance Technician Resume Help
Explore these related job titles from our database of hundreds of thousands of expert-approved resume samples: