Featured in:
A mechanical engineer builds, tests, and designs machine devices for customers. They work to constantly improve engines, devices, and mechanical equipment. Self-motivated and enthusiastic problem-solvers with strong attention to detail will thrive in this role. Mechanical engineers manage computer applications, use CAD design techniques, perform math calculations, and prepare layouts for new products according to their employer's specifications. They typically work full time in an office setting.
Studying resume examples is a great way to get inspiration for your own. Study our library of example today!
One extra step to impress a manager: A growing number of hiring professionals read cover letters to determine whether they'll interview a candidate or not. Use our cover letter templates to craft a complete application that lands you the interview.
Mechanical Engineer Duties and Responsibilities
A mechanical engineer's daily duties will vary depending on their specific industry and employer. However, the following responsibilities are common to most positions:
Engineer Systems and Machines
Engineering is a key part of a mechanical engineer's job. They identify, evaluate, and select needed parts to solve a specific mechanical problem. Mechanical engineers design systems, customer applications, and product development processes using engineering principles.
Develop New Products
On a daily basis, mechanical engineers work with a team to collaboratively create new products. They use manufacturing fundamentals for product improvement and quality control. Mechanical engineers read and interpret new product blueprints and produce required system layouts.
Perform Mechanical Design
Mechanical engineers develop technical drawings, 3D schematics, and CAD models according to customer requirements. They work to familiarize themselves with industrial standards and with material specifications to solve design challenges.
Conduct Testing and Analysis
Creating, performing, and analyzing mechanical tests is a crucial part of a mechanical engineer's job. They also participate in test runs and field installations. After testing, these engineers ensure compliance to product specifications and make improvement suggestions. Mechanical engineers are responsible for documenting test results and writing manuals that other team members can follow.
Develop Process Improvement Solutions
Employers rely on mechanical engineers to identify process defects and develop solutions to eliminate those weaknesses. Mechanical engineers examine equipment and use data to actively address issues before they come major problems. Their job is to collect continuous feedback from coworkers in various personnel departments and use that information to improve the processes and system performance.
Mechanical Engineer Skills and Qualifications
Mechanical engineers should have a passion for mechanical processes and strong mechanical skills. A state-issued professional engineering license is required to work in this field. Employers typically look for candidates with a minimum of two years' experience in a machinery production field and a bachelor's degree in mechanical engineering. They also prefer the following skills:
Mechanical design - mechanical engineers perform design tasks and engage in 3D modeling to develop devices, machines, and other products
Product design - every day, mechanical engineers practice the disciplines of product design and develop new prototypes
Project management - it's the job of mechanical engineers to plan and manage the projects they're working on, lead new product development, and manage quality control while executing a project
Technical drawing and writing - mechanical engineers must validate and make changes to technical drawings, mark sketches clearly, document test results, and write technical documentation
Troubleshooting - basic problem-solving for manufacturing-related challenges is key skill for mechanical engineers, who must solve difficult problems and design dilemmas
Math skills - mechanical engineers use calculus, trigonometry, and other advanced math skills for analysis, design, and troubleshooting
Communication skills - successful mechanical engineers must work with various operations teams to upgrade manufacturing projects, so clear interpersonal skills are a must
Tools of the Trade
Mechanical engineers work in an office environment and are comfortable using the following software and equipment in a typical workday:
Microsoft Office (programs including MS Excel, MS Word)
3D imaging tools (may include AutoCAD, Rivent)
Design software (CAD modeling programs such as Creo Parametric)
Mechanical Engineer Education and Training
Mechanical engineers need a bachelor's degree in mechanical, industrial, or electrical engineering or a related field. Some advanced research roles also require a graduate degree. In all 50 states, employers also require a Professional Engineer (PE) license. Topics covered by the qualifying exam include dynamics of machinery, manufacturing processes, and mathematics for mechanical engineering.
Mechanical Engineer Salary and Outlook
The Bureau of Labor Statistics (BLS) lists the national median annual salary for mechanical engineers as $85,880. Mechanical engineers in the bottom 10 percent earn less than $55,310, while the highest paid earn more than $133,900. They usually receive salaries along with a benefits package. The BLS has predicted a job growth rate of 9 percent for this position through 2026.
Create your own professional resume in just minutes.
Try our resume builder today
Build Your Resume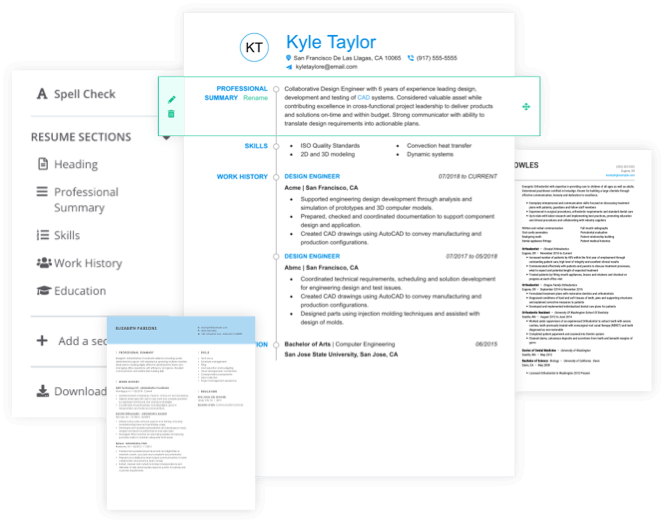 Helpful Resources
There are many helpful resources out there for those interested in becoming a mechanical engineer. Check out these links that are full of learning opportunities and latest industry trends:
Mechanical Engineer Resume Help
Explore these related job titles from our database of hundreds of thousands of expert-approved resume samples: