Featured in:
Maintenance Electricians are responsible for diagnosing and repairing issues with electrical equipment. They use diagnostic tools to find the root cause of an issue, and then they use power hand tools to fix the issue. Maintenance Electricians have an expert knowledge of electricity, as well as an aptitude for working with their hands.
The role of Maintenance Electrician is a blue-collar job that only requires one to have a high school diploma or equivalent. Much more weight is given to completion of vocational school or apprenticeship programs. State licensing is also required for employment, and requirements vary by state. The work environment for Maintenance Electricians varies: They could work in a small team or work on their own, depending on their place of employment. Maintenance Electricians are shift workers. Some work a typical 9 to 5 shift, but mid-shifts and graveyard shifts are not uncommon. According to the National Bureau of Labor Statistics, demand for Maintenance Electricians is set to rise 14 percent through 2024.
Need cover letter guidance? Add a cover letter to your resume using our cover letter formats how-to guide and add value to your resume.
One extra step to impress a manager: A growing number of hiring professionals read cover letters to determine whether they'll interview a candidate or not. Use our cover letter templates to craft a complete application that lands you the interview.
Maintenance Electrician Duties and Responsibilities
Maintenance Electricians are responsible for completing any task related to the electrical components of their employer's machinery and equipment. We researched dozens of Maintenance Electrician job descriptions to put together the following list of core duties and responsibilities.
Inspect and Test Machinery and Equipment
Maintenance Electricians use diagnostic tools to inspect and test all machinery and equipment under their control. The type of machinery can vary by workplace, but the diagnostic process remains the same.
Analyze and Document Test Results
This duty goes hand-in-hand with the first duty we mentioned. Maintenance Electricians are responsible for analyzing test results for irregularities, and then documenting these irregularities in a maintenance log. They're also responsible for ensuring all other maintenance team members adhere to the documentation procedure.
Diagnose Root Cause of Electrical Malfunctions
Maintenance Electricians are the ones who come save the day when there is an electrical malfunction. They are responsible for using deductive reasoning to figure out the root cause of an electrical malfunction, and then repairing the problem.
Develop and Implement Preventative Maintenance Plan
The best way to avoid electrical malfunctions is to have a preventative maintenance plan. Maintenance Electricians are responsible for developing and maintaining this plan. This involves creating a standard maintenance procedure and logbook for each piece of equipment or machinery.
Install and Repair Cables and Wiring
This duty requires manual dexterity, as installing electrical cables and wiring requires precise use of power hand tools. This duty also requires expert knowledge of the specific electrical system under repair, as well as extreme attention to detail.
Maintenance Electrician Skills
Although there is no higher education required for Maintenance Electricians, their job does require some mental agility. They must be able to analyze relevant Electrical Systems and use deductive reasoning to figure out what part of the system is causing it to malfunction. Maintenance Electricians must also possess manual dexterity, as a fair portion of their job involves using hand tools.
The following list is made up of the core Skills Maintenance Electricians use the most.
Analytical Skills: Maintenance Electricians call upon their analytical skills to make sense of test results. They analyze the data from their routine maintenance efforts to try and identify potential malfunctions. They then use their analytical skills post-repair to deduce whether the repair completely fixed the problem.
Attention to Detail: Today's electrical systems are increasingly complex. There is very little room for error when making repairs. Maintenance Electricians have to have a steady hand and extreme attention to detail in order to work on these systems.
Critical Thinking Skills: It takes critical thinking skills to be able to look at the results of a maintenance test and figure out whether or not there's a problem. It also takes critical thinking skills to come up with solutions to the problems Maintenance Electricians face on a daily basis.
Written and Verbal Communication Skills: Maintenance Electricians call upon their written communication skills to document tests and repairs in each machine's maintenance log. They call upon their verbal communication skills to coordinate with their coworkers and delegate tasks to other maintenance staff.
Competency with Power Hand Tools: Using power hand tools is a big part of the repair process for Maintenance Electricians. They must be able to use drills, saws, solders and related tools safely and efficiently.
Maintenance Electrician Tools of the Trade
Maintenance Electricians use a handful of tools to maintain and repair their equipment and machinery, some of which are included in the list below.
Screwdrivers – Maintenance Technicians use all types of screwdrivers over the course of their work, and must be able to instantly tell the difference between types of screws.
Stripping tools – Maintenance Electricians use stripping tools to safely and efficiently remove electrical wiring.
Diagnostic tools- Maintenance Electricians use diagnostic tools, such as voltage meters, to test the functionality of electrical systems.
Maintenance Electrician Salary
According to the Bureau of Labor Statistics, the national median salary for Maintenance Electricians is $51,900. Those in the bottom 10 percent make below $31,400. Those in the top 10 percent make above $88,100. The top three states with the highest median salaries for Maintenance Electricians are Alaska at $79,800, Illinois at $74,100 and Hawaii at $70,300.
Create your own professional resume in just minutes.
Try our resume builder today
Build Your Resume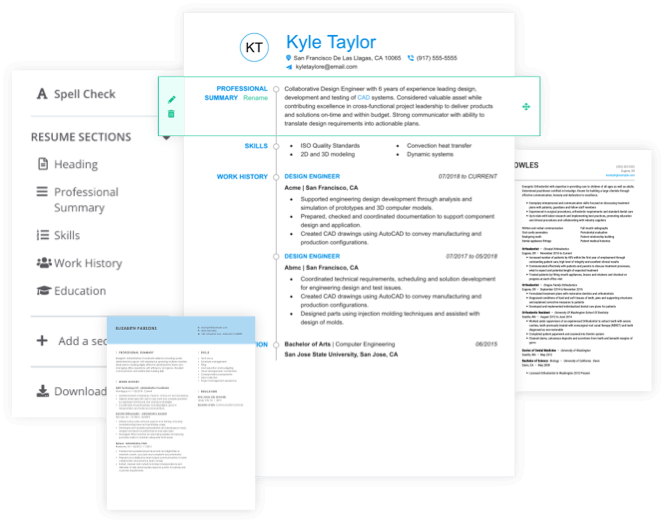 Maintenance Electrician Resume Help
Explore these related job titles from our database of hundreds of thousands of expert-approved resume samples: