Featured in:
A liaison between businesses and customers, collections agents are responsible for communicating directly with customers to collect debts and resolve outstanding balances. This role requires a high level of customer service, persuasion, and negotiation skills, as well as a mind for problem-solving to work with customers to resolve their debts and collect payment.
Collections agents also work closely with accounts receivable, sales, and legal departments to develop strategies for collecting on delinquent accounts and determine when further actions are necessary. A high level of attention to detail and excellent record keeping ensure that payment plans are recorded and communication with customers is documented.
Need cover letter guidance? Add a cover letter to your resume using our cover letter formats how-to guide and add value to your resume.
Want to boost your resume? Your Jobhero subscription comes with a complimentary cover letter builder. Once you choose a cover letter template, the builder will suggest job-specific skills and prewritten entries, allowing you to save multiple letters for various applications fast.
Collections Agent Duties and Responsibilities
Customer Communication
A collections agent's primary duty is communicating with customers, usually via telephone, to resolve delinquent accounts and collect payment on debts. This requires patience and diligence as collections agents frequently deal with debtors avoiding their phone calls or quickly hanging up once they realize the call is an attempt to collect a debt. Additionally, some customers can be hostile or rude when dealing with a collections agency.
Negotiation and Debt Settlement
Negotiation is important as collections agents develop and enact payment plans that eliminate the debt and are manageable for the customer, preventing accounts from falling into delinquency again. Alternatively, collections agents may need to negotiate for a settlement so that the agency receives payment on a certain percentage of the debt.
Documentation
Collections agents keep detailed records of all customer communications, payment plans that customers have agreed to, and amounts paid via telephone. While most collections agencies use software to assist with managing customer records and maintaining oversight of debt balances and received payments, collections agents still have to ensure that records are entered and maintained accurately throughout the debt collection process.
Research and Customer Location
Often, collections agents have to locate debtors in order to begin the recovery process. This aspect of the job can involve accessing database information, pulling up credit reports, and locating other publicly-available records in adherence to the Fair Debt Collection Practices Act. Collections agents are skilled at researching and processing high volumes of information to maintain accurate records of debtor addresses and phone numbers to support debt recovery efforts.
Collections Agent Skills and Qualifications
Collections agents spend much of their time pursuing customers with overdue balances and negotiating payments to settle debts. Typically, companies hire collections agents with a high school diploma or GED and one to two years of customer service or telemarketing experience, along with the following skills:
Professional Skills
Extensive experience in working as a collection agent within a financial institution
Sound knowledge of collection practices, regulations and procedures, and telephone mannerisms
Solid understanding of repayment schedules and bad debt management
Proficient in preventing losses, controlling delinquent balances and collecting delinquent accounts
Customer service – collections agents are customer-facing representatives of their agencies
Negotiation – working with customers to resolve their debts, whether through a payment plan or a lump-sum settlement amount, is a vital part of the collections agent's role
Persuasion – in addition to negotiation skills, collections agents should be persuasive in explaining why it's in a customer's best interest to pay off a particular debt
Patience and diligence – often, collections agents need to be patient and diligent, especially when it comes to tracking down the individuals responsible for paying off a debt as customers may avoid calls from collections agents or quickly hang up
Collections Agent Tools of the Trade
Collections agents tend to work in office or call center settings, and need to have a solid grasp of general office technologies, as well as familiarity with:
Debt collection systems (SimplicityCollect, Lariat)
Database software
Collections Agent Education and Training
Typically, collections agents need at least a high school diploma or GED. While opportunities for on-the-job-training are available, a background in customer service or telemarketing is usually necessary. In addition, certain states require collections companies to be licensed, and some organizations may require collections agents to achieve the American Collectors Association Professional Debt Collector Certification.
Finally, collections agents should have some familiarity with the Fair Debt Collection Practices Act, which sets rules for debt collection and customer communications.
Collections Agent Salary and Outlook
The Bureau of Labor Statistics states that the median annual wage for bill and account collectors was $35,350 (or approximately $17 per hour) in 2016. The lowest 10 percent earned less than $23,610 in 2016, while the highest earners in this field earned as much as $54,970 annually. Often, collections agents also receive a commission based on debts collected, so this can make actual earnings vary.
Jobs in this field are expected to decline 3 percent between 2016 and 2026 due to a variety of factors, from improved automation and software efficiency to outsourcing work to overseas call centers.
Create your own professional resume in just minutes.
Try our resume builder today
Build Your Resume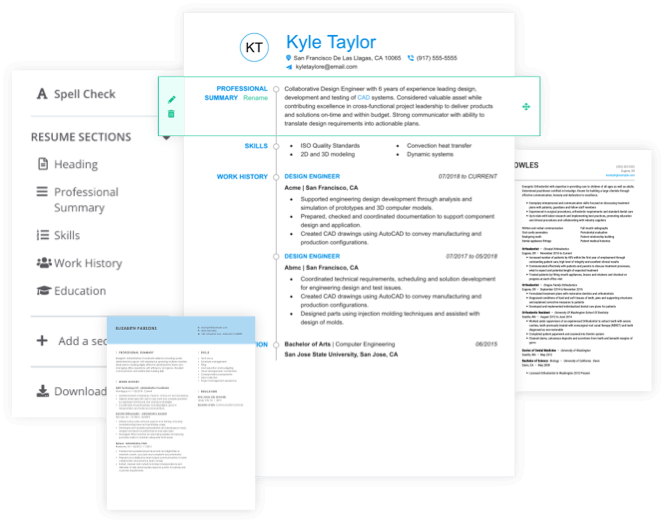 Collections Agent Helpful Resources
If you're exploring a career as a collections agent or entering the field and looking for tips on excelling in this role, these resources provide an inside look at the industry and provide helpful tips:
Collections Agent Resume Help
Explore these related job titles from our database of hundreds of thousands of expert-approved resume samples: