Featured in:
Have you ever stopped to marvel at the natural beauty of a public property? If so, you have admired the work of landscapers. They use their knowledge of horticulture to create various landscape effects through the placement of shrubs, flowers, trees, and other plants. Landscaper is a great job for someone who likes to stay physically busy. Landscapers are constantly cutting grass, raking leaves, laying mulch, and other physical activities. Typically, there are paths to employment for landscapers. The first is to work directly for a landscaping company that has residential and commercial clients. The second is to work as a municipal employee who takes care of city parks, playgrounds, and other public spaces. This job can either be full or part-time and may require one to work weekends.
Landscapers are mostly independent. When they first start in the industry, they work under the direction of a supervisor, then work independently once they get enough experience.
Need cover letter guidance? Add a cover letter to your resume using our cover letter formats how-to guide and add value to your resume.
Boost your resume with an extra click. Our cover letter templates match our resume templates' designs for a cohesive application. Use a template in our builder to help you quantify and expand upon the experience from your resume and impress employers.
Landscaper Duties and Responsibilities
Taking care of lawns, gardens, and flower beds requires a lot of work. We perused landscaper job descriptions to procure the following list of common landscaper duties and responsibilities:
Apply Lawn Treatments
Landscapers are lawn doctors. They use their knowledge of turf management and horticulture to diagnose the cause of an unhealthy lawn and apply the proper treatment.
Maintain Mulch Around Shrubs and Flower Beds
Landscapers need an eye for detail to notice when mulch needs to be replaced or replenished. They need physical strength to carry mulch bags that usually weigh around 40 pounds. They employ turf management techniques to make sure mulch is spread evenly.
Develop Plan of Action Based on Landscape Layout
This is especially important for landscapers who work on a client-by-client basis. The faster they complete each job, the more clients they can fit into a workday. Most landscaping companies have at least two landscapers on each job, and they work together to tackle the property efficiently.
Keep Weed Growth at Bay
Weeds are an unwelcome sight in any lawn or flower bed. Landscapers use their knowledge of weed maintenance techniques to develop and stick to a regular maintenance schedule.
Plant Trees, Shrubs, and Flowers
Planting trees, shrubs, and flowers goes beyond just digging a hole and planting seeds. Landscapers need to know the ideal planting conditions for each plant, as well as how to care for each item.
Landscaper Skills and Qualifications
Landscapers need to have physical stamina, as well as a passion for horticulture and turf management to succeed at this position. Here are some skills employers demand from landscapers:
Lawn maintenance - landscapers cut a lawn to a height that is healthy for the particular type of grass. They also use knowledge of soil and sod to install new turf when necessary
Pest management - pests like mites, ticks, and moles can destroy even the strongest plants. Landscapers use knowledge of pests and the difference between harmful and beneficial insects to keep plants and grass healthy
Irrigation management - monitor soil moisture and use various irrigation techniques, such as drip irrigation, to water plants and grass
Shrub and tree maintenance - shrub and tree maintenance requires skills such as grafting, pruning, and trimming shrubs and trees in a way that promotes healthy growth
Organizational skills - to determine the quickest way to finish all landscaping tasks for a given property
Attention to detail - if you want a piece of property to look its best, it is the small details that matter most. Landscapers keep shrubs, trees, and flower beds in pristine condition
Landscaper Tools of the Trade
Landscapers use the following tools during the course of their day:
Lawn maintenance tools (lawn mowers, seed dispensers, and weedwackers)
Gardening tools (shovels, rakes, and wheelbarrows)
Tree maintenance tools (hedge clippers and chainsaws)
Landscaper Education and Training
Most employers only require landscapers to a have a high school diploma to find employment. Those who plan on opening in their own landscaping company someday may have an associates degree in turf management. Otherwise, landscapers learn the techniques and tools needed to do the job while working under senior landscapers.
Landscaper Salary and Outlook
According to the National Bureau of Labor Statistics, demand for grounds maintenance workers, which includes landscapers, is set to rise 10 percent through 2026. The national median hourly wage is $12.90. Those in the bottom 10 percent make below $9.26 and those in the top 10 percent make above $20.71.
Create your own professional resume in just minutes.
Try our resume builder today
Build Your Resume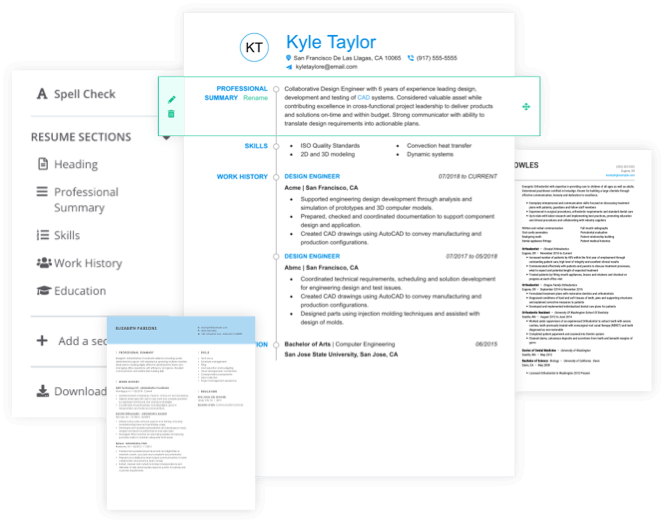 Landscaper Resources
Are you looking to learn more about the landscaping industry? If so, browse the following list of resources.
Landscaper Resume Help
Explore these related job titles from our database of hundreds of thousands of expert-approved resume samples: