Featured in:
As the name of their profession implies, interior design assistants are responsible for assisting interior designers with various tasks. The field is perfect for anyone with a creative or artistic background who enjoys working with others and making spaces beautiful. Most are employed full-time by design or construction firms, and work in large and mid-sized cities. The vast majority of individuals in this role are women, but changing societal standards has attracted a considerable number of men to the profession.
Interior Design Assistant Duties and Responsibilities
The responsibilities of interior design assistants will vary from place to place and depend on factors such as experience and personal capabilities. Despite these factors, most interior design assistants will be expected to engage in the following activities regularly:
Provide Administrative Support
Interior design assistants provide direct administrative support to interior designers. They may be tasked with running errands, answering phones, or even contacting clients to obtain important information. At large design firms, assistants may need to provide support to multiple interior designers.
Shop for Materials
Interior designers use a multitude of materials when working on a project, and it is usually the job of the assistant to obtain these materials. They may need to visit a store in person or order materials online. If materials are delivered to the office, their assistants may need to sign for them and inspect them for any flaws.
Help With Designing Tasks
Interior design assistants often provide direct assistance to interior designers. During projects, they may help move heavy furniture, measure rooms and items, and take photographs of spaces. They may also assist with painting and hang artwork from walls.
Interact With Clients
Interior designers are often busy, and they may not have an opportunity to meet with everyone who wants to work with them. Interior design assistants may meet with clients directly to better understand their needs or make follow-up phone calls.
Manage Projects
Interior design firms often take on several projects at once. Interior design assistants may be dispatched to oversee important projects and ensure they are completed on time and without incident. They may also make sure workers adhere to a set budget.
Interior Design Assistant Skills and Qualifications
The qualifications needed to become an interior design assistant will vary from employer to employer. A college degree is usually not required to enter this field, but many interior design firms will seek out assistants with the following skills and talents:
Basic design knowledge - as mentioned above, a degree or certification in design is not required, but employers will expect interior design assistants to have a basic understanding of common design concepts
Administrative support experience - many firms seek out individuals who have a proven history of providing exceptional administrative support. One to three years of experience may be required to work at more competitive design firms
Computer Aided Design (CAD) skills - CAD software allows designers to perform various tasks and see how a project will look before it is finished. Knowledge of CAD software can give candidates a competitive edge over others
Creativity - working in the interior design industry requires a significant amount of creativity and a strong artistic sense
Interpersonal skills - successful interior design assistants should know how to communicate in a professional and clear manner with their coworkers, supervisors, and clients
Interior Design Assistant Education and Training
A college degree is usually not necessary to become an interior design assistant. However, most reputable design firms will seek out employees with at least a high school diploma or GED. Many assistants will receive a considerable amount of on-the-job training, and during this time, they will learn important interior design concepts. A significant number of interior design assistants use their on-the-job training and education to launch their own interior design firms later.
Interior Design Assistant Salary and Outlook
Many factors influence the salary of an interior design assistant, including geographic location and years of experience. However, as of 2017, interior design assistants had a median hourly salary of $15.29. Those in the top 10th percentile earned more than $23 an hour, while those in the bottom 10th percentile earned less than $10 an hour. Those employed full-time were likely to have access to employment benefits such as health insurance and paid time-off.
According to the Bureau of Labor Statistics (BLS), the employment rate for those working in the interior design industry (assistants included) is expected to increase by four percent between 2016 and 2026. This is noticeably lower than the national average of seven percent for all professions. This stagnation is attributed to the decline in household income and the fact that wealthy households are more likely to use the services of design professionals.
Create your own professional resume in just minutes.
Try our resume builder today
Build Your Resume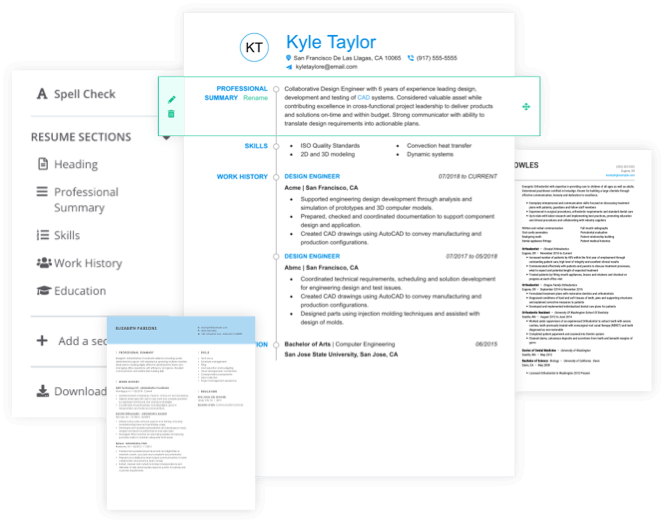 Helpful Resources
Ready to become an interior design assistant? Take a look at the list of professional resources we've compiled and get ready for a new career.
established with interior designers and individuals with an interest in design in mind, ASID is a national organization. Its website offers information about career opportunities, community events, and membership. The organization also hosts regular competitions between some of the country's top upandcoming design enthusiasts.
with more than 300 bold color illustrations, Interior Design Course is destined to become a favorite in the interior design field. Written with novices and prospective designers in mind, the book addresses a variety of important interior design concepts, ranging from color selection to basic design principles.
written by interior design experts Emily Henderson and Angelin Borsics, Styled is a New York Times bestseller that shows readers how to think and arrange items like a veteran interior designer. Offering nearly 1,000 ideas and a host of eyepopping photographs to guide beginners, Styled will quickly become a classic read for anyone interested in the world of interior design.
Interior Design Assistant Resume Help
Explore these related job titles from our database of hundreds of thousands of expert-approved resume samples: