Featured in:
The IT support analyst provides front-line support to help users handle issues with computer programs, hardware, and peripherals. In this role, the IT support analyst quickly responds to user concerns, examines issues with applications and equipment, and develops and deploys solutions to keep computers working as intended. They also work closely with IT analysts, technicians, and administrators to resolve issues that require extra attention or indicate a larger problem within the IT ecosystem.
IT support analysts utilize technical and creative problem-solving techniques, delivering outstanding client service throughout the workday. While their duties may shift depending on the specific situation, their main goal is to ensure that employees throughout the organization can utilize the software and devices that they need.
Need cover letter guidance? Add a cover letter to your resume using our cover letter formats how-to guide and add value to your resume.
Impress your future boss! According to a 2020 survey, most hiring managers read cover letters for candidates they're considering interviewing before making their final decision. Make a cover letter that seals the deal with our professionally designed cover letter templates.
IT Support Analyst Duties and Responsibilities
The specific duties of an IT support analyst can change based on their specific organization and level of expertise, but many of the core duties remain the same:
Respond to Incoming Help Requests
An IT support analyst's foremost responsibility is responding to user queries and help requests via email, through a help desk interface, or over the phone. They gather information related to the incident or issue, determine the root cause of the problem, develop methods and solutions to resolve the user's issue, and balance the flow of incoming support requests and escalations to other IT personnel.
Resolve IT Support Requests
IT support analysts resolve user technical issues if possible. They may remotely access the user's computer and examine their settings and system or simply explain the steps the user can take to resolve the issue on their own. For relatively simple issues, the IT support analyst can quickly develop and introduce a solution to the problem without further IT department involvement.
Maintain Service Records
IT support analysts maintain clear and concise records of user issues with software and hardware, using these notes to diagnose and repair complex problems and provide their IT department with data highlighting problems reported by multiple users. By maintaining detailed records, the IT support analyst can also examine a user's history of software or hardware problems and offer suggestions to prevent future issues.
Escalate Complex Cases
If an issue or support request is particularly complex, the IT support analyst escalates it to IT support specialists, passing on notes related to the problem, solutions that have been unsuccessful, and their understanding of the user's problem. In some cases, the IT support analyst may retrieve the user's computer so that IT specialists can analyze the system and devise a solution to the problem.
Maintain IT Documentation
IT support analysts support department- and organization-wide operations by creating, maintaining, and distributing IT documents. They might prepare an FAQ document for users that details common errors and issues and provide advice on resolving them, maintain department documents containing procedures and best practices, or develop help sheets that are used by personnel outside the IT department.
Perform System Testing and Updates
Finally, IT support analysts conduct system tests and deploy updates to software, servers, and hardware. They also ensure that troubleshooting activities and updates do not cause unforeseen problems elsewhere within the system. They may also guide users through update and installation processes for software and peripherals.
IT Support Analyst Skills and Qualifications
IT support analysts provide direct user support, using their technical abilities to resolve hardware and software issues. Most individuals in this role have at least an associate's degree and the following skills:
Technical skills - because they directly work with users to resolve software and hardware issues, IT support analysts need strong technical and computer skills
Team collaboration - in this position, IT support analysts work within teams of IT professionals to resolve user issues, so they should be able to collaborate with team members and managers
Problem-solving skills - this role requires excellent problem-solving skills, since IT support analysts develop and deploy technical and creative solutions to user issues
Time management - IT support analysts frequently handle multiple cases at once, so they must effectively manage their time and set priorities
Communication skills - effective written and verbal communication is vital in this role, whether IT support specialists are assembling data about problems, maintaining detailed notes and reports, or explaining steps users can take to resolve software and hardware issues
IT Support Analyst Education and Training
Generally, IT support analysts need at least an associate's degree in a related field, but a bachelor's degree in computer science or information systems can open up more job opportunities. They should also be comfortable with computer programs and hardware, and applicants who have completed computer classes may be able to secure a IT support analyst position without a degree. IT support analysts can also seek out certification from several different organizations.
IT Support Analyst Salary and Outlook
The Bureau of Labor Statistics (BLS) estimates that computer support specialists (which includes IT support analysts) earn a median annual salary of $52,810. Network support specialists earn a median annual salary of $62,340, and user support specialists earn a median wage of $50,210.
The BLS expects employment in this field to grow 11 percent by 2026, which is a slightly faster pace than average.
Create your own professional resume in just minutes.
Try our resume builder today
Build Your Resume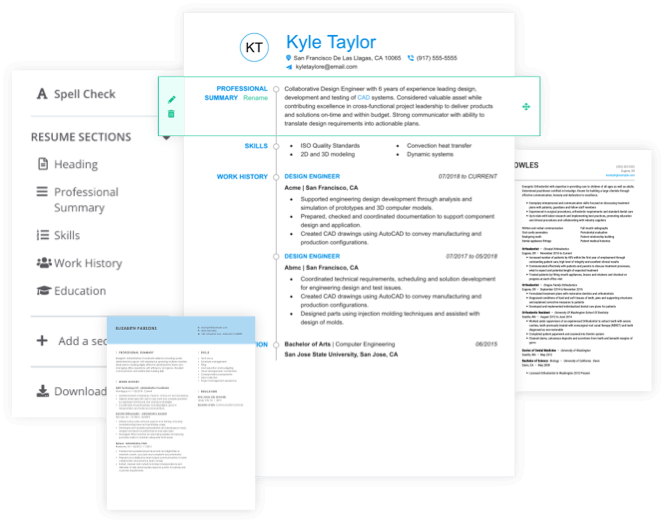 Helpful Resources
If you're interested in learning more about a career as an IT support analyst, we found several resources on the web for further reading and information:
IT Support Analyst Resume Help
Explore these related job titles from our database of hundreds of thousands of expert-approved resume samples: