Featured in:
An apprentice is someone learning how to do a specialized job through on-the-job training, under the guidance of an experienced colleague. An apprenticeship differs from trade school because apprentices typically receive a salary during their training period. Apprentices may work in a variety of industries, although the most common are electrician, engineering, and mechanical apprenticeships. This role involves tasks such as adhering to workplace procedures, following health and safety guidance, updating training records, and completing tasks to gain a qualification. Apprentices should be hard-working and able to manage their time effectively, be able to follow orders, and be comfortable working as part of a team.
Need cover letter guidance? Add a cover letter to your resume using our cover letter formats how-to guide and add value to your resume.
One extra step to impress a manager: A growing number of hiring professionals read cover letters to determine whether they'll interview a candidate or not. Use our cover letter templates to craft a complete application that lands you the interview.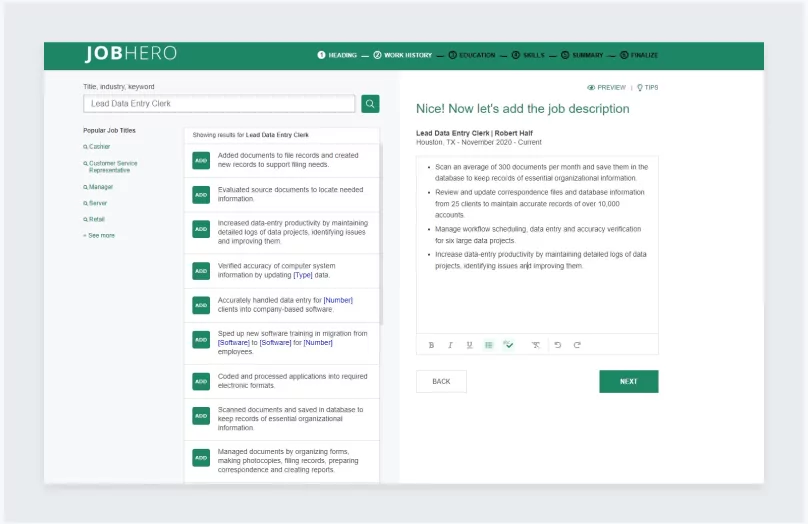 BUILD MY RESUME
Apprentice Duties and Responsibilities
The type of organization an apprentice works for will determine the exact roles and responsibilities they take on. Based on job listings we analyzed, an apprentice's duties typically involve:
Learn and Develop Trade Skills
As an employee-in-training, apprentices exhibit an enthusiasm to learn and an interest in the sector of their chosen trade. They display an eagerness to build their knowledge and are willing to put in the effort to develop their skills.
Attend Training Classes
Apprenticeships typically involve on-the-job training as well as trade-related classes, which an apprentice needs to attend on a regular basis.
Adhere to Health and Safety Regulations
Health and safety regulations are important, so apprentices must adhere to the business' set standards as well as comply to legal regulations. This will help ensure the safely of both the apprentice and colleagues.
Complete Training Assignments
The majority of an apprentice's work is done during business hours, however, there is often a need to do homework out of work hours. Apprentices need to complete all homework to build their knowledge and skillset and to meet the requirements of the apprenticeship.
Follow Company Processes
Apprentices need to follow all rules established by their employer. The processes and procedures of a company vary by sector, but apprentices are responsible for strictly adhering to these processes.
Apprentice Skills and Qualifications
Apprentices have strong communication skills, can follow orders, and are comfortable working as part of a team. Typically, employers will require a high school diploma as well as the following abilities:
Diligence - Apprentices are dedicated to learning their trade and are willing to put in the extra time and effort to build their knowledge and experience
Time Management - Apprentices meet hard deadlines and work to strict schedules, as they are working on projects alongside their colleagues
Critical Thinking - When solving problems, apprentices need to think critically to resolve the issue. This is especially true of apprenticeships in industries such as engineering, where repairing problems is a key part of the role
Interpersonal Skills - Apprentices need to be able to follow instructions clearly and work well as part of a team. For this, applicants need to have good interpersonal skills
Troubleshooting - Identifying problems and finding ways to resolve them is key to being an apprentice, so applicants need to be good at problem-solving and troubleshooting
Apprentice Education and Training
The minimum requirement to become an apprentice is a high school diploma or GED. Depending on the industry the apprenticeship is in, applicants may need to provide proof of their strength, such as their ability to lift materials or equipment, before gaining acceptance onto an apprenticeship program. Typically, applicants will be asked to take an aptitude test, an interview, and show previous work experience on their resume.
Apprentice Salary and Outlook
The median annual salary for an apprentice is determined largely by the sector the apprenticeship is in, but on average, apprentices typically earn half of the median salary for that role. For example, an apprentice electrician will earn around $31,000 a year. Some companies provide bonuses or profit-sharing opportunities as part of their salary package.
Approximately half of apprentices receive health benefits as part of their benefits package. In many of the occupations where apprenticeships are available, the Bureau of Labor Statistics (BLS) predicts that the growth rate is expected to increase as least as fast as the average for all occupations, if not faster, through 2026.
Create your own professional resume in just minutes.
Try our resume builder today
Build Your Resume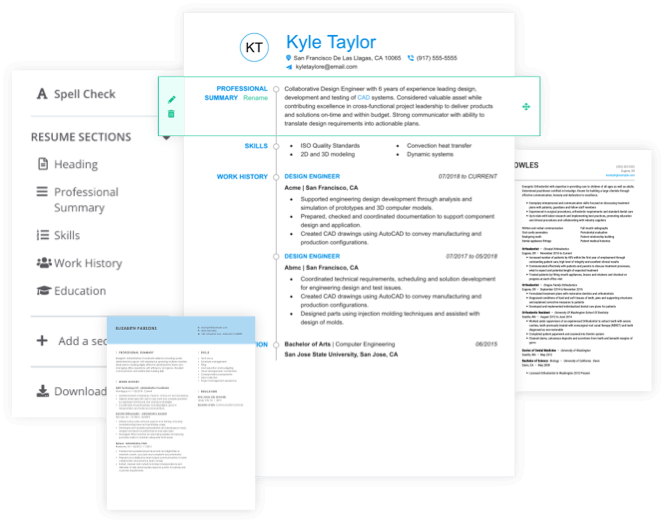 Helpful Resources
We've collected some of the best resources to help you begin your career through an apprenticeship:
Apprentice Resume Help
Explore these related job titles from our database of hundreds of thousands of expert-approved resume samples: