Featured in:
HVAC service technicians repair and maintain heating and cooling equipment in residential, commercial, and industrial settings. In this role, HVAC service technicians examine faulty equipment, conducting tests with a variety of devices to locate, diagnose, and isolate issues that interrupt performance or create hazards. In many cases, HVAC service technicians follow regular maintenance schedules to keep systems working reliably, but also need to conduct emergency service to make rapid repairs to customer systems.
This role requires a balance of technical and mechanical skills, knowledge about HVAC systems and components, and customer service in order to successfully troubleshoot HVAC issues and make necessary repairs. This full-time position may also require some travel, as these technicians work on-site.
Our team of certified resume writers have created a library of resume examples to show you how to craft a strong resume. Study them to learn to write your own.
Boost your resume with an extra click. Our cover letter templates match our resume templates' designs for a cohesive application. Use a template in our builder to help you quantify and expand upon the experience from your resume and impress employers.
HVAC Service Technician Duties and Responsibilities
Whether HVAC service technicians are employed in residential, commercial, or industrial settings, many of their core responsibilities remain the same:
Maintain HVAC Systems
Many of the HVAC service technician's day-to-day duties involve performing regular or routine maintenance tasks on HVAC systems. These tasks can include clearing intake and outflow vents of dust and debris, ensuring that filtration systems are clean and effective, and replacing registers in residential or commercial locations. An HVAC service technician may also perform seasonal maintenance as a building's system switches between heating and cooling functions.
Troubleshoot HVAC Equipment
Troubleshooting HVAC systems and system elements is another major duty of the HVAC service technician. Working from issues reported by customers or problems that arise during routine maintenance and system testing, the HVAC service tech attempts to determine which components are at fault. These technicians then determine whether the system or element can be repaired or if it needs to be replaced.
Repair and Replace HVAC Systems
HVAC technicians perform a variety of repairs for HVAC systems, ranging from simple parts replacements to complex issues that require a complete replacement of the HVAC system. If an entire system needs to be replaced, the HVAC service technician needs to install and test all new components. For simple repairs, they may replace one or more parts and conduct new tests to ensure that the repairs have restored the system to working order.
Consult with Customers
HVAC service technicians frequently consult directly with customers, both to gather information about performance issues and to provide cost and time estimates related to repair and maintenance tasks. Throughout the repair process, these technicians may also provide the customer with updates, answer questions about the system, and provide advice on operations and maintenance. In some cases, the HVAC service techs may also provide contract documents and collect payments.
Ensure Safe Repair and Operations
While diagnosing and repairing HVAC systems, the service technicians also maintain safe operations and follow best practices for safely working with the system. In most cases, this includes disconnecting the system from its power source to reduce the risk of electric shock. They may also ensure that the areas around the system are dry and free of clutter. For oil and gas-based heating systems, HVAC technicians also ensure that the fuel systems are disconnected before starting repair work.
Maintain Customer and Service Records
HVAC technicians also maintain documentation related to customer systems and the services they perform. This helps to ensure that maintenance is performed according to schedule, and it also provides data related to ongoing or recurring issues with the system. HVAC technicians may also prepare documents for customers, including troubleshooting steps they can take between regular maintenance.
HVAC Service Technician Skills and Qualifications
HVAC service technicians conduct routine and emergency repairs to HVAC systems while interacting directly with customers. Companies tend to hire individuals with some prior experience in the field as well as the following skills:
HVAC Installation and Maintenance - HVAC service technicians have a strong grasp of best practices and principles related to HVAC system installation, maintenance, and operations
Troubleshooting Skills - In this role, HVAC technicians need to diagnose and resolve a variety of performance issues, so they are excellent troubleshooters and problem-solvers
Customer Service - Because they tend to interact directly with customers, HVAC service techs have experience with providing customer service and answering customer questions
Manual Dexterity - These technicians frequently use hand tools like wrenches and screwdrivers to make necessary repairs, so they are comfortable using a variety of tools
Communication Skills - Effective communication is also key in this role, since HVAC service technicians need to communicate with customers and with other trade professionals, such as plumbers and electricians
Tools of the Trade
HVAC service technicians tend to work in the field and are adept with:
Hand Tools – (wrenches, screwdrivers, pliers)
Electrical Testing Equipment – (multimeters)
HVAC Service Technician Education and Training
While there are no formal education requirements for HVAC service technicians, many companies prefer to hire applicants who have completed training at a technical or vocational school and possess the necessary knowledge about HVAC systems and electronics. Familiarity with the latest trends and developments in sophisticated HVAC systems is also extremely helpful, so job-seekers should pay close attention to emerging technologies. In many cases, an apprenticeship with an experienced HVAC service technician can provide hands-on education and training in preparation for employment.
HVAC Service Technician Salary and Outlook
The Bureau of Labor Statistics (BLS) found that "Heating, Air Conditioning, and Refrigeration Mechanics and Installers," which includes HVAC technicians, earned a median annual salary of $47,080 as of May 2017. The highest-paid 10 percent of workers in this field earned over $75,330 per year, while the lowest-paid workers in this role earned less than $29,120 annually.
The BLS estimates that this field will grow at a much faster-than-average rate between 2016 and 2026, with employment increasing by 15 percent, mainly in residential and commercial construction sectors. HVAC technicians who are familiar with the latest developments in heating and cooling technology will find many more opportunities for employment.
Create your own professional resume in just minutes.
Try our resume builder today
Build Your Resume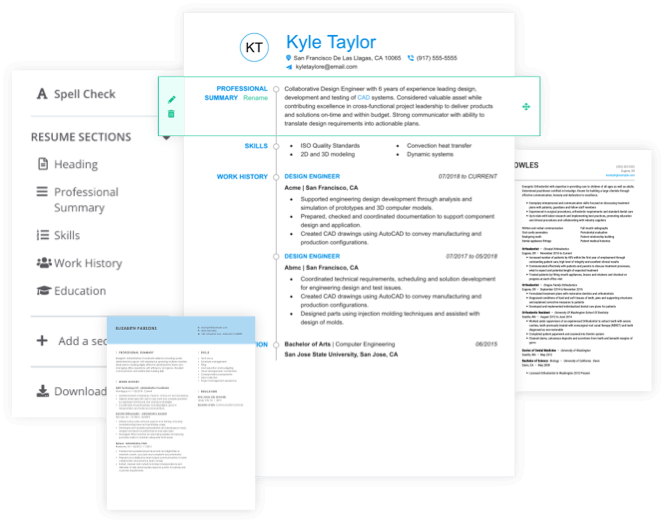 Helpful Resources
If you're interested in a career as an HVAC service technician, check out the following resources for further reading:
HVAC Service Technician Resume Help
Explore these related job titles from our database of hundreds of thousands of expert-approved resume samples: