Featured in:
HVAC design engineers create and develop refrigeration and heating systems for commercial and residential properties. HVAC companies, construction crews, and building companies hire HVAC design engineers to work full time during all shifts, primarily during daytime hours. HVAC design engineers report to the project manager or construction foreman on any jobsite. Travel is an essential element of this job, as HVAC design engineers must go to various construction sites and properties to assess heating and cooling needs and design various systems to address these needs.
Need cover letter guidance? Add a cover letter to your resume using our cover letter formats how-to guide and add value to your resume.
One extra step to impress a manager: A growing number of hiring professionals read cover letters to determine whether they'll interview a candidate or not. Use our cover letter templates to craft a complete application that lands you the interview.
HVAC Design Engineer Duties and Responsibilities
HVAC design engineers perform various job duties based on the size of the heating and cooling projects they work on, the type of property where systems are needed, and the heating and cooling needs of customers. However, these core job tasks are the same despite these differences:
Design HVAC Systems
HVAC design engineers create heating and cooling systems and their controls.
Calculate Heating and Cooling Needs
HVAC design engineers make load calculations to determine how much heating and cooling power various equipment must put out in order to heat or cool spaces when needed.
Interpret and Draft Plans
HVAC design engineers read and interpret construction plans, schematics, and blueprints for new construction projects. They also draft new plans to design ductwork and piping systems.
Calculate Ventilation Requirements
HVAC design engineers calculate ventilation requirements based on the types of systems needed.
Determine Budget Costs
HVAC design engineers determine costs for heating and cooling systems and write up detailed budget estimates.
Coordinate with Others
HVAC design engineers coordinate and collaborate with architects and engineers when designing heating and cooling systems.
Adhere to All Building Codes
HVAC design engineers follow all building codes and obtain proper building permits when necessary.
HVAC Design Engineer Skills and Qualifications
HVAC design engineers are professionals with a high degree of mechanical aptitude and a talent for math who calculate and design heating and cooling systems for buildings of all sizes. Employers hire HVAC design engineers who possess the following skills:
Time management - HVAC design engineers use time management skills to work within tight deadlines and finish projects on time
Mathematics - because HVAC design engineers make numerous calculations, excellent math skills are essential for this job
Communication skills - HVAC design engineers use communication skills to write budget estimates and speak with customers and other designers
Mechanical expertise - HVAC design engineers use their mechanical abilities to design complicated heating and cooling systems
Analytical thinking - HVAC design engineers use analytical skills to determine how much heating and cooling power is needed for a specific space, then turn these estimates into design concepts
Multitasking - HVAC design engineers may work on many different heating and cooling projects at once, which requires a talent for multitasking
Customer service - HVAC design engineers answer questions, present budget bids, and make recommendations about heating and cooling systems to customers
Tools of the Trade
HVAC design engineers regularly work with the following tools:
Heating and cooling equipment (pumps, fans, pipes, motors)
Drafting programs (AutoCAD)
HVAC Design Engineer Education and Training
A majority of employers require HVAC design engineers to have a bachelor's degree in mechanical engineering or equivalent work experience, which means several years of prior experience working with HVAC. The amount of work experience required by employers varies, but a minimum of three years is common.
Some paid job training is provided to HVAC design engineers so they can become familiar with specific county, city, and state codes, as well as company standards. However, HVAC design engineers already have the skills and experience needed to perform their job functions once hired, and in most companies will start performing their duties right away.
HVAC Design Engineer Salary and Outlook
According to PayScale, HVAC design engineers earn a median annual salary of $59,650. The Bureau of Labor Statistics reports that heating, air conditioning, and refrigeration mechanics and installers earn $22.64 hourly and $47,080 annually. These mechanics and installers work on the heating, ventilation, and cooling systems that provide temperature control in buildings, the systems conceptualized and designed by HVAC design engineers. The BLS estimates employment in this field will rise 15 percent through 2026, which is much faster than the national average.
HVAC design engineers receive benefits packages that include health insurance with dental and vision coverage. Paid vacation, holidays, and sick days also come standard. Many HVAC design engineers also receive worker's compensation and life insurance.
Create your own professional resume in just minutes.
Try our resume builder today
Build Your Resume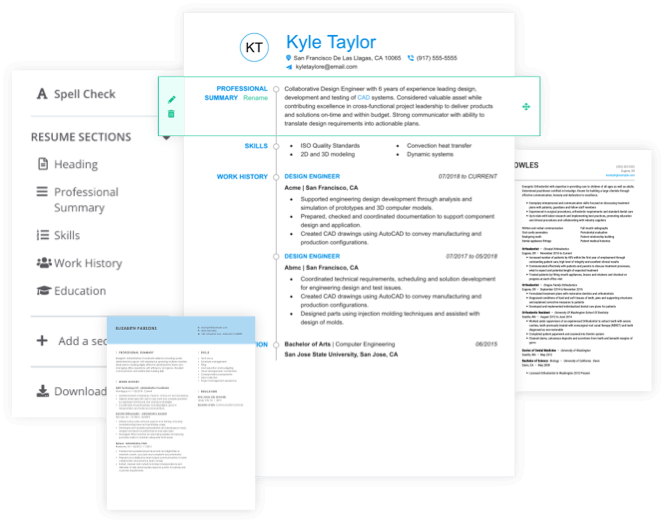 Helpful Resources
Learn job strategies and find career resources for HVAC design engineers with these books and websites:
HVAC Design Engineer Resume Help
Explore these related job titles from our database of hundreds of thousands of expert-approved resume samples: