Featured in:
A junior recruiter is often the first person job candidates come into contact with when they apply for a job. This entry-level position involves going over resumes of prospective hires, screening job applicants, and generally helping people through the hiring process. A successful junior recruiter is a people person and has no trouble communicating with others in a friendly but professional manner. Junior recruiting is normally a full-time job in the human resources department and has a lot of potential for moving up the HR ladder.
Need cover letter guidance? Add a cover letter to your resume using our cover letter formats how-to guide and add value to your resume.
Improve your application with a personal message! Your resume may summarize your qualifications, but a cover letter can help you express your professional accomplishments and working style. Pair these cover letter templates with our builder subscription to unlock AI-powered text templates and professional designs that will help you submit a complete application.
Junior Recruiter Duties and Responsibilities
A junior recruiter's responsibilities are varied, but most involve filling a company's vacant positions with the best possible candidates. Based on our research, some of the most common duties for junior recruiters include:
Post Job Openings
The hiring process begins with posting job openings on employment websites like Indeed and Monster. Junior recruiters are responsible for this and for making sure that current job postings are clear, uptodate, and relevant.
Screen Job Candidates
Once applications begin rolling in for an open position, junior recruiters weed out candidates who are not the right fit. They also review the employment histories of the candidates who seem right for the job. They sift through all applicant emails, resumes, and phone calls so that the company ends up with only the best possible workers for the job.
Run Background Checks on Potential Employees
Background checks are an extremely important part of the hiring process. Junior recruiters request background checks on potential hires so the company doesn't hire anyone with a criminal record or other legal problems that are not in accordance with company policy.
Set Up Interviews
Junior recruiters don't normally interview potential hires, but they do set up those interviews. A good junior recruiter helps minimize the number of interviews per hiring manager, which saves valuable time for both candidates and managers. They also make sure that only the best candidates are interviewed and that they are connected with the correct department head.
Maintain Relationships with Businesses and Potential Hires
In addition to posting job listings and helping new employees through the hiring process, junior recruiters also seek out potential hires on their own. They do this by maintaining relationships with other heads of business in their field so they know who the key players are. When they come across an employee from another company with an especially impressive record, they sometimes reach out to them with a job offer.
Junior Recruiter Skills and Qualifications
Junior recruiters should have a talent for interacting with people. While not all employers require prior experience in the field, a background in sales or business administration is preferred. Employers also look for junior recruiter candidates with the following skills:
Human resources experience - although this isn't always required, the most sought-after junior recruiters have prior HR experience. They're familiar with the hiring process as well as the best practices for interacting with current and future employees
Computer proficiency - junior recruiters use recruiting software such as LinkedIn, Indeed, and internal programs on a daily basis. This software helps to track potential hires and arrange meetings, so it's essential that a junior recruiter knows how to use them effectively
Business administration - like human resources, a background in business administration is highly preferred. In order to hire the best employees for a business, junior recruiters must know how that business is run and managed
Organization skills - junior recruiters are responsible for setting up interviews and keeping track of which job applicants are best suited for a position. Because of this, organizational skills are a must. Junior recruiters must be able to keep a calendar, schedule appointments, and multitask
Interpersonal skills - one of the most important aspects of a junior recruiter's job involves interacting with people. They must be able to address applicants' concerns about a job, collaborate with fellow team members, and determine which people fit best with the company, all while maintaining a professional but friendly attitude
Tools of the Trade
Junior recruiters often utilize the following tools on a daily basis:
Job recruiting software (such as LinkedIn, Indeed, Greenhouse, Recruitee, CreateTalent)
Calendar applications
Communication software and devices (phones, email, Skype, WhatsApp, and other internet-based programs)
Junior Recruiter Education and Training
A bachelor's degree in human resources or business administration is often required in order to become a junior recruiter. A background in sales is also a plus. However, prior recruiting experience is not always required because junior recruiters receive on-the-job training once hired. Other educational and training requirements vary from company to company.
Junior Recruiter Salary and Outlook
According to the Bureau of Labor Statistics (BLS), the median annual salary for a human resources specialist in the field of employment services is $61,320, or $29.48 hourly. Human resources specialists in the 10th percentile earn $34,770 per year, and the highest paid employees in this field make $101,420 per year. Benefits typically include a 401(k) plan, health insurance, and educational opportunities.
The job growth outlook for junior recruiters through 2026 is average, the BLS reports. Employment is expected to grow 7 percent over the next 10 years. The job is expected to become more complex, however, due to new laws and hiring practices.
Create your own professional resume in just minutes.
Try our resume builder today
Build Your Resume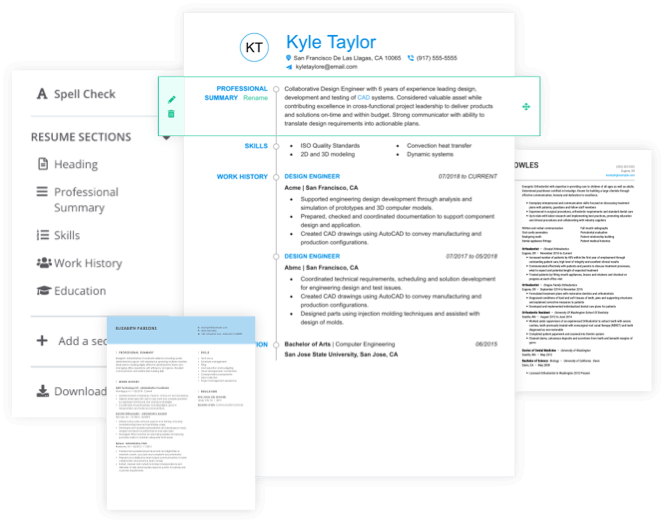 Helpful Resources
This list of valuable resources can help you advance your career in the HR field:
National Human Resources Association
formed in 1951, NHRA focuses on "advancing the individual career development, planning and leadership of human resource (HR) professionals." Its website is full daily job listings and resources that can help individuals move up the corporate ladder
this book is geared toward managers, but it can also be extremely useful for junior recruiters. It includes information on all of the laws recruiters must be familiar with when hiring new employees, as well as techniques for interacting with employees and potential hires
communication is key in the HR department. This book encourages junior recruiters and other members of this field to clearly express themselves in a kind and reassuring manner in order to be more efficient and better understood in the workplace
Junior Recruiter Resume Help
Explore these related job titles from our database of hundreds of thousands of expert-approved resume samples: