Featured in:
Funeral assistants ensure every aspect of a funeral proceeds smoothly. Before the funeral, they arrange everything as requested by the family, and during the funeral, they ensure the ceremony runs smoothly. This entry-level position doesn't require any formal education, but candidates should be compassionate and empathetic. Funeral assistants work in funeral homes during standard business hours, either part or full time. They report directly to funeral directors.
Studying resume samples and examples are a great way to get inspiration for your own. Study our library of examples today!
Want to boost your resume? Your Jobhero subscription comes with a complimentary cover letter builder. Once you choose a cover letter template, the builder will suggest job-specific skills and prewritten entries, allowing you to save multiple letters for various applications fast.
Funeral Assistant Duties and Responsibilities
While a funeral assistant's duties and responsibilities are determined largely by the funeral home they work at, there are many core tasks associated with the role. Based on our analysis of the position, these include :
Prepare Funeral Home for Funerals
Funeral assistants are responsible for all aspects of preparing a facility for a funeral. This includes cleaning the funeral home, setting up chairs, and placing pictures or other décor as requested by the grieving family.
Prepare Casket for Viewing
Funeral assistants prepare the casket for viewings and funerals. This responsibility requires the funeral assistant to move the casket from the morgue to the reserved room. They also place floral arrangements and lighting to ensure people can clearly see the casket.
Usher Mourners
Once the funeral begins, funeral assistants are responsible for ushering and directing mourners to their seats. They are available to answer any questions funeral attendees may have, and they take care of all the grieving party's needs.
Close and Prepare Casket for Burial
After the funeral has ended and attendees are traveling to the burial site, funeral assistants close the casket and prepare it for burial. This includes moving it to the hearse and removing it at the burial site.
Assist During Burial
During the burial process, funeral assistants are responsible for assisting anywhere they are needed. For example, some funeral assistants act as pall bearers if there aren't enough present. They may also lower the casket into the burial plot.
Funeral Assistant Skills and Qualifications
Funeral assistants are compassionate and empathetic. They work well with grieving people, and they make the whole process easier for everyone involved. Employers typically don't require any formal education past a high school degree or GED, and they will hire candidates with little to no experience in the funeral industry. However, employers prefer candidates who possess the following skills and qualifications:
Customer service - candidates with previous customer service experience do well as funeral assistants because they know how to take care of people's needs. If they don't have real-world experience, candidates must at least know how to communicate well with people
Knowledge of burial practices and customs - some employers prefer their funeral assistants to possess a base-level knowledge of current burial practices and customs. This knowledge helps speed the process along appropriately
Time management - funeral assistants know how to manage their time appropriately. They can easily meet deadlines, even during high-stress situations
Empathy - since funeral assistants interact closely with grieving individuals, they know how to show the proper amount of empathy and understanding
Active listening skills - funeral assistants are skilled at active listening. They can take directions from the funeral director and remember them clearly, and they know how to listen to mourners who sometimes just need someone to talk to
Tools of the Trade
Funeral assistants use the following tools as a part of their job and responsibilities:
Funeral equipment (casket trolleys, cooling and body storage, etc.)
Hearses
Funeral Assistant Education and Training
Most employers don't require their funeral assistants to have any kind of formal education other than a high school diploma or GED. However, many candidates pursue a degree in mortuary science once hired.
Extensive on-the-job training takes place after a candidate is hired. This training is meant to show the new employee the layout of the funeral home and give them practice setting up funerals. New funeral assistants will also likely see demonstrations of the embalming process to better understand how everything works behind the scenes.
Funeral Assistant Salary and Outlook
According to the Bureau of Labor Statistics (BLS), funeral assistants make an average hourly wage of around $13.04. Funeral assistants with more experience can make as much as $18.88 per hour, while those just starting out may earn around $8.82 per hour. Many funeral assistants are eligible to receive benefit packages that include health insurance and paid time off, but these benefits can vary depending on the employee's full- or part-time status.
The BLS reports that all funeral service worker positions can expect to experience an average growth rate of around 5 percent over the next 10 years. This growth rate is on par with other industries.
Create your own professional resume in just minutes.
Try our resume builder today
Build Your Resume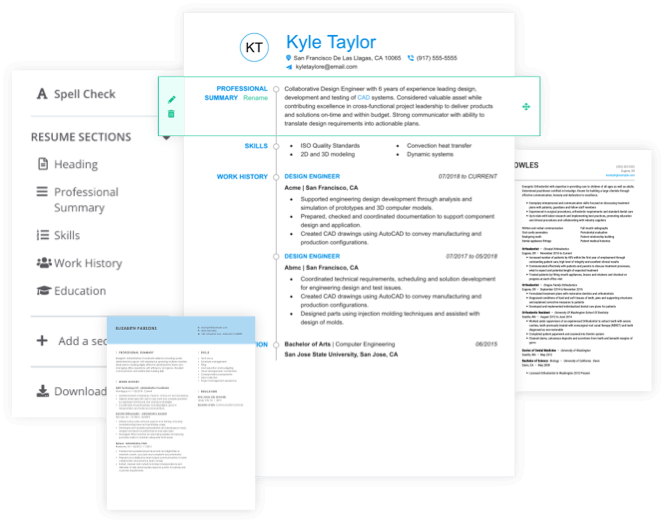 Helpful Resources
Read some of these helpful resources to learn more:
Funeral Assistant Resume Help
Explore these related job titles from our database of hundreds of thousands of expert-approved resume samples: