Featured in:
Food handlers work in a variety of settings, working with unpackaged foods and beverages before they are made available to consumers. This role can encompass a number of different tasks and responsibilities related to food preparation, from mixing and measuring ingredients in large batches of food to packaging food products and items.
In any setting, the food handler's primary responsibility is to follow food safety guidelines and ensure that food is responsibly prepared for the consumer. This role requires both attention to detail and the ability to work on repetitive tasks, following proper procedures and guidelines established by customers or supervisors.
Our certified resume writers have created a library of resume samples to show you exactly what a strong resume looks like. Use them as-is or customize them to your needs.
One extra step to impress a manager: A growing number of hiring professionals read cover letters to determine whether they'll interview a candidate or not. Use our cover letter templates to craft a complete application that lands you the interview.
Food Handler Duties and Responsibilities
While the specific duties of a food handler can vary based on their role in food production and preparation, many of the core responsibilities remain consistent:
Prepare Food Items for Consumers
Food handlers across industries work to prepare food items for consumers. The specifics of this role can vary greatly based on the industry or organization. A food handler who works in a production facility may prepare and combine ingredients for mass-produced items like candy or prepared items, for example, while a food handler working in an institutional setting like a hospital may help prepare menu items or assemble trays of food for distribution.
Clean Workspace
In any industry, food handlers maintain clean and healthy work environments. They ensure that utensils and other food preparation tools are clean and disinfected, clean up spills and leaks, and clear food scraps away from work areas. By maintaining clean and clear work spaces, food handlers promote jobsite safety and prevent the spread of foodborne illness and spoilage.
Store and Label Food Items
Food handlers manage food storage, especially if food items need to travel for delivery to customers. In some cases, this can involve actually packaging items, while in other organizations a food handler needs to ensure that ingredients and food items are properly stored and refrigerated to prevent spoilage. Food handlers also follow best practices for labeling to ensure that food items are discarded if they are not used on time.
Monitor Supplies and Inventory
Food handlers monitor supplies of food and ingredients, informing supervisors when stock runs low. This aspect of the job requires food handlers to have a clear understanding of current inventory levels and needs and to take a proactive role in maintaining a large enough supply to prevent delays or shortages in the food preparation process.
Receive and Stock Items
Food handlers receive incoming deliveries of ingredients and other supplies and stock them in their appropriate places. In manufacturing, this can involve recording deliveries and restocks and following procedures to restock items related to food preparation. In institutional settings, food handlers may receive raw materials that cooks will use for meal preparation and need to ensure that proper quantities are received and that storage protocols are followed.
Discard Spoiled or Contaminated Items
In addition, food handlers also support food safety and handling activities by discarding spoiled or otherwise contaminated items. Food handlers need to alert supervisors if they discover spoilage or contamination and follow procedures to discard those items and create a record of the spoilage. Food handlers also need to ensure that they follow USDA or FDA guidelines for reporting and disposal.
Food Handler Skills and Qualifications
Food handlers can work in many industries, but all workers are responsible for ensuring that food is safe for consumption. In this role, food handlers should possess the following skills:
Food preparation - food handlers should have some knowledge about food preparation and should be able to contribute to industrial- or institutional-scale food handling and prep
Food safety knowledge - in this role, food handlers should be well-versed in best practices for safe handling and transportation of food to prevent spoilage and other contamination
Attention to cleanliness - workplace safety and cleanliness are also essential in preventing contamination and illness, so food handlers should have a thorough understanding of cleaning and sanitation
Physical fitness- food handlers may need to perform repetitive or strenuous tasks during food preparation, so they should possess a high level of stamina. Many of a food handler's duties also require a high level of dexterity
Teamwork - food handlers tend to work with groups of other food preparation workers, so effective team collaboration and communication are necessary, as is the ability to report issues to supervisors
Food Handler Education and Training
Food handlers do not typically need any formal education, but most have at least a high school diploma or GED. Additionally, food handlers need to complete certification courses that cover food safety and handling, which can vary from state to state. There are also significant opportunities for on-the-job training in this role, as most new food handlers begin work under the supervision of more experienced workers.
Food Handler Salary and Outlook
According to the Bureau of Labor Statistics (BLS), food preparation workers earn a median annual salary of $22,730, or $10.93 per hour. The highest-paid 10 percent of food preparation workers earn over $15.45 per hour, while the lowest-paid workers earn less than $8.54 per hour.
The BLS estimates that food preparation worker employment will grow 8 percent by 2026, which is close to the average rate in all jobs.
Create your own professional resume in just minutes.
Try our resume builder today
Build Your Resume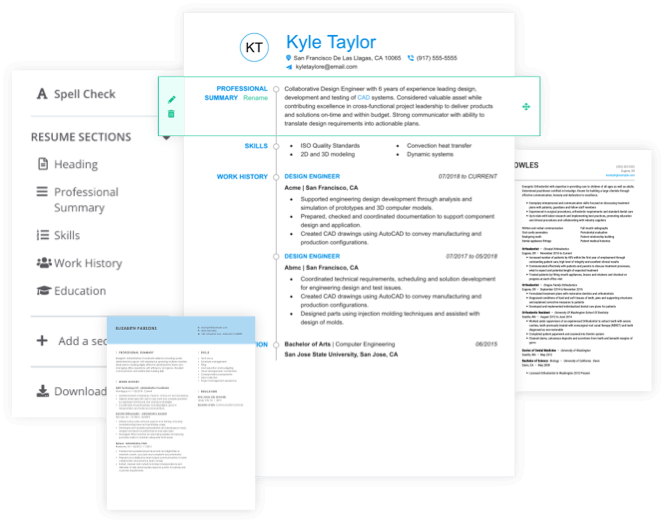 Helpful Resources
We searched the web and found several resources if you're interested in learning more about working as a food handler:
ServSafe provides training and certification for food handlers, covering food safety and disease prevention in food preparation and service
Ian C. Shaw explores the science behind food safety, including handling and storing perishable food items
National Environmental Health Association
the NEHA offers an alternative food handler certification option, which can help food handlers learn food safety and find employment
author Phyllis Entis explores best practices in food handling and safety, including the role that food handling professionals play in preventing disease
Food Handler Resume Help
Explore these related job titles from our database of hundreds of thousands of expert-approved resume samples: