Featured in:
Site engineers work closely with engineers and architects to plan and prepare construction sites. They balance project management with engineering tasks ranging from access road planning to site preparation. Site engineers also monitor contractor progress to verify that work is completed according to project specifications.
Site engineers work on a wide variety of projects related to construction, including housing developments and commercial buildings. On any project, the site engineer tends to be a main point of contact between the engineering and design teams and the contractors completing the project.
Need cover letter guidance? Add a cover letter to your resume using our cover letter formats how-to guide and add value to your resume.
Improve your application with a personal message! Your resume may summarize your qualifications, but a cover letter can help you express your professional accomplishments and working style. Pair these cover letter templates with our builder subscription to unlock AI-powered text templates and professional designs that will help you submit a complete application.
Site Engineer Duties and Responsibilities
A site engineer's duties can change depending on the project, but job postings that we analyzed shared several core responsibilities:
Conduct Preliminary Site Inspections
One of the site engineer's major duties is conducting preliminary inspections and studies of a proposed construction site. The site engineer determines the scope of preparatory work that needs to be completed before construction can commence, including the need for access roads and any work needed to clear and level the site prior to construction. The site engineer may also work with surveyors to determine the site's features.
Direct Contractors
Site engineers manage the day-to-day activities of contractors and subcontractors working on the site. This includes monitoring schedules and progress and ensuring that project elements are completed on time. Additionally, the site engineer may inspect construction to determine whether the contractors are following blueprints and adhering to material specification guidelines.
Develop Cost Estimates
Prior to undertaking construction, site engineers generate material and labor cost estimates. The site engineer examines blueprints and site specifications to determine the necessary materials and support budget oversight activities. They also develop estimates for manpower and determine how staffing needs fit into the overall timeline and budget. Site engineers might present this information to project managers as they consider contractor bids and develop overall cost estimates.
Advise on Operational and Process Enhancements
Site engineers advise contractors, engineers, and architects on process improvements and operational enhancements. They monitor construction and planning processes, looking for opportunities to enhance efficiency or reduce costs through improved operational measures. They may also devise technical solutions to issues that are causing delays and monitor the implementation of these solutions into the overall workflow.
Maintain Site Documentation
Many site engineers maintain documentation related to construction projects, including permits, material specification sheets, and budgetary documents. In some cases, the site engineer files these documents with local jurisdictions, while in other cases they present these documents to project leaders and executives to provide updates on construction processes and project completion.
Oversee Safety Standards
Site engineers play an important role in developing and enacting site safety standards and ensuring that personnel adhere to these standards throughout the construction process. The site engineer may develop site safety documents and distribute them to personnel or make suggestions for improving jobsite safety without sacrificing efficiency.
Site Engineer Skills and Qualifications
Site engineers combine project management and engineering skills to guide construction projects to completion. Companies tend to hire applicants with at least a bachelor's degree in engineering and the following skills:
Site inspection and evaluation - in this role, site engineers inspect and evaluate construction sites throughout the construction process, so inspection and evaluation skills are crucial
Team coordination - site engineers provide on-site guidance to contractors and other personnel, so they should be able to successfully coordinate team members' activities throughout the construction process
Project management - project management is another major duty, so site engineers should have some familiarity with planning, coordinating, and executing large-scale projects in collaboration with cross-functional teams
Problem-solving skills - because construction and project elements can change during building, site engineers must be able to rapidly adapt and solve technical and operational problems
Budgeting - site engineers develop material and manpower estimates for construction work, so they frequently collaborate on budgeting and financial oversight tasks for these projects
Communication skills - site engineers regularly and effectively communicate with and prepare reports for engineers, architects, and construction managers during a project's development and execution
Tools of the Trade
Site engineers typically split their time between offices and jobsites, using standard office software equipment in addition to the following:
Computer-aided drafting (CAD) software (AutoCAD, SketchUp)
Site Engineer Education and Training
Site engineers should have at least a bachelor's degree in engineering from a program accredited by the Accreditation Board for Engineering and Technology (ABET). An advanced degree can improve hiring prospects, as can some experience as a construction project manager. Because each project presents its own set of challenges, there are many opportunities for site engineers to expand their skill sets and adapt successful operations and technical improvements from previous projects into future work.
Site Engineer Salary and Outlook
While the Bureau of Labor Statistics (BLS) does not provide salary estimates for site engineers, it does report salary data for civil engineers. The median annual salary for civil engineers is $84,770 per year. The highest-paid 10 percent of civil engineers earn an annual salary of more than $138,110, while the lowest paid make less than $54,150.
The BLS expects employment for civil engineers to grow 11 percent by 2026.
Create your own professional resume in just minutes.
Try our resume builder today
Build Your Resume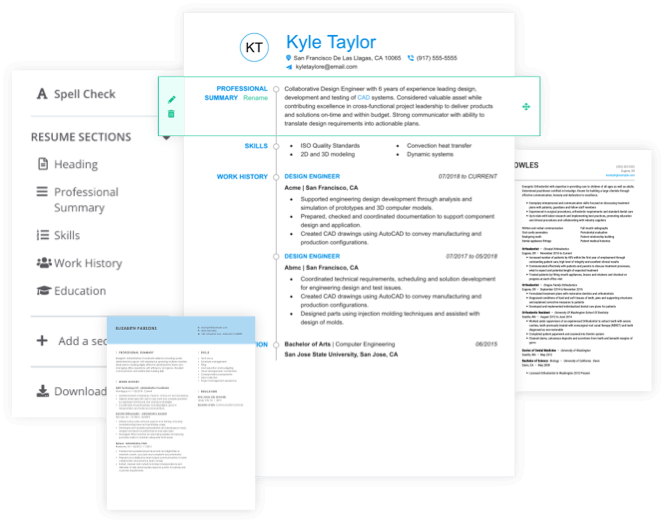 Helpful Resources
If you'd like to learn more about a career as a site engineer, we identified many resources on the web for further information and reading:
Site Engineer Resume Help
Explore these related job titles from our database of hundreds of thousands of expert-approved resume samples: