Featured in:
From appliances to toys, product designers are responsible for visualizing and creating new products for consumers. Also known as industrial designers, product designers meet with graphic designers, production engineers, and other professionals to create sketches, designs, and prototypes of possible products. They work out any flaws in new designs, redesign existing products, and create budgets and schedules for production teams.
Product designers work in any industry that develops products for consumer use, such as the automotive industry, medical equipment manufacturers, telecommunications companies, and furniture designers. Product designers are typically employed full time and, depending on their employer, enjoy medical insurance, retirement benefits, paid vacations, and even bonuses.
Need cover letter guidance? Add a cover letter to your resume using our cover letter formats how-to guide and add value to your resume.
Boost your resume with an extra click. Our cover letter templates match our resume templates' designs for a cohesive application. Use a template in our builder to help you quantify and expand upon the experience from your resume and impress employers.
Product Designer Duties and Responsibilities
Product designers work in a variety of industries. Specific duties and responsibilities may vary, but there are several core tasks associated with the job, including:
Sketch and Design New Products
It all starts at the drawing board: Product designers come up with ideas for new products, sketch them out, and present them to engineers and design teams. They might use CAD software to produce images and blueprints. Product designers also contemplate the functionality and usability of the products they are envisioning.
Attend Brainstorming Sessions
Product designers attend regular meetings with product managers, design engineers, junior designers, and others on the development team to discuss new product ideas. They make suggestions, point out possible issues with new designs, and evaluate consumer behavior reports.
Create Prototypes
It is up to product designers to make wireframes, models, mockups, and prototypes to be presented to the production team. Through these creations, product designers can often see potential flaws and correct them before work on the final product is begun.
Improve Existing Products
New design is not the only responsibility of product designers; they are often called upon to redesign existing products to make them more competitive in the marketplace and to draw new consumers to the product. They might assess consumer feedback to get ideas about improving these older designs.
Product Designer Skills and Qualifications
While creativity tops the list, there are several other skills and abilities that a product designer should possess to do well in this profession. Based on our research, we found that employers tend to favor job candidates who display the following skill set:
Mechanical skills – producing prototypes, models, and mockups calls for product designers to employ strong mechanical skills
Computer skills – from CAD to digital illustration programs, product designers should have the ability to use various software and hardware tools
Project management – product designers should have a thorough knowledge of various project management aspects, such as budgeting, scheduling, and time management
Communication skills – strong verbal and written communication skills are essential, as product designers must present ideas clearly during brainstorming sessions and produce easy-to-read reports and manuals regarding product design processes
Collaboration – product designers rarely develop a product alone; they typically work closely with artists, graphic designers, engineers, managers, and others
Working independently – while creating a new product is a collaborative effort, product designers must also work with little to no supervision when creating designs or prototypes
Analytical thinking – product designers must be able to analyze blueprints, consumer surveys, reports, and other documentation pertaining to product development
Tools of the Trade
Product designers should be adept at using the following:
Coding languages (HTML, CSS)
Design software (Photoshop, Adobe After Effects, Illustrator, Dreamweaver)
Presentation design software (Keynote, PowerPoint, Powtoon)
Prototyping tools (Azure, Sketch, Mockplus, Framer)
Product Designer Education and Training
Many employers seek product designer who hold bachelor's degrees in such areas as graphic design, industrial design, engineering, or architecture. Some programs might include an internship that allows students to gain valuable hands-on experience in professional settings; most lead to a portfolio that students can use as a tool when seeking employment. In some cases, a master's degree might be preferred, particularly for those seeking advancement to upper management positions.
Product Designer Salary and Outlook
As reported by the Bureau of Labor Statistics (BLS), product designers earn a median annual salary of nearly $66,000. Those in the 10th percentile realize a salary of just over $36,000, while the highest earners take home over $106,000 per year.
Average yearly salaries for product designers vary greatly depending on industry, the BLS shows. For instance, those employed by software publishers make a median annual salary of $97,000, while those in footwear manufacturing earn more than $92,000, and those in household appliance manufacturing earn $66,000. Arkansas (nearly $84,500), Nevada (about $84,000), and Oregon (close to $83,000) lead the US in highest average wages for product designers.
A 4 percent increase in employment for product designers is predicted by the BLS through 2026. Rising consumer demand for new products and increased use of technology are believed to be major reasons for this projected growth rate.
Create your own professional resume in just minutes.
Try our resume builder today
Build Your Resume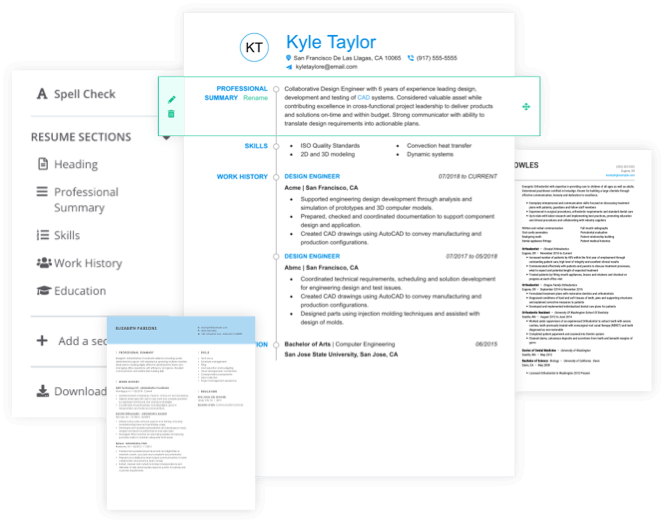 Helpful Resources
Hoping to start a career as a product designer? Find out more about what it takes to become and work as a product designer by examining the resources provided below:
for over 50 years, IDSA has provided professional and educational support to product designers. Members can view webinars, attend conferences, access educational articles, and network with other designers
almost nothing can take the place of advice from those who have been there, done that. This book offers detailed interviews with professional product designers who reveal how to get a step up with a killer portfolio and share how they started in the field of product design
established in 1976, PDMA has over 2,000 members representing all areas of product design, from innovation to portfolio management. Join this global community and get access to conferences, webcasts, forums, a professional journal, and the PDMA blog (with insightful articles and advice from seasoned professionals in the field)
product design news, discussions about best practices, interviews, and videos can be found on this blog. Articles focus on brand development, logo creation, design tools, and a lot more
a site for all things product design: you'll find everything from design tips and tool reviews to interviews and forums. This is the place for current and aspiring product designers to hang out, network, and learn more about their craft
Curve
this online publication is devoted to industrial design. Find out current industry news and review the latest designs, trends, and coverage of topics in various sectors, from apparel to software
what do the most successful product designers do to create products consumers want to buy? It's all explained by the Hook Model, which is detailed in this book, hailed as "the blueprint for the next generation of products" by the founder of WordPress
get your "creative" on and find out what it takes to make innovative and successful products in today's marketplace. Learn how to observe consumer behavior and incorporate best prototyping practices and get details about IDEO's effective "Deep Dive" brainstorming process