Featured in:
Energy engineers design, develop, and audit energy-related projects to find efficient and innovative ways to supply energy. This involves looking at ways to reduce costs, researching ways to generate new energy to reduce carbon emissions and minimize environmental damage, and carrying out site inspections and energy surveys.
Energy engineers work in field-based roles, and often work irregular hours in adverse conditions. Some jobs may even be in remote locations. This job is well-suited to people with strong scientific and mathematical skills who have an interest in the environment and enjoy finding solutions to problems.
Need cover letter guidance? Add a cover letter to your resume using our cover letter formats how-to guide and add value to your resume.
Impress your future boss! According to a 2020 survey, most hiring managers read cover letters for candidates they're considering interviewing before making their final decision. Make a cover letter that seals the deal with our professionally designed cover letter templates.
Energy Engineer Duties and Responsibilities
While an energy engineer's day-to-day duties and responsibilities are determined by where they work, there are many core tasks associated with the role. Based on job listings we analyzed, these include:
Design and Develop Renewable Technologies
Energy engineers often design systems that form part of a larger process. They propose designs that will interact with components of a larger system to make it more energy efficient and must foresee how these aspects will work together, including the equipment, machinery, and workers.
Carry Out Site Inspections
Energy engineers conduct field assessments and audits, visiting sites and analyzing facilities to audit the energy systems in place and to offer improvement suggestions. They work with construction managers and analyze energy data to determine if a building or a project is meeting the correct standards.
Negotiate Service Agreements
Working with specialist contractors and relevant organizations, energy engineers negotiate service agreements and manage the associated costs and revenues related to a project.
Prepare Work Schedules
Energy engineers manage the design, construction, and development of energy management projects, working to federal guidelines and set budgets, and ensure that the work schedule is appropriate to the agreed completed date.
Maintain Current Legislation Knowledge
Energy engineers must have a general understanding of the current energy market as well as knowledge of the relevant legislation around energy efficiency, carbon emissions, and how to implement efficient systems that are compliant with legal standards.
Energy Engineer Skills and Qualifications
Energy engineers possess commercial awareness, in which they have a good understanding of the general energy market and maintain knowledge of the latest industry trends. They have strong organizational skills as well as great communication skills, both written and verbal. Typically, employers will require a bachelor's degree in an engineering-related subject, as well as the following abilities:
Math Skills - This job requires the ability to collect and analyze data, customize software and spreadsheets, and model facility changes based on audits of potential energy consumption. For this aspect of the job, strong math and science skills are vital
Independent - Often, energy engineers are required to work independently, so they need to have the initiative and proactive approach to be able to find solutions to problems on their own, without a team assisting them
Project Management Skills - Energy engineers need to have strong time management skills and the ability to organize tasks effectively, as they coordinate with project management team members to analyze installation systems and ensure that projects are completed to schedule
Computer Skills - Energy engineers possess strong computer skills to use software and programs required to do this job, such as AutoCAD, Microsoft Excel, and project management tools
Initiative - Energy engineers need to have the ability to recognize emerging problems and be able to take the initiative to proactively identify solutions, such as fixing technical issues with equipment
Energy Engineer Education and Training
The minimum requirement to become an energy engineer is a bachelor's degree in engineering or science, with a focus on electrical, mechanical, environmental, or chemical engineering. These programs provide a background in calculus, physics, or chemistry. While studying, many students also take part in internships to gain valuable work experience. Renewable energy engineering isn't currently offered as an accredited program, but some schools offer a renewable energy minor.
Students may wish to consider engineering programs that are accredited by ABET, Inc., which was previously the Accreditation Board for Engineering and Technology. Many state licensing boards require applicants to have a degree from an accredited school, and many employers also prefer it, so it can be advantageous to an applicant's resume.
Energy Engineer Salary and Outlook
The median annual salary for energy engineers, according to PayScale, is nearly $67,000. Energy engineers in the 10th percentile earn $51,000 a year, and the highest paid earn close to $100,000, considering almost $10,000 in bonuses and $6,000 in profit-sharing earnings.
The biggest factor affecting the pay scale for this job is the company, followed by experience.
Most companies offer medical benefits, and a large proportion also offer dental coverage. The Bureau of Labor Statistic predicts that the growth rate for environmental engineers is expected to increase by 8 percent through 2026.
Create your own professional resume in just minutes.
Try our resume builder today
Build Your Resume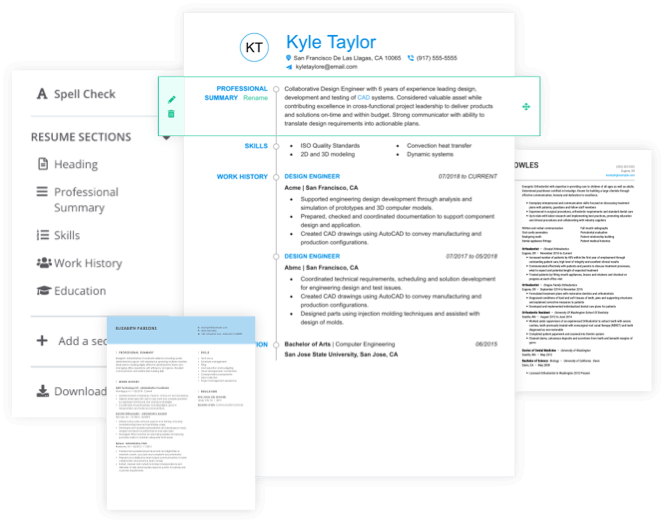 Helpful Resources
For those looking to pursue a career as an energy engineer, check out the following books and web resources for more information:
Energy Engineer Resume Help
Explore these related job titles from our database of hundreds of thousands of expert-approved resume samples: