Featured in:
Electrical Engineering Technicians work on electrical control systems and equipment. They may help design and install electrical systems in buildings or automobiles, or they may test the functionality of electrical equipment.
Electrical Engineering Technicians often work under the direct supervision of an Electrical Engineer. Due to the decline of growth in the manufacturing industry and a projected decline of opportunities in federal government employment, The Bureau of Labor Statistics projects a decline of 2 percent for Electrical and Electronic Engineering Technicians jobs through 2024. Although the overall job growth is expected to decline, engineering service firms are expected to have an increased need of Electrical Engineering Technicians as they seek to lower costs by contracting out these duties.
Our certified resume writers have created a library of resume samples to show you exactly what a strong resume looks like. Use them as-is or customize them to your needs.
Want to boost your resume? Your Jobhero subscription comes with a complimentary cover letter builder. Once you choose a cover letter template, the builder will suggest job-specific skills and prewritten entries, allowing you to save multiple letters for various applications fast.
Electrical Engineering Technician Duties and Responsibilities
The true scope of an Electrical Engineering Technician's job will depend upon the job they are hired for, but there are several primary responsibilities that can be applied to nearly all Electrical Engineering Technician positions. A review of current job listings identified the following core responsibilities.
Install Systems
When an Electrical Engineering Technician is called upon to install electrical systems to a new or existing building or to assist with creating communications or navigational equipment there is much work to be done. Electrical Engineering Technicians will need to be able to design or assist in the layout design process, order the necessary parts and equipment for the project and then either perform the installation themselves or assist in the installation process. They must ensure all circuits and parts are correctly installed and function as intended.
Evaluate Systems
Electrical Engineering Technicians are also hired to perform product control and system evaluations. This may require them to inspect a design plan, evaluate an electrical system and its components or actively test electronic equipment and provide recommendations or repairs. Electrical Engineering Technicians must know how to test circuits using diagnostic tools, create solutions and have the ability to complete basic repair work. Some Electrical Engineering Technicians are also hired to perform preventative maintenance to ensure the electrical systems are always up-to-date and safe.
Create Documentation
Electrical Engineering Technicians are expected to keep detailed documentation on all the systems and equipment they work on. They may be tasked with creating a user's manual, updating a maintenance log or providing regular reports on the tasks they have completed. The ability to create visual aids is often important for Electrical Engineering Technicians.
Electrical Engineering Technician Skills
The ability to work on a team and communicate well with others is important for Electrical Engineering Technicians. They must have an eye for detail and enjoy researching and solving technical issues as well. In addition to these traits, employers look for applicants with the following skillsets.
Core skills
: Based on job listings we looked at, employers want Electrical Engineering Technicians with these core skills. If you want to work as a Electrical Engineering Technician, focus on the following.
Knowledge of electrical codes and best practices
Ability to read blueprints and technical diagrams
Proficient in Microsoft Office Suite
Experience with basic hand and power tools
Experience with diagnostic tools
Strong analytical and problem solving skills
Physically able to meet requirements of the job including, working in confined spaces, lifting heavy equipment, and working at elevated heights
Advanced skills
: While most employers did not require the following skills, multiple job listings included them as preferred. Add these to your Electrical Engineering Technician toolbox and broaden your career options.
Experience with system design software such as, LabVIEW
Experience with CAD/CAM software
Degree in electrical engineering, electronics or related field
Create your own professional resume in just minutes.
Try our resume builder today
Build Your Resume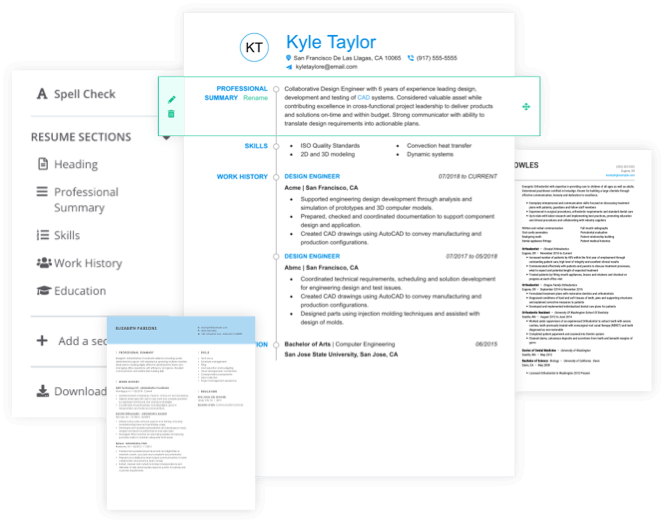 Electrical Engineering Technician Resources
There are more helpful and informational resources available on the Web for those interested in becoming an Electrical Engineering Technician. We scoured the internet and found these links full of learning opportunities.
On the Web
E & T's website offers current and past issues of their popular magazine as well as audio podcasts and other resources.
The online Electronics and Electrical Engineering Magazine is free and published weekly with the latest industry news and insightful articles on best practices and issues in the field.
A site dedicated to providing articles, videos and forums for electrical professionals.
Electrical Engineering Technician Books
A great source for the applications of mathematics that are involved in electrical engineering and computing. With numerous exercises and examples throughout, it provides instruction for those familiar with the applications as well as those new to them.
Written by a retired electrician and teacher with more than 30 years of experience, this book covers all aspects of the electrician trade.
This popular text covers everything from green technologies to workplace safety protocols. It is an easy to read and well illustrated book popular with readers.
Industry Groups
IEC is a national trade association for electrical and systems contractors. Founded in 1957, the association has more than 3,000 members throughout the United States and offers a range of networking and education opportunities.
IEEE established in 1884 for the burgeoning electrical industry, has grown into an organization with over 430,000 members worldwide composed of scientists, engineers, software developers and computer science employees. Their large network of members enjoy career development, technical information, research and industry news from this organization.
Electrical Training Alliance has been publishing electrical education materials for over 70 years and is endorsed by some of the industry's premier labor organizations. They offer training in a variety of formats and have trained over 350,000 electricians.
Electrical Engineering Technician Resume Help
Explore these related job titles from our database of hundreds of thousands of expert-approved resume samples: