Featured in:
Senior network engineers are the maestros who orchestrate the moving parts involved with making an enterprise network run efficiently. Their work is more project-based than task-based. Senior network engineers oversee the workflow of service tickets and delegate most tasks to computer support technicians or junior network engineers. They only take on service tickets too complex to be handled by lower-level staff. Virtually every industry employs senior network engineers. Small and mid-size businesses contract this work out to IT firms, while large corporations have an in-house IT department. Working for a firm is slightly different from working directly for a company, but not much. Senior network engineers still work in an office, are paid on salary, and spend most of their time behind a computer.
This role is a senior leadership position. Senior network engineers only answer to the chief technology officer. They have support technicians, network technicians, and junior network engineers under their command.
Need cover letter guidance? Add a cover letter to your resume using our cover letter formats how-to guide and add value to your resume.
Boost your resume with an extra click. Our cover letter templates match our resume templates' designs for a cohesive application. Use a template in our builder to help you quantify and expand upon the experience from your resume and impress employers.
Senior Network Engineer Duties and Responsibilities
Making sure a company's network runs smoothly is no easy task. Like a captain running a ship, senior network engineers have many responsibilities that, if neglected, will result in catastrophic failure. The following is a list of the most important senior network engineer duties.
Design Functional Networks
Senior network engineers collaborate with network architects to design and build functional networks from the ground up based on their employer's specific needs.
Configure and Install Network Hardware and Software
Using their knowledge of communication and routing protocol, senior network engineers make sure all the machines on a network communicate with each other properly. They also are responsible for installing and updating network security software.
Monitor Network Performance
While senior network engineers spend a lot of time putting out fires, they monitor network performance routinely to try and catch these fires before they happen.
Create and Implement Network Security Measures
Network security protocol is created and enforced by the senior network engineer. This includes configuring and monitoring things like user access levels, data access history, and other related security concerns.
Delegate Network Maintenance Tasks
Most basic network maintenance tasks can be delegated to a computer support technician or junior network engineer.
Provide Network Status Reports to Chief Technology Officer
Senior network engineers are in constant contact with the chief technology officer. They must create and present regular network reports in weekly meetings.
Senior Network Engineer Skills and Qualifications
Senior network engineers rely mostly on technical knowledge, but their senior position requires more managerial skills than a junior position. The following is a list of skills senior network engineers need to have:
Expertise in network operating systems - Cisco IOS is the most widely used network operating system in corporate America. Senior network engineers must constantly update their Cisco knowledge as the platform evolves
Understanding of communication and routing protocols - knowledge of TCP/IP is used to solve network connectivity issues and construct functional networks
Familiarity with coding languages - familiarity with coding languages like Perl and Python allows senior network engineers to understand how efforts from the programming team will affect network functionality
Experience with network diagnostic tools - senior network engineers use network diagnostic tools to monitor network performance and diagnose which areas need attention
Leadership and mentoring skills - senior network engineers use their leadership and mentoring skills to get the best out of their junior network engineers
Problem-solving skills - the most complex service tickets are solved by senior network engineers, so they call upon problem-solving skills often
Communication skills - senior network engineers use communication skills to build rapport with team members and efficiently delegate tasks
Senior Network Tools of the Trade
Senior network engineers rely on the following types of software to do their jobs well:
Network analysis tools (SolarWind)
Network operating systems (Cisco IOS, JUNOS)
Network hardware (routers, CPUs, wiring, etc.)
Senior Network Engineer Education and Training
Employers require senior network engineers to have at least a bachelor's degree in computer science, information technology, or a related field. Years of experience as a network engineer is the more important qualification in eyes of employers. Senior network engineers must also possess the Cisco Certified Network Professional certification.
Senior Network Engineer Salary and Outlook
The Bureau of Labor Statistics suggests that demand for network and computer systems administrators, which includes senior network engineers, will rise 6 percent through 2026. According to Payscale, the national median salary for senior network engineers is $97,400. Those in the bottom 10 percent make below $70,250, while those in the top 10 percent make above $132,044.
Create your own professional resume in just minutes.
Try our resume builder today
Build Your Resume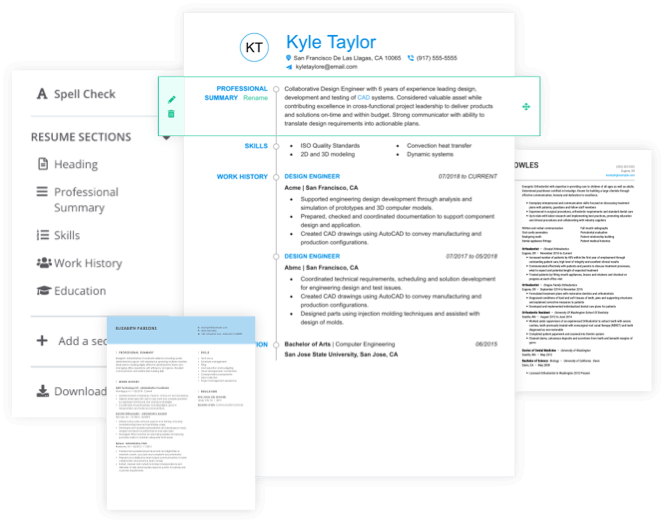 Senior Network Engineer Helpful Resources
The following list of resources is designed to help you learn more about the role of the senior network engineer:
Senior Network Engineer Resume Help
Explore these related job titles from our database of hundreds of thousands of expert-approved resume samples: