Featured in:
Oracle Dbas are database administrators who specialize in Oracle Database, the most popular relational database management system in the world of enterprise IT. Oracle Dbas don't differ from general database administrators besides having to stay on top of Oracle updates. Since most companies who use Oracle are mid-sized companies and large corporations, Oracle Dbas often work in a small team with other Oracle Dbas to maintain their employer's customized database. They can find themselves employed in virtually any industry, as almost every company needs database management services. Oracle Dbas work in an office environment and maintain regular weekday hours.
Oracle Dbas typically start as database technicians before they have enough experience to become an Oracle Dba. As they work in a team environment, there is usually an Oracle Dba team leader. This team leader has managerial responsibilities. According to the National Bureau of Labor Statistics, the demand for database administrators, which includes Oracle Dbas, is set to rise 11 percent through 2026.
If you are having writers block, our resume examples can help. Choose from hundreds of job titles to find the right example for your needs.
Impress your future boss! According to a 2020 survey, most hiring managers read cover letters for candidates they're considering interviewing before making their final decision. Make a cover letter that seals the deal with our professionally designed cover letter templates.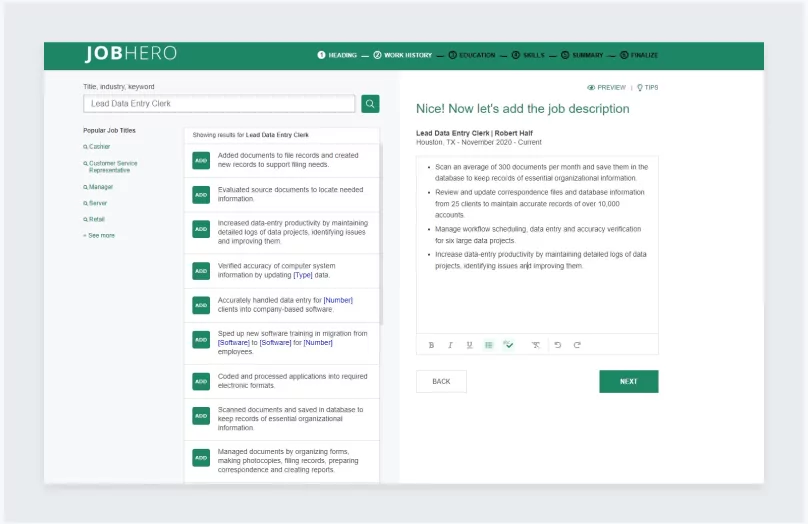 BUILD MY RESUME
Oracle Dba Duties and Responsibilities
Building and maintaining a complex database for a large corporation involves many tasks. We researched Oracle Dba job descriptions to come up with the following list of core Oracle Dba responsibilities:
Install and Upgrade Oracle and Corresponding Application Tools
The primary responsibility of Oracle Dbas is installing and regularly upgrading the Oracle database software. This requires expertise in Oracle and its corresponding application tools.
Create Database Storage Structures
Oracle Dbas use database and coding knowledge to create database storage structures, known as tablespaces, that store the data of web applications. They are responsible for ensuring these structures are created with information security in mind.
Alter Database Structures as Needed
The function of a database is ever-evolving. Oracle Dbas make changes to database structures based on company needs.
Set up Database User Accounts
Oracle Dbas work with data analysts and others who use the data with secure user accounts. This requires training skills, as they must show each user how to access the information contained within the database.
Debug Malfunctioning Programs
When an application within an Oracle database malfunctions, Oracle Dbas come to the rescue. They use their Oracle expertise and knowledge of database management to find and address the cause of the malfunction.
Regularly Update Database Security
This is especially important for Oracle Dbas employed by the government, finance, or healthcare industries. As databases often contain sensitive information, Oracle Dbas have to have a consistent security update protocol.
Create Database Backups
Oracle Dbas create a backup of all the information in the database. They regularly maintain this backup and are responsible for restoring the database should the original data get lost or corrupted.
Oracle Dba Skills
Oracle Dba are experts in every aspect of the Oracle Software. They understand the theories and components that make the system function. They also need knowledge of Structured Query Language (SQL) to create and alter database structures. Oracle Dbas need a working knowledge of programming languages such as HTML and XML. Oracle Dbas are people who thrive in a collaborative environment; they rarely work independently. They are also problem-solvers who can maintain focus for long periods of time. In addition to these traits and areas of knowledge, Oracle Dbas need the following skills to get hired:
Designing databases using Oracle Software and knowledge of SQL
Testing database applications to ensure functionality
Collaborating with other Oracle Dbas to implement structures
Performing regular security updates to keep user data safe
Helping users to navigate and use database functions
Tools of the Trade Oracle Db
Oracle software – the relational database management system software favored by Oracle Dbas
Oracle Dba Education and Training
Oracle Dbas need to have a bachelor's degree in computer science, information systems management, or a related field to get a job. This education covers coursework in topics such as database construction, database management, programming languages, database security, and other similar topics. Oracle also offers several certifications that make Oracle Dbas more marketable. These certifications cover Oracle products in sub-fields, such as applications, enterprise management, operating systems, and databases.
Oracle Dba Salary
According to Glassdoor, the national average salary for Oracle Dbas is $97,665. Those at the top of the scale make above $127,000, while those at the bottom of the scale make below $75,000.
Create your own professional resume in just minutes.
Try our resume builder today
Build Your Resume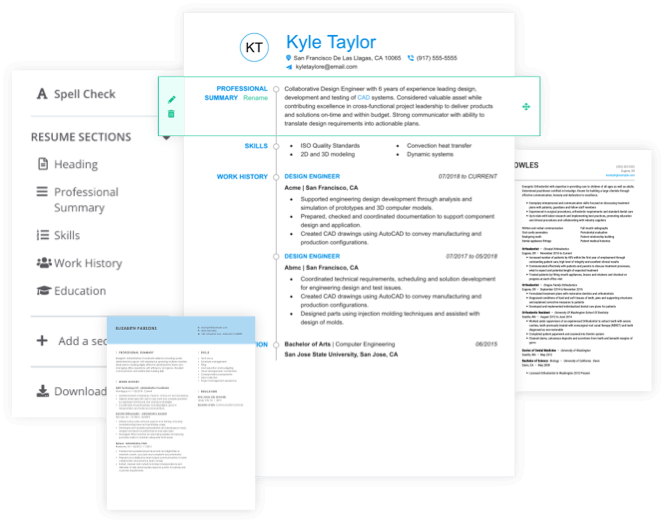 Oracle Dba Resources
If you have a passion for databases and see yourself working as an Oracle Dba, then check out the list of resources below for more information:
Oracle Dba Resume Help
Explore these related job titles from our database of hundreds of thousands of expert-approved resume samples: