Featured in:
Overseeing the activities at a construction job site is the main responsibility of a Construction Supervisor. This includes managing construction crews, inspecting ongoing work, ensuring adherence to state and local codes, arranging for necessary equipment and keeping construction project costs at or, if possible, under budget.
Construction Supervisors work mainly for construction firms. They can specialize in commercial or residential construction, though some oversee both types of projects. The U.S. Bureau of Labor Statistics projects a 5 percent growth rate for this profession through 2024. An expectation of the continued need for new homes, offices, schools and other buildings, in addition to needed improvement to various infrastructures throughout the country, is the basis for this projection.
Need cover letter guidance? Add a cover letter to your resume using our cover letter formats how-to guide and add value to your resume.
One extra step to impress a manager: A growing number of hiring professionals read cover letters to determine whether they'll interview a candidate or not. Use our cover letter templates to craft a complete application that lands you the interview.
Construction Supervisor Duties and Responsibilities
Construction Supervisors must perform diverse tasks to ensure that construction projects are meeting deadlines and being completed in a safe and timely manner. They also ensure that all equipment is working properly. We analyzed several job listings and found the following among the core Construction Supervisor duties and responsibilities.
Manage Construction Teams
From on-site visits to project scheduling and team building, a Construction Supervisor is a hands-on manager of various laborers working on a particular construction project. The Construction Supervisor makes sure that teams are working together with the sole objective of completing a project while adhering to deadlines, specifications and codes. They are likely to be involved in selecting specific contractors and sub-contractors and ensuring that these individuals are working well together.
Adhere to Safety and Building Practices and Codes
It is up to the Construction Supervisor to keep track of the progress of each project to ensure that it is not only meeting the specifications of the architect, but that personnel are maintaining safe work practices and following state and local guidelines concerning building projects. They may hold regular meetings with workers to review worksite safety. They would also communicate with inspectors about compliance with building codes and assist with on-site inspections.
Create Project Plans and Reports
A Construction Supervisor could be involved in developing contracts, such as those with contractors and sub-contractors, as well as creating budget and cost estimation statements, preparing project bids and submitting progress reports. In addition, they may work closely with architects in creating original project specifications and in making any changes to these specifications during the construction process.
Construction Supervisor Skills
Construction Supervisors should be detail-oriented problem-solvers with the ability to meet deadlines and work with various personality types. Strong oral and written communication skills are important for Construction Supervisors. They should be able to work outside in all elements and be in good physical condition, as bending, lifting and walking are all activities they will likely participate in while visiting a construction site. In addition to these general skills, a Construction Supervisor could be expected by potential employers to possess the following skills.
Core skills
: Based on job listings we looked at, employers want Construction Supervisors with these core skills. If you want to work as a Construction Supervisor, focus on the following.
Using organizational skills to build successful teams for completion of project tasks
Understanding building codes, safety guidelines and regulations addressing construction projects
Supervising construction crews
Addressing safety and other worksite concerns and issues with laborers and foremen
Understanding how construction equipment works for inspection, operation and maintenance of this equipment
Advanced skills
: While most employers did not require the following skills, multiple job listings included them as preferred. Add these to your Construction Supervisor toolbox and broaden your career options.
Negotiating contracts with vendors, contractors and sub-contractors
Advanced Knowledge of construction trades
Creating budgets
Create your own professional resume in just minutes.
Try our resume builder today
Build Your Resume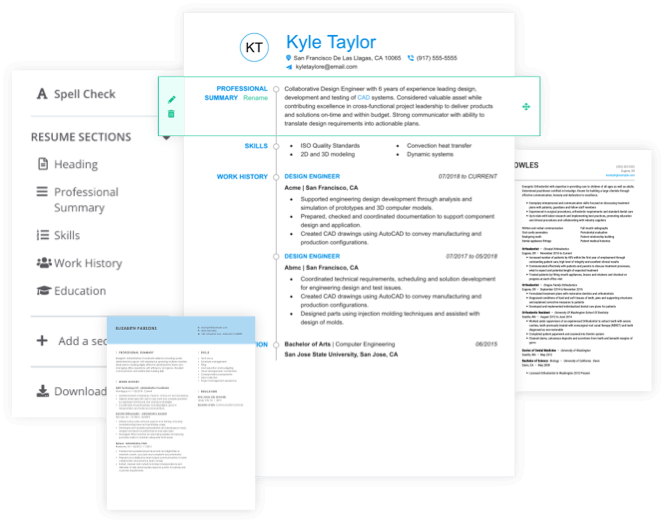 Construction Supervisor Resources
Want more information about becoming a Construction Supervisor? We scoured the web to find these great resources.
On the Web
From discussions about managing construction crews to overview of building materials, this blog provides information relevant to Construction Supervisors.
In this blog, Construction Supervisors can get a perspective of the engineering and architectural side of building, as well as read articles addressing such topics as tools and building trends.
Hosted by Computer Methods International Corp. (CMiC), this blog focuses on construction technology helpful to Construction Supervisors.
Industry Groups
Since 1982, CMAA has been providing certification information and educational and training programs for Construction Supervisors, as well as an annual trade show and career conferences.
An organization designed to build professionalism and promote ethical standards in the construction field. For all levels of those working in this field, including Construction Supervisors.
Construction Supervisor Books
An extensive account of the construction process and the role of a Construction Supervisor within that process.
A comprehensive guide to planning and scheduling various types of construction projects.
An insightful and detailed look at the strategies for and challenges of operating a construction company. Contains helpful tips and business tactics relevant to Construction Supervisors.
Construction Supervisor Resume Help
Explore these related job titles from our database of hundreds of thousands of expert-approved resume samples: