Featured in:
Construction secretaries provide clerical and administrative support at construction companies. They assist in whatever capacity is needed to keep operations flowing and on track. Oftentimes, this means routine office tasks a secretary in any industry might do, such as taking messages or pulling files. But they also perform duties unique to their setting, such as scheduling subcontractors or gathering together paperwork needed for bids.
Construction secretaries typically work full-time in an office setting. The job may take them to field sites at times and work there may be performed out of an office trailer. When bids are being prepared or project deadlines near, construction secretaries may be called upon to work extra hours.
If you are having writers block, our resume examples can help. Choose from hundreds of job titles to find the right example for your needs.
Want to boost your resume? Your Jobhero subscription comes with a complimentary cover letter builder. Once you choose a cover letter template, the builder will suggest job-specific skills and prewritten entries, allowing you to save multiple letters for various applications fast.
Construction Secretary Duties and Responsibilities
A busy construction firm needs an energetic, can-do construction secretary to keep on top of things. Our analysis of job postings reveals the following to be some of the core things construction secretaries are assigned to do:
Daily Upkeep
Construction secretaries answer phones, file, copy, order supplies, sort mail, relay messages, compose correspondence, and do other basic tasks common to business operations. They also may assume HR/accounting duties such as gathering time cards, running payroll, and reviewing expense reports.
Organizing
When a meeting needs to be scheduled, construction secretaries contact the people involved to set up a time and a place. Likewise, construction secretaries take care of travel arrangements when staff members must go out of town. Within the office, construction secretaries handle a vast amount of paperwork. Their consistent attention to where blueprints, contracts, and the like need to be stored ensures that documents can be easily retrieved on demand. They also input data into computers so that up-to-date information on project costs and status is ready.
Learning Terminology
Just as a medical secretary needs to become familiar with healthcare lingo, construction secretaries must master the specific words and phrases associated with their industry. Such knowledge enables them to communicate more efficiently with staff members, vendors, and clients.
Attending to Details
The construction business involves a variety of policies and procedures that must be followed. Construction secretaries help to ensure what needs to be done gets completed thoroughly and on time. They may be responsible for keeping track of when certain bids or contracts are due and making sure supporting material gets to the right people. Likewise, construction secretaries may get called on to submit construction permit requests and follow through on their obtainment.
Construction Secretary Skills
People who enjoy being part of a team may find particular satisfaction being construction secretaries. They see their tasks, large and small, as significant to the overall goal of successful project completion. Other great qualities for construction secretaries to possess include:
Exhibiting professionalism to represent the company positively
Interacting comfortably with people holding higher and lower job titles
Managing time efficiently in order to complete multiple tasks
Demonstrating numerical competency
Prioritizing responsibilities to ensure the most important and time-sensitive tasks get completed first
Displaying pride in one's work
Construction Secretary Tools of the trade
As they go about helping construction companies perform their best, construction secretaries often encounter these things:
Computers – for data input, report writing, spreadsheets, email correspondence, and other office tasks
Project diary – book in which project foremen or other leaders keep records of daily activities, maintained with help from construction secretaries
Change orders – alterations to a project's original instructions, noted and kept track of by construction secretaries
Blueprints – design plans or technical drawings showing what will be created
Budget – the amount of money allowed for each specific part of the overall project, such as for labor or materials
Bid – a proposal to complete a project during a particular time period for a specified amount of money; clients evaluate bids to choose which company they want to design their construction project
Central calendar – a calendar kept by construction secretaries and accessible to all staff that notes important dates, the whereabouts of individual workers, and other common information
Workplace safety information – guidelines the government requires to be posted at job sites; construction secretaries often take responsibility for being sure it is up
Construction Secretary Education and Training
Construction secretaries generally possess a high school diploma. Some post-secondary education or an associate's degree can increase job prospects, as can demonstrated mastery of Microsoft Word and Excel. All aspiring construction secretaries should expect a period of on-the-job training when hired.
Create your own professional resume in just minutes.
Try our resume builder today
Build Your Resume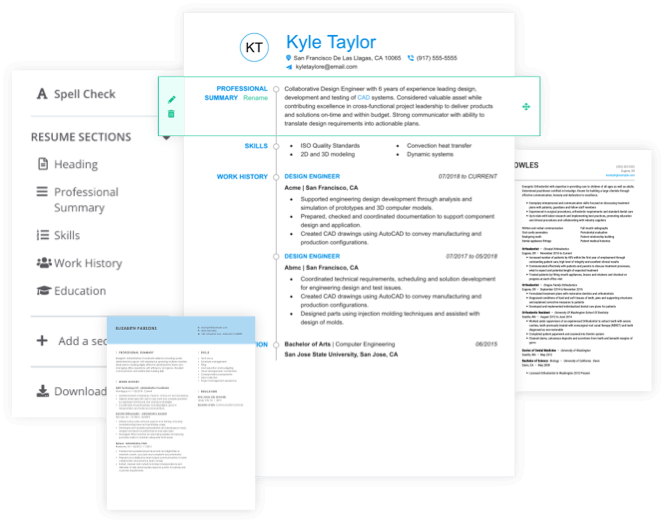 Construction Secretary Resources
To better prepare for a career as a construction secretary, check out these additional sources of information:
Construction Secretary Resume Help
Explore these related job titles from our database of hundreds of thousands of expert-approved resume samples: