Featured in:
Civil designers draft civil engineering designs for roadways, water and sewage lines, drainage, and land grading specifications for commercial and residential building sites using maps and topographical surveys. Civil designers primarily work in office environments, but also sometimes travel to proposed building sites. These professionals report directly to project engineers. Civil designers find full-time and independent contractor work with building and architectural firms, construction companies, governments, and private businesses of all kinds.
If you are having writers block, our resume examples can help. Choose from hundreds of job titles to find the right example for your needs.
Improve your application with a personal message! Your resume may summarize your qualifications, but a cover letter can help you express your professional accomplishments and working style. Pair these cover letter templates with our builder subscription to unlock AI-powered text templates and professional designs that will help you submit a complete application.
Civil Designer Duties and Responsibilities
Specific job duties for civil designers vary based on the hiring company and the building projects being designed. The main core responsibilities for civil designers, however, are universal for all employers and projects:
Draft Designs
Civil designers draft both 2D and 3D designs of piping systems, utilities, roadways, and other infrastructure systems for proposed building projects.
Read Plans
They also interpret civil engineering drawings and building plans to determine where to place utility and piping systems.
Study Maps
Civil designers read maps and land surveys to note land grading, nearby structures, and other factors that could affect the placement of piping and utility systems.
Follow Coding Regulations
These professionals adhere to city, county, and state laws regarding design and building code requirements and submit proposed design plans to governments for approval. Civil designers are responsible for staying up-to-date on local coding laws to ensure that designs stay within legal parameters and that proper building permits are obtained for proposed building projects.
Review Designs
Civil designers review sketches and drawings of proposed designs to ensure that all codes are being followed and plans are accurate.
Civil Designer Skills and Qualifications
Civil designers are well-organized professionals who know how to use CAD software and other computer drawing programs to design infrastructure elements for planned building projects. Employers hire civil designers who display the essential skills and abilities required to perform all the aspects of the job:
Detail-Oriented - Civil designers are detail-oriented, and able to carefully analyze maps, surveys, and drawings to plan functioning infrastructure systems
Computer Skills - They have excellent computer skills to work with multiple types of design software
Communication - Civil designers work closely with engineers, government officials, and other staff members, which requires good verbal communication skills
Time-Management - Because civil designers work within tight timeframes and strict deadlines, good time-management skills are essential for this job
Troubleshooting - They also have good critical thinking skills to troubleshoot potential problems with plans, designs, and sketches as well as adjustment plans as needed
Multi-Tasking - Civil designers have strong multi-tasking abilities to juggle many different tasks and work on several design projects at once while maintaining focus
Tools of the Trade
Civil designers work regularly with these software programs:
Design Software – (AutoCAD, Civil 3D, InRoads, HydroCAD, StormCAD)
Microsoft Programs – (Word, Excel, Outlook)
Civil Designer Education and Training
Employers hiring civil designers require, at minimum, a high school diploma or equivalency. Most employers additionally require an associate degree in civil engineering, drafting, CAD, or a related field of study. However, past work experience in civil design can suffice in place of formal education.
Civil designers may undergo a training or orientation period after being hired for full-time employment, the length of which varies by company from two to several weeks.
Civil Designer Salary and Outlook
The Bureau of Labor Statistics shows that "Drafters" earned a median annual salary of $53,480 and a median hourly income of $25.71 in 2016. Drafters perform many of the same job duties as civil designers, in that they use software to create technical drawings. There were more than 200,000 jobs for drafters in 2016, and the BLS predicts that this number will rise by 7 percent through 2026. This is as fast as the national job growth average. PayScale estimates that civil designers earn a median income of $27.01 hourly.
Civil designers who are hired for full-time employment receive health insurance benefits that typically include dental and vision coverage as well as retirement packages and life insurance. Vacation days, sick days, and paid holidays come standard with full-time benefits packages. Civil designers who work for themselves as independent contractors do not receive any benefits, as they serve as their own employers and find their own temporary jobs. Independent contractors are responsible for their own healthcare, vacation, and other insurance needs.
Create your own professional resume in just minutes.
Try our resume builder today
Build Your Resume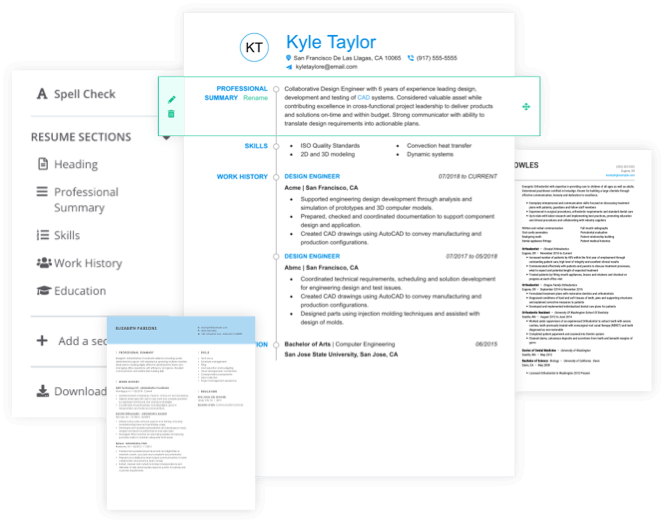 Helpful Resources
Those interested in pursuing a profession as a civil designer can find professional networking opportunities, job openings, work strategies, and tips for career advancement with these books and websites:
Civil Designer Resume Help
Explore these related job titles from our database of hundreds of thousands of expert-approved resume samples: