Featured in:
Marine biologists study marine life – including animals and plants – to gain a better understanding of the marine world and ocean ecology. This is a skilled position that requires a bachelor's degree in marine biology and a passion for science and research. Marine biologists work in a variety of different environments ranging from under the ocean to marine biology laboratories. They work within a variety of different industries that range from government agencies to the petrochemical industry. They work full daytime or nighttime shifts, depending on the habits of the marine life they are studying. Marine biologists often work independently but still may report to a lead marine biologist.
Our team of certified resume writers have created a library of resume examples to show you how to craft a strong resume. Study them to learn to write your own.
Impress your future boss! According to a 2020 survey, most hiring managers read cover letters for candidates they're considering interviewing before making their final decision. Make a cover letter that seals the deal with our professionally designed cover letter templates.
Marine Biologist Duties and Responsibilities
While a marine biologist's specific duties and responsibilities are determined largely by the research they are performing and the industry they work in, there are many core tasks associated with the role. Based on our analysis of the position, these include:
Study Specimens and Collect Samples
One of the main responsibilities of a marine biologist is to study individual marine specimens, whether they be animals or plant life, and collect samples for more in-depth research in the lab. They use care when collecting samples, ensuring they don't harm them.
Track Specific Specimens
In some instances, marine biologists need to track specific animals as they move throughout their environment. In these cases, marine biologists capture the specimen and safely fit it with a tracking device. They then track the specimen using specialized equipment.
Write Comprehensive Reports
After performing their research, marine biologists write comprehensive reports to outline their findings. These reports are either delivered to their direct supervisors or published in scientific journals and blogs.
Assess Damage Done to Marine Environment
Marine biologists care deeply for the marine environment, and part of their research often focuses on the damage being done to oceans by human pollution. This research is used to lay a foundation for advancing environmental progress.
Train Lab Assistants and Interns
Marine biologists are often responsible for training marine biologist lab assistants and interns as they come and go from the field. They guide assistants and interns in their studies and provide context for the research they are conducting.
Marine Biologist Skills and Qualifications
Marine biologists are highly scientific and, as a result, pay close attention to detail. Employers look to hire marine biologists who have a bachelor's degree and one to three years of experience working in the field, either through an internship or assistant position. Employers also look to hire candidates who possess the following qualifications:
Research experience – marine biologists are familiar with the entire research process, from start to finish. They have previous experience forming a hypothesis and performing the necessary research to find an answer
Critical thinking – marine biologists employ critical thinking to their research and experiments. They know how to approach a question from all angles and make the appropriate conclusion after analyzing the information they have gathered
Project management – in a sense, marine biologists are project managers of their own research and experiments. They know how to plan a project, set deadlines, and follow through with commitments
Attention to detail – marine biologists pay close attention to details, especially during their observation of marine life. They can recognize subtle changes in marine life behavior or environment
Organization skills – marine biologists manage of a high number of samples and specimens. As such, they are highly organized and keep track of all their work with ease
Tools of the Trade
Marine biologists use the following tools in their day-to-day job function:
Oceanographic equipment (water samplers, water depth meters, sonar equipment)
Scuba gear
Marine animal tracking equipment
Statistical analysis software
Microsoft Office Suite (especially Excel and Word)
Marine Biologist Education and Training
Most marine biologists hold a bachelor's degree in marine biology or biology. Many marine biologists also either possess a graduate-level degree or are pursuing one. Some employers may require a master's degree, but this can vary depending on the specific position.
Since specific job duties vary so widely in the marine biology industry, on-the-job training is a regular occurrence. This training helps new marine biologists get familiar with the lab or environment where they will be working and the specific procedures they are expected to follow.
Marine Biologist Salary and Outlook
The Bureau of Labor Statistics (BLS) lists marine biologists under the zoologists and wildlife biologists category. Employees in this category earn an average yearly salary of around $63,000. This salary can vary depending on the industry the marine biologist works in. For example, those who work for the federal government earn around $76,000 per year, while those who work as professors earn around $58,000 per year. Most marine biologists are also eligible to receive benefit packages that include health insurance and paid time off.
The BLS reports a positive growth outlook for marine biologists over the next decade. Candidates can expect job growth of 8 percent through 2026.
Create your own professional resume in just minutes.
Try our resume builder today
Build Your Resume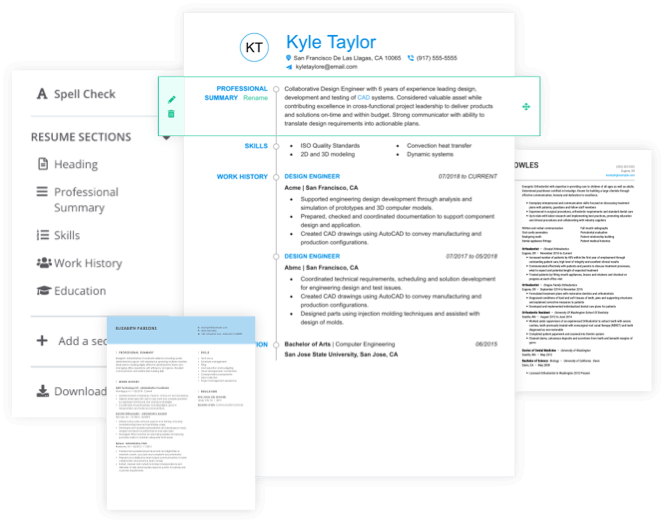 Helpful Resources
Check out some of these helpful resources to learn more: