Featured in:
Senior Administrative Assistants help senior managers and high-level executives maximize their efficiency by providing them with clerical and secretarial support. They keep these managers and executives organized by taking care of their travel arrangements, scheduling their meetings and other tasks that will be discussed in this article. When it comes to work environment, Senior Administrative Assistants spend the day in a standard office environment. Pretty much every industry employs Senior Administrative Assistants, but they are mostly found at midsize and large corporations that have several senior managers and executives on staff.
The role of Senior Administrative Assistant is not an entry-level position. Usually, one must have 3-5 years' experience as an Administrative Assistant before getting a senior position. Success in this role depends on the level of trust between assistant and executive, which requires a sense of loyalty. In this sense, the relationship between assistant and executive is slightly different than your standard employee-boss relationship. According to the National Bureau of Labor Statistics, demand for Executive Administrative Assistants and Executive Secretaries, which includes Senior Administrative Assistants, is set to decline 5 percent through 2026.
Need cover letter guidance? Add a cover letter to your resume using our cover letter formats how-to guide and add value to your resume.
Impress your future boss! According to a 2020 survey, most hiring managers read cover letters for candidates they're considering interviewing before making their final decision. Make a cover letter that seals the deal with our professionally designed cover letter templates.
Senior Administrative Assistant Duties and Responsibilities
Supporting high-level executives involves several tasks. We analyzed Senior Administrative Assistant job descriptions to compile the following list of the most common duties and responsibilities for this position.
Plan and Manage Meetings
Senior Administrative Assistants are responsible for planning all meetings that involve senior management. They are also responsible for sitting in on the meeting and taking meticulous notes, as well as keeping the meeting on task.
Schedule and Update Executive Calendar
High-level executives live and die by their calendar. The Senior Administrative Assistant is responsible for scheduling both personal and professional tasks that the executive needs to complete. This involves organizing tasks by level of urgency, taking calls and communicating via email.
Develop and Maintain Filing System
Organization is a vital character trait for Senior Administrative Assistants. One of their responsibilities is to create and maintain a filing system for both paper and electronic documents. This involves the use of Microsoft Office Suite.
Greet and Service Office Visitors
The Senior Administrative Assistant serves as the face of the office. They are responsible for greeting office visitors and creating a great first impression.
Develop and Implement Office Policies and Procedures
Senior Administrative Assistants set the rules of the office. They know exactly what the executive needs out of their employees, so they work together to create policies and procedures that help achieve those goals.
Senior Administrative Assistant Skills
The role of Senior Administrative Assistant takes an organized mind who is technologically savvy. They have to have good interpersonal communication skills in order to establish trust with the executive or senior manager they work for. They also have to be proficient in Microsoft Office Suite. Many employers of Senior Administrative Assistant want candidates to have the following skills.
Using calendar software to organize and prioritize the tasks of their executive
Communicating with associates of the executive and documenting important information
Scheduling meetings and keeping meetings on task through use of time management skills
Motivating office employees to stay on-task while keeping a harmonious office environment
Using customer service skills to provide office visitors with a positive experience
Senior Administrative Assistant Tools of the Trade
These are a couple of tools Senior Administrative Assistants use on a daily basis.
Microsoft Office Suite – Senior Administrative Assistants use all of the programs within Microsoft Office during the course of their duties
Calendar Software – Calendar software is used to organize and prioritize executive tasks
Senior Administrative Assistant Education and Training
Senior Administrative Assistants can find employment with just a high-school diploma, but they should have at least 3-5 years of experience as an Administrative Assistant. Most education for this position takes place through on-the-job training on things like using Microsoft Office products and how to file documents both by paper and electronically. Part of a Senior Administrative Assistant's job is to train new employees on how to be a useful assistant.
Senior Administrative Assistant Salary
According to the National Bureau of Labor Statistics, the national median salary for Executive Administrative Assistant and Executive Secretaries, which includes Senior Administrative Assistants, is $55,860. Those in the top 10 percent make above $83,070. Those in the bottom 10 percent make below $34,880.
Create your own professional resume in just minutes.
Try our resume builder today
Build Your Resume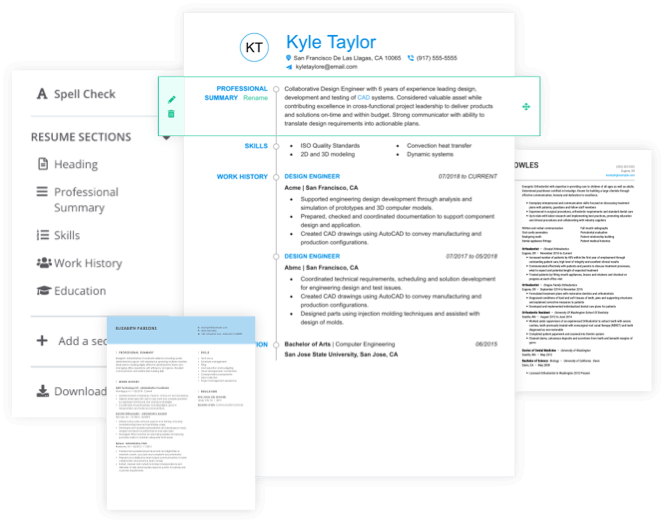 Senior Administrative Assistant Resources
If assisting high-level executives sounds like an exciting career, check out the list of resources we compiled below.
The American Society of Administrative Professionals was founded in 2005 and has since grown to over 60,000 members around the globe. Its website has a resources section that contains links to articles, industry books and a career center that helps members find employment. This group also offers certification as well as live and indemand webinars for members.
The International Association of Administrative Professionals is a global organization dedicated to administrative professionals of all kinds. It has regular conferences and networking events, and also provides digital webinars and articles on its website.
The Effective Admin -
The Effective Admin was founded in 2004 by Karen Porter, an Executive Assistant who uses her years of experience to coach and consult Senior Administrative Assistants. Her blog is updated regularly and covers topics such as communication, organization and goalsetting.
All Things Admin is written by Julie Perrine, who has over 20 years of experience as an Executive Assistant. She now does oneonone training, as well as corporate training for Senior Administrative Assistants. Her blog is updated regularly, and the archived articles contain great information for those looking to enter the field.
Now in its fifth edition, this handbook is one of the bestselling books in the industry for good reason. It covers all of the skills a Senior Administrative Assistant needs to know, such as Microsoft Suite, electronic and paper filing systems, how to plan and manage a meeting and several other topics.
Senior Administrative Assistant Resume Help
Explore these related job titles from our database of hundreds of thousands of expert-approved resume samples: