Featured in:
If being the first employee people encounter when they come into an establishment sounds interesting to you, becoming a front office executive could be a great career match. These customer-service-oriented professionals get hired by places such as hotels, healthcare facilities, and educational institutions to make a positive impression on guests and keep operations flowing. Hours tend to be full-time, and most tasks are performed while sitting down. Schedules vary considerably based on when the facility is open and can include nights, weekends, and holidays.
Need cover letter guidance? Add a cover letter to your resume using our cover letter formats how-to guide and add value to your resume.
Boost your resume with an extra click. Our cover letter templates match our resume templates' designs for a cohesive application. Use a template in our builder to help you quantify and expand upon the experience from your resume and impress employers.
Front Office Executive Duties and Responsibilities
A front office executive's responsibilities will vary based on the nature of the organization, but some central tasks are commonly a part of the job. Our analysis of listings reveals the following as duties usually expected of a front office executive:
Welcome Customers
Front office executives greet everyone who enters. This action sets up a positive interaction that reflects well on the employer.
Provide Service
Known for their helpfulness and knowledge of the facility, front office executives direct people where to go. At a hotel, for example, this could involve checking people into the computer system, explaining particulars about the room and amenities, answering questions about food service or local transportation, and calling for assistance with luggage.
Answer Phones
In addition to serving on-site guests, front office executives take care of incoming calls. They provide basic information, such as hours of operation or directions to the place, and direct other inquiries to the appropriate staff member.
Help with Security
Because they are positioned in the area where people arrive and leave, front office executives are well-stationed to be "eyes and ears" at the facility. They keep tabs on who is coming and going and report anything suspicious. To aid with safety, front desk executives may be in charge of things such as issuing badges, checking IDs, signing guests in and out, and unlocking the bathroom.
General Office Upkeep
Front office executives may be called upon to perform routine clerical and administrative jobs, such as sorting mail, filing, entering data, and signing for packages.
Collecting Payment
At places such as hotels, front office execs may total bills for guests and process payment by running a credit card or verifying a check.
Promoting the Brand
As one of the company's main ambassadors, front office executives try to build excitement and convey information. At a college admissions office, for instance, they may pass out welcome folders to students and their parents to look at while they wait for an interview. A front office executive at a resort may ask patrons if they are familiar with the organization's reward program and explain how it operates. Before guests leave, front office execs may hand them cards to rate satisfaction or insist they take a complimentary company-logo pen.
Front Office Executive Skills and Qualifications
Because the nature of their position involves so much contact with the public, front office executives need to be good representatives of their organization. They must possess a friendly and upbeat demeanor, dress professionally, and act courteously. Other attributes include:
Interpersonal skills - patience, listening, and communicating are all people skills a front office executive must tap into while assisting guests
Customer-centric - making the needs of patrons the top priority and working to make their interaction with your company pleasant
Multitasking - handling phones, dealing with visitors, and responding to staff requests requires the ability to juggle a variety of things at the same time
Attention to detail - being able to follow procedures in the way the employer wants keeps the visitor experience consistent and in line with the company's image
Discretion - privy to personal or sensitive information, especially in healthcare settings, front office execs need to be trustworthy and respect confidentiality
Front Office Executive Education and Training
There are no minimum educational requirements to become a front office executive. Workers in this field typically hold a high school diploma and receive on-the-job training from their employer. A resume displaying computer competency, especially with Microsoft Office products, will help catch the eyes of hiring managers.
Front Office Executive Salary and Outlook
Duties of a front office executive closely resemble those of a receptionist. The Bureau of Labor Statistics (BLS) lists the national median annual salary for receptionists as $27,920, with a median hourly wage of $13.42. Workers in the 10th percentile earn less than $9.39 an hour, while the highest paid make more than $19.41 hourly. Full-time front office executives generally are eligible for company benefits.
According to the BLS Occupational Outlook Handbook, employment of front office executives and similar professionals is expected to grow 9 percent from 2016 to 2026. Prospects are especially promising in healthcare facilities, such as the offices of dentists and physicians.
Create your own professional resume in just minutes.
Try our resume builder today
Build Your Resume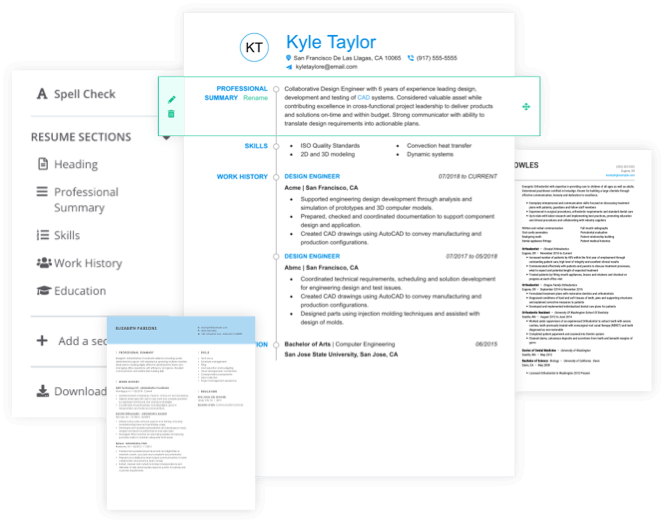 Front Office Executive Resources
As you consider a career as a front office executive, the following sources can assist in learning more and perfecting your skills:
Front Office Executive Resume Help
Explore these related job titles from our database of hundreds of thousands of expert-approved resume samples: