How to Become a

Volunteer Firefighter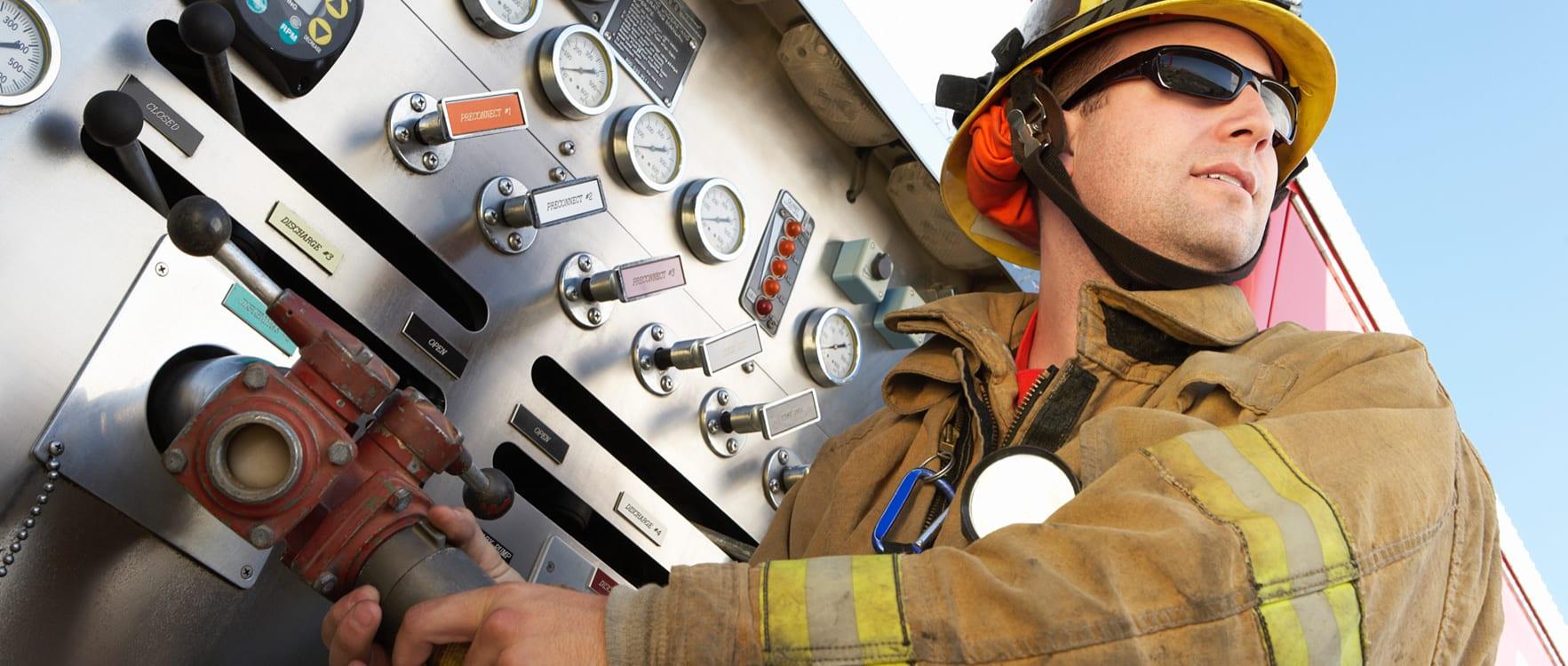 If you want to serve your community and make a difference to lives, becoming a Volunteer Firefighter would be a very rewarding role to get into. This guide contains helpful information about how you can go about becoming a Volunteer Firefighter.
What Does a Volunteer Firefighter Do?
Volunteer Firefighters' are an essential part of any community or national emergency services. Their primary function is to protect the community from disaster situations, including house and building fires; however, volunteer firefighters also respond to accidents, natural disasters and other emergencies.
Besides performing firefighting and emergency medical duties; Volunteer Firefighters also need to maintain fire stations, equipment, and apparatus; participate in drills and training activities. A brief outline of these duties are mentioned below:
Working towards suppressing fires whether residential, business or structural by including laying water lines, putting up ladders, creating necessary ventilation and entering properties.

Volunteer firefighters may also drive fire trucks to the emergency scene.

Emergency Medical Services: by responding to car accidents and natural disasters, Volunteer firefighters rescue victims and provide first aid, including CPR, mouth-to-mouth breathing and wound care.

Maintenance: taking care of fire vehicles, equipment and some common chores like cleaning. At an emergency scene Volunteer firefighters work to clean up the scene to prevent any additional damage.
Volunteer Firefighter Skills
There are physical and mental demands to the job of a Volunteer Firefighter. The job includes exposure to physical hazards like fire, damaged equipment, smoke inhalation and falling objects at emergency scenes, and exposure to health risks like exposure to hazardous or toxic chemicals and gases, extremes in temperatures, cramped surroundings and contact with death that can all cause emotional stress. Further mental demands of this career involve analyzing and solving problems; using math and mathematical reasoning; observing and interpreting situations; learning and applying new information or skills quickly. Certain administration skills are required to keep proper records and documentation as well as reading and interpreting data and information. Working hours also tend to be erratic and unpredictable.
Other key Volunteer Firefighter skills include:
Work under extremely stressful situations, day or night, with the necessary ability to remain calm and carry out all duties despite the threat to one's life and property;

Work as part of a team under extremely stressful situations and establish and maintain effective, courteous, and diplomatic working relationships with others;

Quickly learn and apply new skills and knowledge brought about by constantly changing information and/or technology;

Perform a wide variety of duties and responsibilities with accuracy and speed when it comes to fighting fires or other related emergency situations.
How Do You Become a Volunteer Firefighter
Education and Training
It is common practice to combine fire and EMS services, therefore Volunteer Firefighters are required to be trained in both fields. In most areas of the country, volunteers can be fully trained and state certified at no expense to the volunteer. Volunteer Firefighters generally receive the same training and certifications as career firefighters and EMTs.
Any relevant or appropriate education, training, and experience that provides the knowledge, skills, and abilities required to perform the duties of a Volunteer Firefighter are considered. As many departments prefer to hire internally first, it is always to your advantage to gain the related experience first. Many individuals prefer to gain experience and training to prepare for a career in this field as many of the character and soft traits are discovered or experienced through extreme situations. This way you will know if you are cut out for the demands and expectations of this career.
There are some formal training or certification that is required. Most departments want Volunteer Firefighters to obtain Accreditation as Firefighter Level I or higher within the first 24 months with the fire department. Emergency Medical Technician's Certification or similar is also required for those who provide patient care. A high school diploma or GED equivalent is also a prerequisite.
Here are some other qualifications expected of applicants:
Be at least 18 years of age by the date of appointment;

Possess a valid driver's license and have reliable transportation;

Have a safe driving record;

Be in good physical health as determined by a medical examination.
Finding a job
There has been an increase in the demand for Firefighters in the United States.  The Bureau of Labor Statistics predicts a 5% growth for employment positions by 2024 amounting to a total of 17,400 job openings. This intense growth is driven mainly by the increase in population. Despite the number of job openings expected, intense competition for entry into new Firefighter positions are predicted as the strong pension plan that accompanies these positions makes this career attractive.  According to the Bureau of Labor Statistics, local government fire departments employ the most Firefighters as of 2015, while other Firefighters work at state and federal fire departments or in private firefighting companies.
A high quality resume that showcases your skills and experience will stand you in good stead in your job search. For guidance on creating a resume, take a look at our library of Volunteer Firefighter resume samples.
Once your resume is complete, search online for Volunteer Firefighter job opportunities.  As you look for Volunteer Firefighter openings, be sure to make the most of a professional network at your disposal.
When applying for Volunteer Firefighter jobs, write a cover letter that captures your interest in the position and highlights your qualifications and experiences as well at the personal traits that you can bring to the role. Take a look at our cover letter samples for help.
How Much Do Volunteer Firefighters Get Paid?
While Volunteer Firefighters do not get paid, they can get reimbursed. Remuneration varies by department as some do not provide any kind of payment, while others may provide hourly compensation when responding to a call and/or attending training. The amount is usually at the discretion of the specific department.
As this is a volunteer position, we have based the following data on what Firefighters normally earn. Firefighters are typically paid on an hourly basis, with the median hourly wage in the United States was $22.53 in May 2015. The lowest-paid Firefighters make about $11.06 per hour, while the highest-paid can earn more than $38.22. The bulleted list below will include BLS data for the top 10 states for median wage from highest to lowest.
Top 10 States for a Firefighter Salary
Firefighters in the following states make the highest median hourly wage in the U.S.
Volunteer Firefighter Resources
We have looked for resources to help you not only become a Volunteer Firefighter but also succeed at it. This list of resources includes websites, industry associations, and books can help you build your professional network and obtain the certifications necessary to succeed in this field.
On the Web
VolunteerFD.org
here you can connect with Volunteer Firefighters located throughout the United States.
Industry Groups
National Volunteer Fire Council
here you can find information on how to improve your knowledge with regards to bylaws, operations manuals, and other documents.
IAFF Firefighters
here you will find training resources and information on safety standards for firefighters.
Volunteer Firefighter Books
The information in this article comes from the Bureau of Labor Statistics, job postings and other online sources.