How to Become a

Referee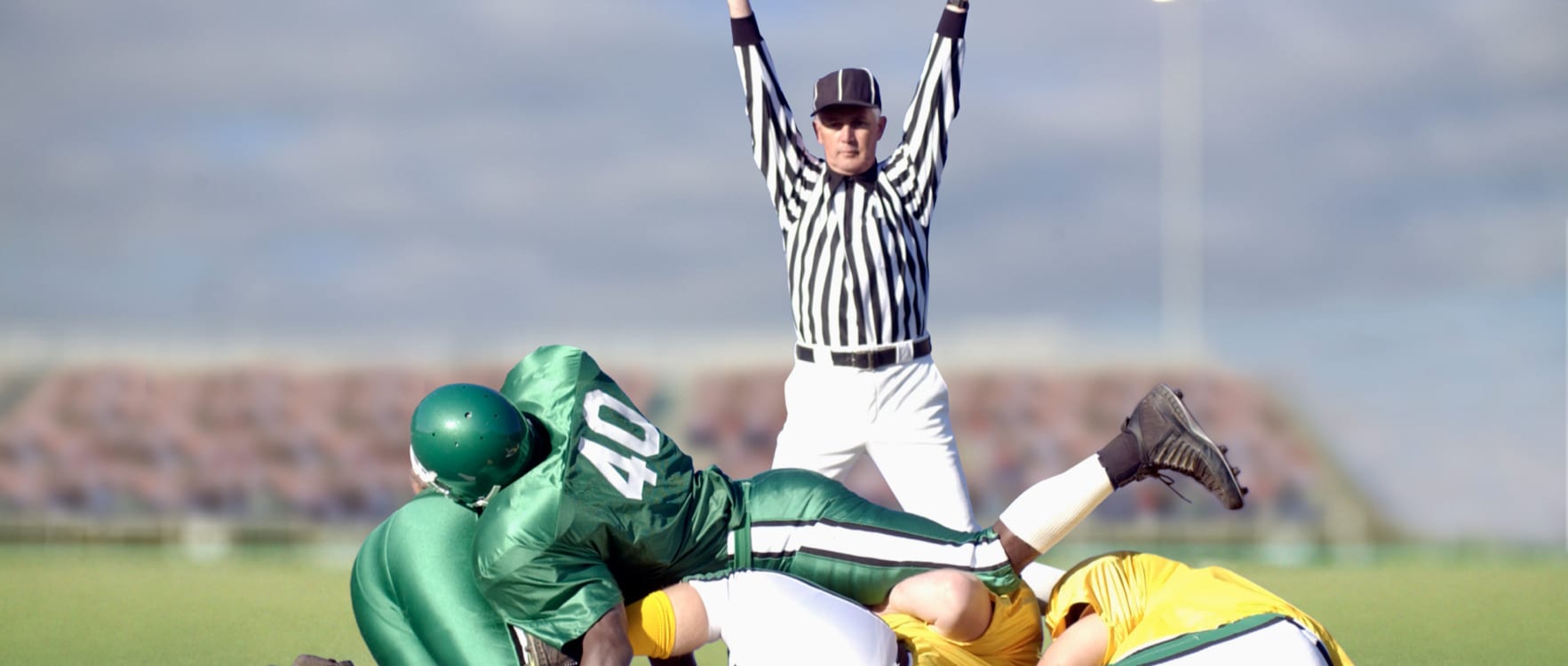 If you're thinking about pursuing a career as a Referee, then keep reading. This guide contains helpful information such as educational and training requirements, average salaries and more.
What Does a Referee Do?
Referees are tasked with a number of duties during sporting events, including awarding points, imposing penalties, making sure that the rules of the sport are followed and upholding safety standards. Referees can work in a variety of settings, whether they are employed by their local government, private recreation companies, school systems or professional sport leagues.
A Referee's work takes place both indoors and outdoors, and typically involves a fair amount of traveling and irregular work hours. Because of this, Referees must be able to work effectively in unfamiliar environments and facilities. Common Referee duties and responsibilities include:
Keeping track of scores and penalties

Evaluating player and team performances

Inspecting equipment, uniforms and players for safety reasons

Resolving claims made by players and coaches
Referee Skills
In addition to having excellent knowledge of a sport's rules and regulations, Referees also need to have a great eye for detail. This will make it possible for the them to keep accurate records, identify safety violations and closely analyze a player's performance in order to quickly determine the appropriate course of action. Additionally, since a Referee's decisions often need to be made within the span of a few seconds, and are often hotly contested by angry players, spectators and coaches, Referees must also be able to remain cool-headed and rational under pressure.
Other key Referee skills include:

Maintaining a calm disposition

Ability to confidently make split-second decisions

Thorough technical understanding of the sport

Ability to remain attentive and alert at all times
How Do You Become a Referee?
Education and Training
Our analysis of online job listings revealed that most employers are more concerned with a Referee's experience than they are with education. In the few listings that did list educational requirements, a high school diploma, GED or equivalent was needed.
However, the majority of the listings placed emphasis on a thorough knowledge of the sport in question rather than any specific educational background. That knowledge can be obtained at any time through playing the sport, gaining experience through an entry-level referee position or simply studying the official rules and regulations.
Additionally, some employers require candidates to be a certified sports official. This can be achieved by going through the proper channels of your local sports associations. For more information from the National Association of Sports Officials on how to become a sports official, click here.
Finding a Job
According to the Bureau of Labor Statistics, demand for Referees is increasing by 5%, which is the average rate for all occupations. It is projected that 1,000 new positions will open between 2014 and 2024. A growing population as well as increased participation in high school and collegiate sports is contributing to the steady rise in Referee demand.
When you're ready to start searching for jobs, first make sure to have a clean and professional resume on hand. Check out JobHero's library of Referee resume samples for expert-approved ideas.
After you've finished putting together your resume, conduct an online job search for openings near you. Before you apply to any positions, however, you'll want to have a great cover letter ready. A cover letter will convey your passions, reasons for applying and especially notable experience to potential employers. Take a look at our collection of cover letter samples for inspiration.
How Much Do Referees Get Paid?
Depend on whether they occupy a part-time or full-time positions, Referees can be paid on either an hourly or salary basis. According to the Bureau of Labor Statistics, the median annual wage for Referees is $24,870, with the lowest-paid earning $17,890 per year and the highest paid earning $57,750 per year.
Top Ten States for Referee Salary
Referees in the following ten states earn the highest median annual wage in the U.S.
Referee Resources
We put together this list of resources to help you keep exploring your career as a Referee.
Professional Groups
National Association of Sports Officials
NASO was founded in 1980 and is made up of more than 20,000 sports officials. They provide their members with insurance benefits, a consultation program, hotel discounts, a monthly subscription to Referee magazine, discounted access to the annual National Sports Officiating Summit and a number of advocacy efforts.
Referee Blogs
Referee Mindset
This frequently updated blog features helpful tips, interviews with professional sports referees and industry news.
Yet Another Soccer Referee
As the title suggests, this blog is written by a soccer Referee. It contains in-depth anecdotes from the everyday working life of a Referee in Washington, D.C.
Referees on Twitter
@OfficialNBARefs
This account, run by the National Basketball Referees Association, follows the careers and accomplishments of the official Referees of the NBA.
@RefereeMag
The official account of the popular Referee magazine is full of industry news, rule updates and insightful articles.
The information in this article comes from the Bureau of Labor Statistics, job postings and other online sources.