How to Become a

Radiologist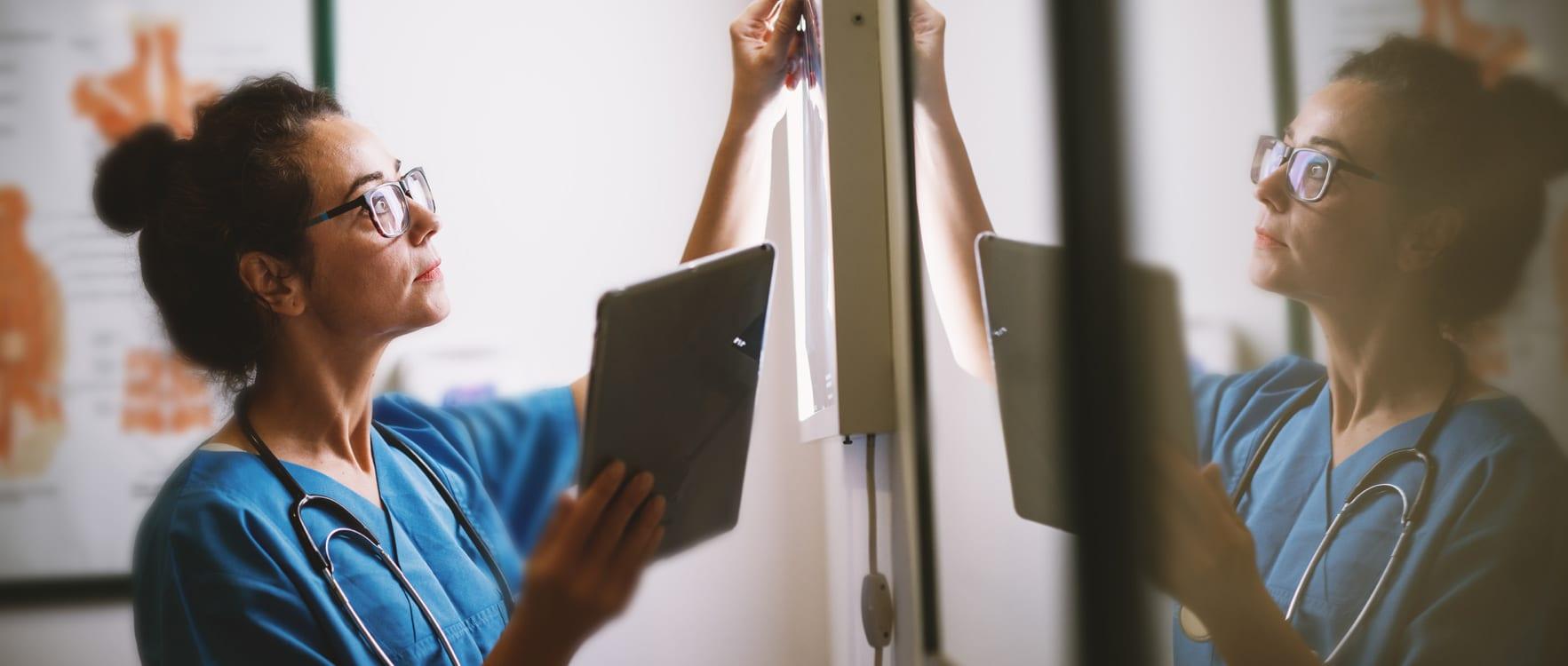 If you are considering becoming a Radiologist, you first need to learn the skills and educational requirements needed for this role. This article will present that information, as well as typical job responsibilities, average pay and job forecasts.
What Does a Radiologist Do?
A Radiologist is a medical doctor who works with medical imaging. These professionals use CT scans, MRIs and X-rays to diagnose and treat patients. Most Radiologists work in public or private hospitals or in private practices. Many choose to enter into a Radiology subspecialty, such as breast imaging, cardiac imaging, etc.
Radiologists must be competent in medical knowledge to diagnose and treat medical conditions. They must also have advanced technical knowledge to work with medical imaging equipment and interpret results. They need to possess excellent writing skills to be able to provide a full report to the physician who ordered the tests.
Typical responsibilities of a Radiologist include:
Technical tasks, such as performing imaging tests

Medical tasks, such as diagnosing diseases based on imaging results

Administrative tasks, such as providing reports based on imaging tests

Communication tasks, such as conferring with referring doctors
Radiologist Skills
While it is essential for a Radiologist to possess medical and technical skills, other personality traits are imperative to be good in this role. This type of physician deals with potentially ill patients, who may be nervous, scared or upset throughout the process. Whether young or adult, the patients will require empathy, understanding, communication and compassion.
Other key Radiologist skills include:
Being detail oriented

Ability to work in a team

Work well under pressure

Critical thinking

Excellent listening, speaking and writing skills
How Do You Become a Radiologist
Education and Training
Becoming a Radiologist requires a commitment to education, as it can take at least 11 years to complete the required steps. The process starts with a bachelor's degree, typically in physics or biology. After graduation, candidates must apply to medical school, which requires a high GPA, above average results on the Medical College Admission Test (MCAT), letters of recommendation, as well as clinical experience.
While in medical school, individuals are required to sit for two U.S. Medical Licensing Exams (USMLE), Steps 1 and 2, given by the National Board of Medical Examiners. After medical school, candidates must apply for a licensing exam, residency and internship, which can last anywhere from three to five years. After a successfully passing the examination and board review, candidates are ready to work as board-certified Radiologists with state licenses.
Finding a job
The Bureau of Labor Statistics predicts a higher than average rise in jobs for Physicians, such as Radiologists, with a 15 percent increase in new jobs being created through 2025, which would amount to 14,510 new jobs in the U.S.
Perfect your resume with JobHero's examples of Radiologist resumes before beginning your job search.
As aspiring Radiologists have spent years in medical school and in internships and fellowships, when searching for job openings, it is helpful to contact medical professionals in the network they created over time with help in securing employment.
A resume is only part of the equation when applying for jobs. A great cover letter is essential in telling prospective employers more about yourself and why you have what it takes to excel in the field of Radiology.
How Much Do Radiologists Get Paid?
Physicians, such as Radiologists, make a median salary of $187,200, with the lowest paid making $57,800 per year, and the highest paid making in excess of $187,200.
Radiologist Resources
Use the resources below to find out more about working as a Radiologist.
On the Web
The American Board of Radiology
A not-for-profit organization that is one of 24 independent national boards that are members of the American Board of Medical Specialties.
On LinkedIn
Blogs