How to Become a

Bicycle Mechanic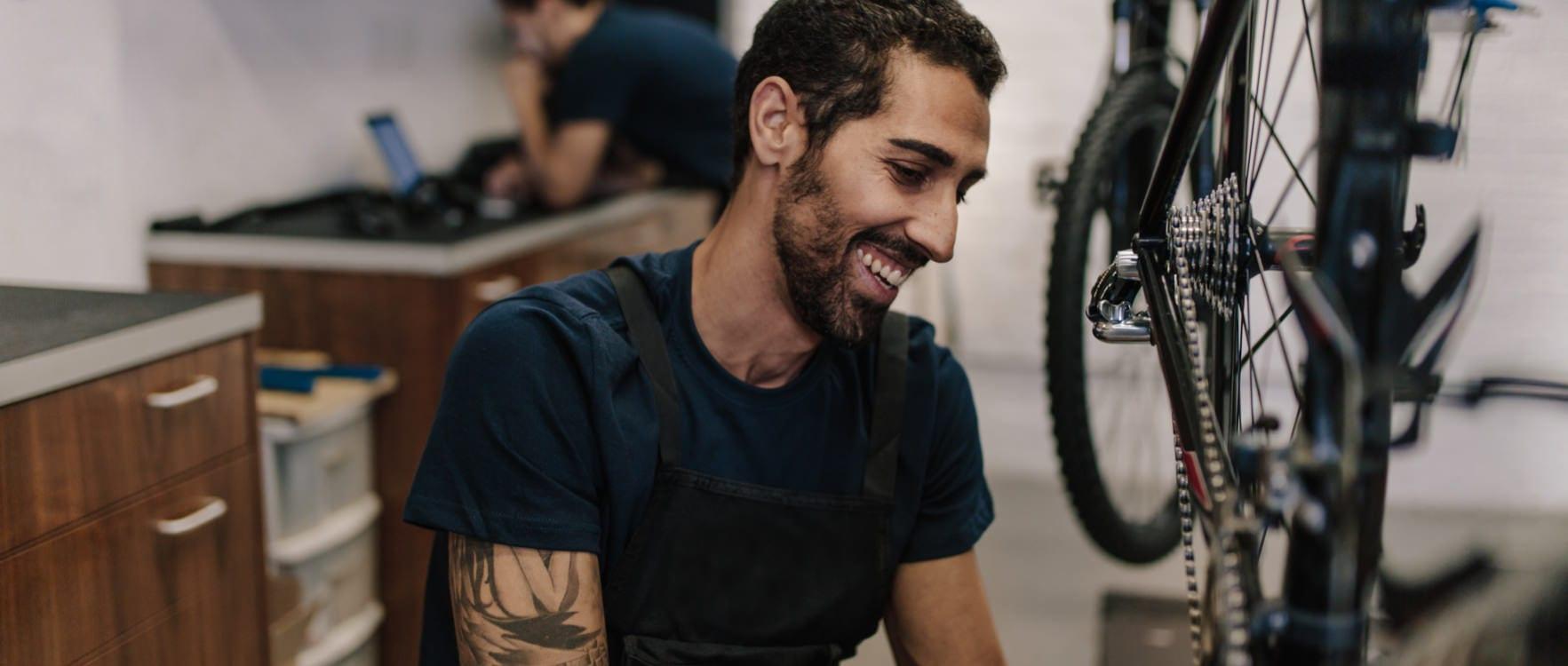 If you've been considering a career as a Bicycle Mechanic, then keep reading. This guide contains important information such as average salaries, educational and training requirements, necessary skills and more.
What Does a Bicycle Mechanic Do?
Bicycle Mechanics use their technical knowledge of bikes to answer customers' questions, sell the right type of bike to each customer and perform repairs as needed. Bicycle Mechanics usually work in either a bicycle shop or a sporting goods shop.
Along with replacing and fixing defective or broken bike parts, Bicycle Mechanics also work with a wide variety of customers on a daily basis. It is their job to provide each customer with advice and service tailored to their needs, and to ensure that each customer's bike is properly customized to their skill level, biking frequency and physical condition. Common Bicycle Mechanic duties and responsibilities include:
Answering questions about bikes, bike parts and various biking accessories

Entering sales records into a computer system

Repairing bikes and bike parts

Processing customer payments
Bicycle Mechanic Skills
In addition to having great problem solving skills and a firm understanding of the fundamentals of bikes, Bicycle Mechanics must also stay up to date on new products as well as advancements within the biking industry in general. They also need to have great customer service skills in order to make sure that every customer not only gets the service they're looking for but also feels comfortable and respected in the often intimidating environment of bicycle shops.
Other key Bicycle Mechanic skills include:
Great interpersonal communication skills

Easy-going and friendly demeanor

Ability to quickly and efficiently repair many different kinds of bikes

Willingness to help both new and experienced bikers
How Do You Become a Bicycle Mechanic?
Education and Training
According to our analysis of online job postings, employers are looking for Bicycle Mechanics who have some kind of previous experience in bicycle service. This experience could be in the form of a past job at another bicycle or sporting goods shop, demonstrable mechanical skills which have been informally learned or completion of a Bicycle Mechanic training course from an educational institution.
Additionally, all employers require potential candidates to have excellent people skills, and most require some form of experience customer service. This requirement can be fulfilled by any number of previous positions, such as a waiter at a restaurant, a clerk at a clothing store, an attendant at an amusement park or a bellhop at a hotel. You might also consider taking an online customer service class, which can not only improve your skills in that area but also show your dedication to employers.
Finding a Job
According to findings published by the Bureau of Labor Statistics, the demand for Retail Sales Workers, which includes Bicycle Mechanics, is rising by 7 percent, which is expected to result in the opening of 331,000 new positions between 2014 and 2024. This abundance of available positions can be attributed to the high turnover rate of the retail industry.
Before you start looking for jobs, you'll need to have a professional and well-written resume on hand. Check out JobHero's library of Bicycle Mechanic resume samples for expert-approved ideas.
Next, conduct an online job search to find open positions in your area. Before you start submitting applications, however, consider preparing a cover letter. A good cover letter can convey your work ethic, special areas of expertise and reasons for applying to prospective employers. Take a look at our cover letter samples for inspiration.
How Much Do Bicycle Mechanics Get Paid?
Depending on the policies of the shop they work in, Bicycle Mechanics can be paid either on an hourly wage basis or an annual wage basis. According to the Bureau of Labor Statistics, the median hourly wage for Bicycle Mechanics is $13.20, with the lowest paid earning $9.16 per hour and the highest paid earning $18.32 per hour.
Top Ten States for Bicycle Mechanic Salary
Bicycle Mechanics in the following ten states earn the highest median hourly wage in the U.S.
Bicycle Mechanic Resources
We put together this list of additional resources to help you keep exploring your career as a Bicycle Mechanic.
Professional Groups
Professional Bicycle Mechanics Association
The PBMA was founded in 2016 and focuses on the promotion, advocacy and development of Bicycle Mechanics. It provides its members with a discussion forum, insurance discounts, professional resources, free classified ads and a mechanic directory.
Bicycle Mechanic Blogs
The Bicycle Mechanic
This blog is written by Charles Moffat, a Toronto-based Bicycle Mechanic, and includes posts about bicycle storage ideas, reviews of biking accessories, industry news and fun videos.
Bicycle Mechanic Books
Zinn & the Art of Road Bike Maintenance
This best-selling guide covers everything from basic repairs to advanced troubleshooting. It contains hundreds of illustrations, updated chapters on new technological advances and detailed charts and tables.
Cyclepedia
This hardcover coffee-table book goes over the design of 100 different bicycles from the last 100 years. Included are full-color photographs, entertaining anecdotes and detailed component lists for each bike.