How to Become an

Arborist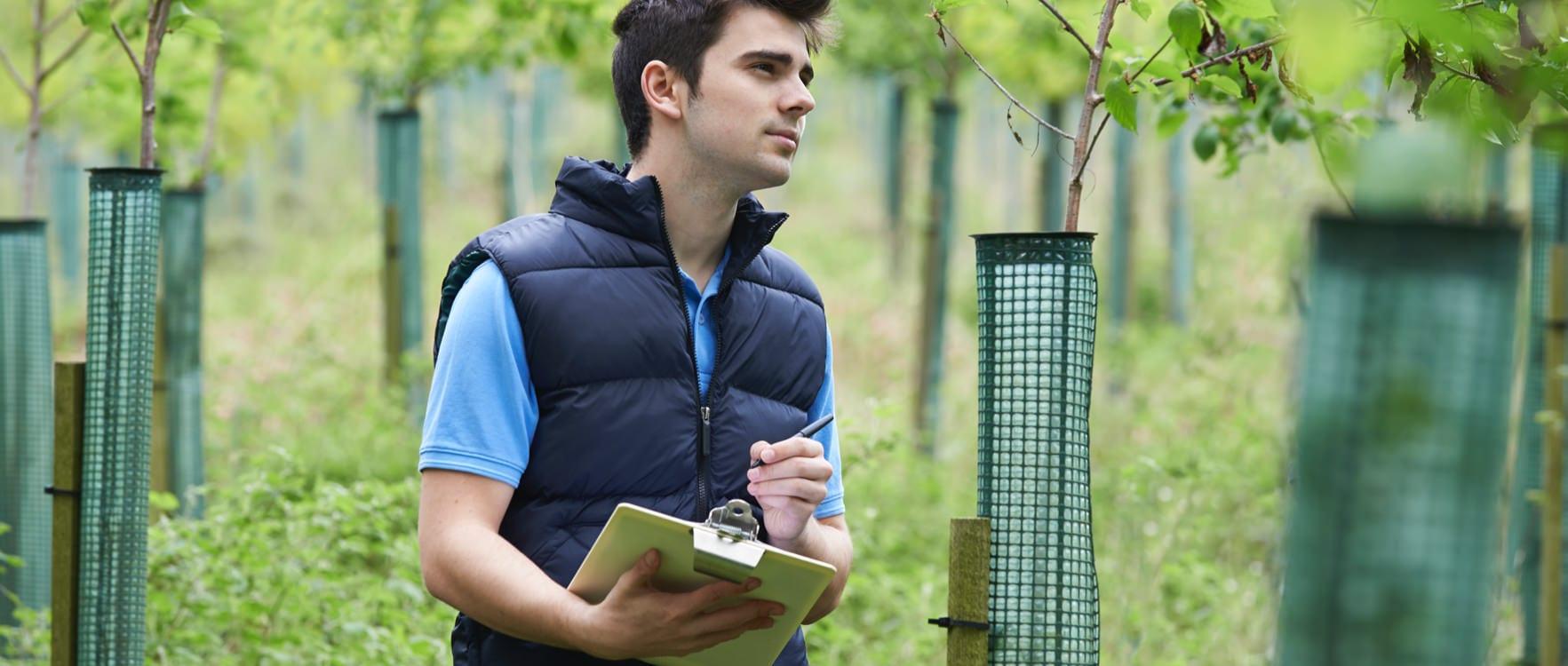 If you're thinking about entering a career as an Arborist, then keep reading. This guide contains important information such as educational and training requirements, average salaries, necessary skills and more.
What Does an Arborist Do?
Arborists are experts on trees of all different kinds, and use their knowledge to create landscape designs and to nurture, maintain and remove trees as needed. Arborists can work in an office setting as well as an outdoor setting.
In addition to knowing how to care for various species of trees, Arborists also need to factor in any given area's climate, soil quality and weather in order to correctly plant and care for the trees in that area. Common Arborist duties and responsibilities include:
Trimming and pruning trees

Removing sick, damaged or unwanted trees

Protecting trees from pests

Drawing up new planting plans
Arborist Skills
Extensive knowledge of what each species of tree needs in order to flourish and grow is an essential skill for any Arborist. Arborists also need to be able to predict the effects of various environmental factors on the trees in their charge, and then take the proper precautionary measures as they see fit.
Other key Arborist skills include:
Proficiency in math and basic physics

Physical fitness, especially in regards to upper-body strength

Good communication skills

Ability to safely operate a variety of hand and power tools

Ability to create clear and precise plans
How Do You Become an Arborist?
Education and Training
According to our analysis of online job postings, most employers are looking for Arborists with a high school diploma, GED, or equivalent, while some require an associate's degree or bachelor's degree as well. A degree in arboriculture would be the most applicable for a career as an Arborist, although a degree horticulture, urban forestry or botany would also be valuable.
Additionally, some employers require potential candidates to be certified by the International Society of Arboriculture (ISA). Even if an employer does not explicitly state that you must be certified, deciding to become certified on your own can not only increase your own knowledge but also show an employer just how dedicated you are.
Finding a Job
According to the Bureau of Labor Statistics, the demand for Grounds Maintenance Workers, which includes Arborists, is increasing by 6 percent. This is expected to result in the opening of 77,600 new positions between 2014 and 2024. This growth rate can be attributed to a rising need for landscaping services by both individuals and businesses.
Before you start applying to jobs, you'll need to have a great resume on hand. Take a look at JobHero's library of Arborist resume samples for expert-approved ideas.
Once you've got a solid resume under your belt, it's time to conduct an online job search. Before you start sending out applications, however, consider writing a cover letter to accompany your resume. A good cover letter can convey your work ethic, reasons for applying and special areas of expertise to prospective employers. Check out our cover letter samples for guidance.
How Much Do Arborists Get Paid?
Depending on whether they work as independent contractors or as a permanent employee of a company, Arborists can be paid on either an hourly wage basis or an annual wage basis. According to the Bureau of Labor Statistics, Arborists earn a median hourly wage of $16.10, with the lowest-paid earning $10.41 per hour and the highest-paid earning $26.78 per hour.
Top Ten States for Arborist Salary
Arborists in the following ten states make the highest median hourly wage in the U.S.
Arborist Resources
We put together this list of additional resources to help you continue exploring your career as an Arborist.
Professional Groups
International Society of Arboriculture
The ISA was founded in 1924 and now has upwards of 20,000 members. It offers certification, online learning tools, magazines, newsletters, a collection of published research and an annual conference.
Arborists on LinkedIn
Trees
This group of over 15,000 members was created to connect tree professionals as well as people who are simply passionate about trees. Here, you can network with professionals, learn about news and events, discuss all things tree-related and find jobs.
Arboriculture and Landscapes
This group is designed to serve as a discussion platform Arborists, Landscapers and Customers who wish to talk to like-minded people about common issues which arise in the fields of arboriculture and landscaping.
Arborist Books
Dirr's Encyclopedia of Trees and Shrubs
This extensive visual reference guide more than 3,700 species of trees and shrubs, with over 3,500 full-color photographs to accompany each description. Provides advice on tree and shrub identification, care and planting as well.
Certified Arborist Exam Secrets Study Guide
This book is intended to help you successfully prepare for the ISA certification exam. It contains a detailed overview of the exam, as well as an in-depth look at each concept and principle that you'll need to know in order to pass.