A great cover letter is an important tool, allowing you to succinctly introduce yourself to potential employers and summarize why you're a great fit for a particular job. (You'll find everything you need to know to write a great cover letter here.) But no matter how impressive the content of your cover letter may be, if the formatting is a mess, it won't help you at all.
Good formatting is like the frame for a painting: it performs an important function without calling much attention to itself. After all, you want readers to focus on your impressive achievements, not the size of your margins. We've simplified how to format your cover letter with six easy steps. Here's the super short summary:
Margins

:

they matter. Limit them to 1 or 1.5 inches.

Fonts

:

stick to the basics, sized between 10 and 12 point.

Alignment

:

justify left (except for your contact information which you can center or justify right).

Spacing

:

use a single space between sentences, double between paragraphs.

Snail Mail Versus Email

:

unless email is specified, it's up to you. But the decision will impact some details of your letter.
For all the juicy details, read on!
Cover Letter Builder
Let JobHero's Cover Letter Builder help you write your cover letter today!
What Is Formatting, Anyway?
Before we dive into the details, you may be wondering exactly what formatting is. Formatting involves making choices about margins, font type and size, line, paragraph and section spacing, as well as file type (.doc, .pdf, .html, and so on). These seemingly small details speak volumes about you: for example, your letter might claim you have great attention to detail, but if you submit it with irregular spacing between paragraphs, the formatting may contradict your words.
No matter what job you're applying for, neatness, clarity and the ability to communicate clearly are universally valuable skills. While a properly formatted cover letter isn't enough, it's a minimum prerequisite. Before a hiring manager even reads a single word of your cover letter, just a glance at the layout of the page will communicate your strengths or weakness. Is the page a cluttered mess? Is the font strange and hard to read?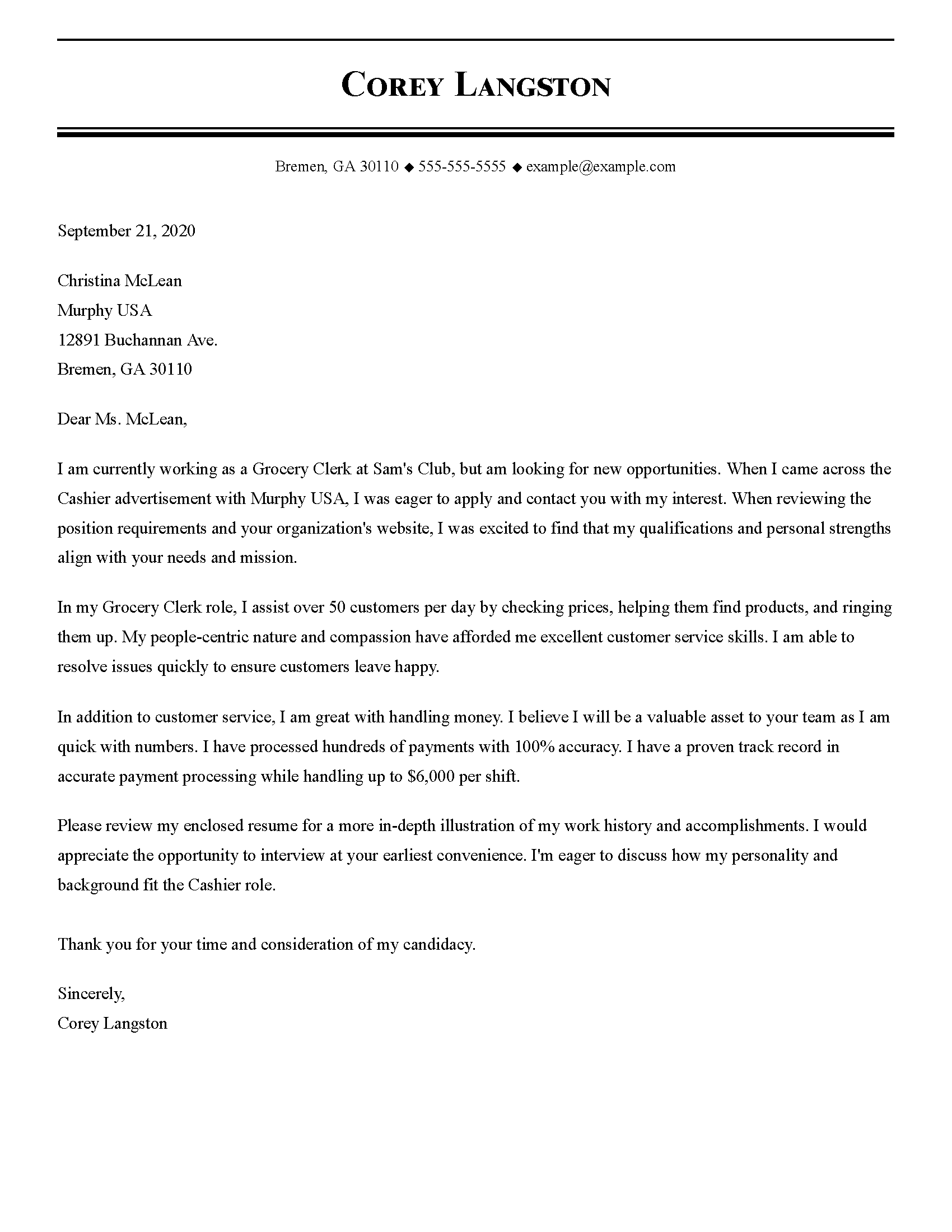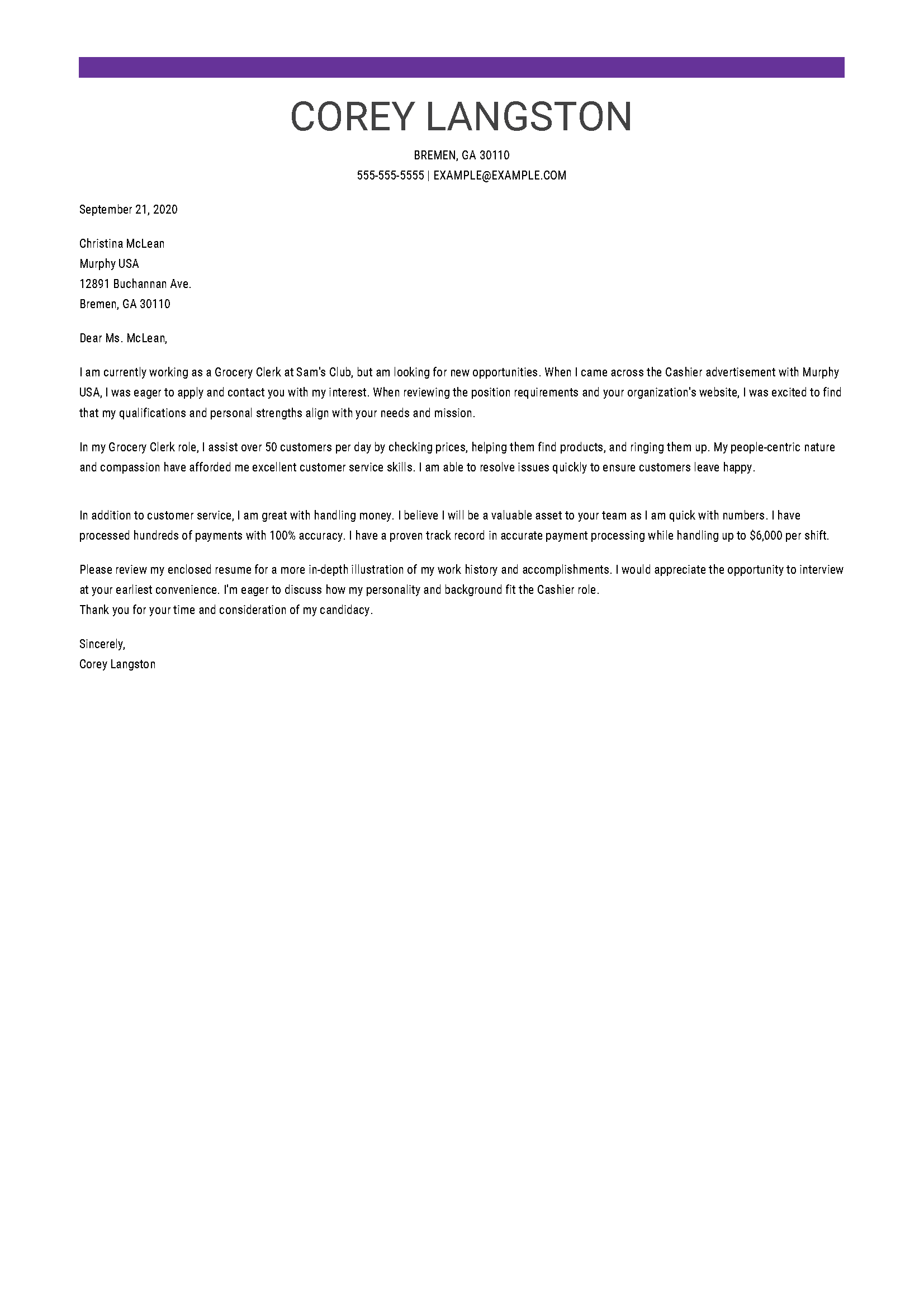 Think of formatting your cover letter almost like getting dressed for a job interview. What you say matters, but your appearance will make a first impression. With that in mind, here's everything you need to know about how to set up margins and line breaks, organize paragraphs, choose fonts and sizes, and format a great looking professional cover letter.
How to Format Your Cover Letter in Six Easy Steps
1
Set your margins to 1 or 1.5 inches.
Margins are the spaces that surround the text in your letter. These might seem like the least important thing in the world--after all, they're just blank spaces. But margins matter. If you set your margins too small, you may come off as trying to cram way too much information into your cover letter. If you set your margins too big, your letter will look like you're trying hard to be strange or poetic. A cover letter is not the appropriate time to show your weird side.
Fortunately, most word processing programs will have a default margin size that will be appropriate for your cover letter. As a basic rule of thumb, your margins should be either one inch or one and a half inches. This means an equal amount of white space should frame your letter on all sides (right, left, top and bottom).
Of course, you want to express your individuality and your cover letter should definitely communicate what makes you special. But when it comes to margins, all you want to do is fit in with the crowd.
2
When it comes to fonts, stick with the basics.
There are literally hundreds of fonts you could choose. But if you're writing a cover letter, the choices are far simpler.
Seven common fonts to consider for your cover letter: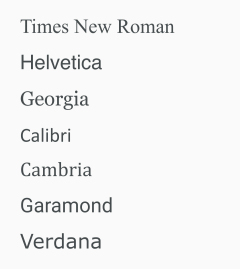 Keep in mind that if you use a less common font, you not only risk alienating a hiring manager it's also possible an applicant tracking system may be unable to read your letter.
Size matters: in most cases, you should use a 12 point font.. Anything larger will look like you're printing a children's book. If you find you're having trouble fitting your letter on one page, you can try reducing the font to 11-point or at the smallest, try 10. But anything smaller than 10 point will look like you're cramming too much information in, or hiding details in the fine print. Whichever font you choose, only use one for your letter.
Do not use bold , underline or italics to emphasize a point you think is important. Let your language speak for itself.
3
Justify alignment of the body of your letter to the left.
Your name and contact info can be left aligned, right-aligned or centered, but make sure all of your paragraphs are left-aligned. Even if you're applying for a job as an art director, anything other than left-aligned is going to come off as unprofessional and too outside the box. Remember, the context: you're applying for employment. At a glance, the look of your cover letter should communicate professionalism, not quirkiness.
4
Keep line spaces consistent.
When it comes to spacing, the rule is clarity and consistency.
Use a single line to separate your opening and closing salutations, as well as each paragraph.
You can use two lines spaces to separate your contact information and the name and address of the person to whom you are writing.
5
Limit the length of your letter.
Your cover letter should never be more than one page; that means about 300 words total. Limit each paragraph to about three or four sentences. Consider using bullet points and numbers to break down complex information into small factoids that are easy to digest at a glance.
Remember, the purpose of your cover letter is to introduce yourself and summarize why you're the right person for a specific job. You're writing a letter, not a novel. Be concise, clear and to the point. At the same time, you don't want to merely repeat what's already in your resume. Visit JobHero's Cover Letter Samples page for examples showing the appropriate length of your cover letter.
6
If you are sending by snail mail, make these changes.
Chances are, you will be submitting your letter via email. But if you're printing your letter on paper, use a clean blank 8.5" x 11" sheet of paper. Begin by listing the following information, either at the top, center or justified on the left or right:
Date
Name
Address
City, State Zip Code
Phone Number
Email Address
After listing your contact information, list the employer's, adhering to the following format:
Name (if you have it)
Title
Company
Address
City, State Zip Code
If you have chosen to format your letter with your contact information on the far right, you may want to place the employer's information on the far left, to create a visually balanced presentation.
If you are emailing your cover letter, save it as a PDF. Make sure to save the PDF with your name and make sure the subject of your email includes your name and the job for which you're applying. For example: "Technology Associate -- Laura Jones.pdf"
If you send your cover letter via email, move your contact information to the bottom below your closing salutation, and delete the date and the employer's contact information.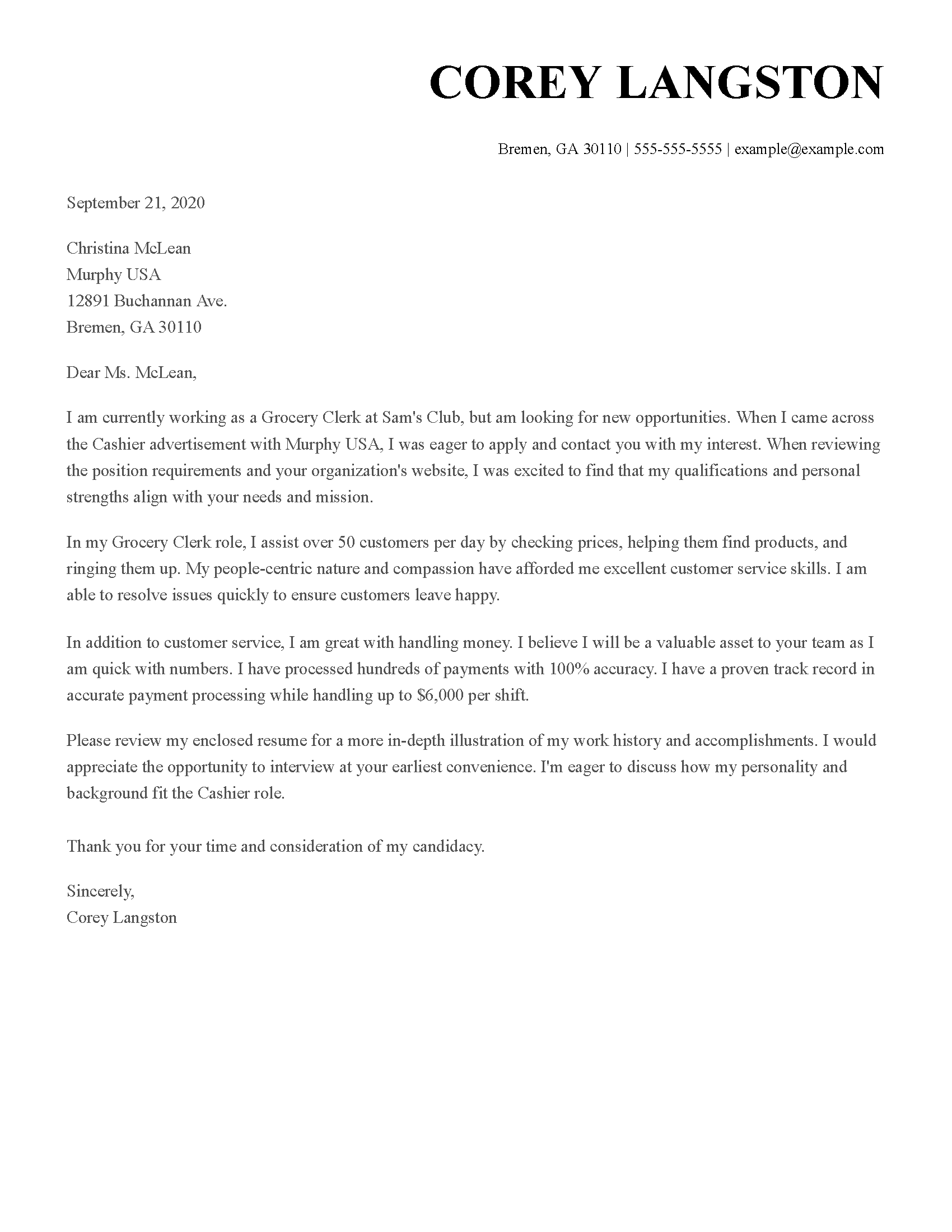 Build a Cover Letter Now