Resume length is an important consideration for all job seekers. Deciding whether the document should span one page or two can be tricky as it involves balancing a thorough presentation of qualifications with the reality of having mere seconds to attract notice from a prospective employer.
Our team of certified resume writers have created a library of resume examples to show you how to craft a strong resume. Study them to learn to write your own.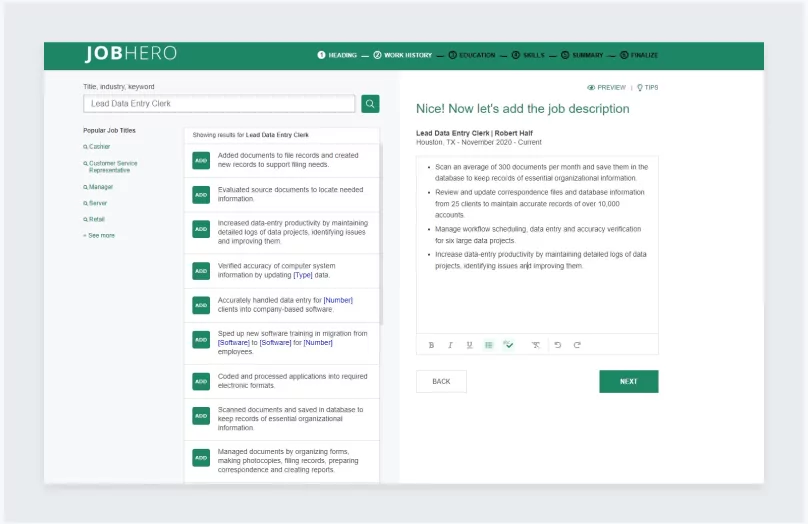 BUILD MY RESUME
Featured in:
"When it comes to resume length, shorter is always better. But it also depends on your level of seniority, the breadth of your experience, and the range and variety of organizations you have worked for," says career coach Roy Cohen, author of The Wall Street Professional's Survival Guide.
HR professional and resume writer Tiffani Murray of Personality on a Page adds "While it is true resumes do not have to be confined to only a page in length, one thing to keep in mind is that the volume of resumes the average recruiter, hiring manager, or headhunter receives is high and their attention spans, due to the nature of their work, are short. If you are going over a page, it should be to include information that is extremely important to pass along to the person sourcing the role."
Without a universal solution to the one- vs. two-page debate, candidates need to evaluate their specific circumstances and arrive at a resume they feel comfortable presenting. Consider these factors to help determine whether your resume should dip onto that second page.
Work Experience
Young people who are relatively new to the workforce may be excited to tell prospective employers everything about themselves. Such a tactic, however, rarely yields the desired result. Don't even bother debating whether or not to go to a second page until you reach a career stage where relevant information literally starts spilling over.
"A recent college graduate with a multi-page resume will come across as either stretching the truth or offering far too much detail," Cohen says. "On the other hand, senior executives with substantial experience and many accomplishments are expected to have a detailed and longer resume."
So what level experience merits a second page? Murray notes, "If you've been out of college three years, your resume is not going to be over a page long. The same goes for most professionals with under eight years of experience, if that time was spent at no more than two companies. You can go to a second page if you did change jobs more frequently to allow room to truly articulate your value at each employer. A two-page resume is also good for illustrating career progression."
Industry Expectations
Keep the audience in mind when crafting your resume. Employers filling engineering and technical jobs expect longer resumes that present a detailed account of certifications and specific knowledge. Likewise, people hiring in academia want to see articles published, classes taught, professional memberships, research performed, and grants received - lists that can take up quite a bit of room and stretch on to two or more pages.
By contrast, some who look at your resume really only want the bare necessities.
"If you are meeting with a hiring manager or recruiter for an informal chat or for networking, you may want to have a one-pager," Murray says. "Think of it as an advertisement. It will be easier to reference during the dialogue without flipping through pages."
Key Information
Remember to consider what factors could make a longer resume work against you. For instance, when someone with many years in the workforce changes fields, they may go from a two-page document down to one page because the amount of relevant information decreases. Make sure you're not burying or distracting from the information most vital to catching a hiring manager's eye.
Resume Presentation
In an effort to stay on one page, candidates sometimes make the mistake of cramming. But a minuscule font and lack of white space creates a reader-unfriendly resume that hiring managers likely will bypass based solely on appearance. A two-page document truly might be a better option.
However, a few tricks may resolve the situation.
Play with font type and size (but stay within the 10-12 point range for text)
See if headings can be reduced
Slightly reduce margins
Change bold words to italics when appropriate to take up less room
Test out a resume template that allows more space in the section needed
Got it down to almost one page? A sentence or two dribbled onto a second page looks messy, so edit further.
Still dying to say more? In your cover letter, encourage the reader to check out your LinkedIn profile. As Cohen notes, "LinkedIn has no standards for length and even encourages expanded content. In fact, the more detail you provide, the more you convey expertise and authority."
Remember, the resume itself should focus on your key selling points for the position at hand and make readers want to learn more. You'll have plenty of time to get into specifics when called in for an interview!