What is a Recruiting Coordinator?
A Recruiting Coordinator is a Human Resources Specialist who focuses on facilitating the flow of candidates through the recruitment process. Their job begins when applicants first respond to a job opening and ends when the position is filled. They work closely with recruiters, external headhunters and sourcers to guide the best candidates through the interview and hiring process.
The role of Recruiting Coordinator is a skills-based position within a company's Human Resources department. Most employers seek candidates with a bachelor's degree that contains coursework related to Human Resources. While most of their day is spent in the corporate office of their employer, part of a Recruiting Coordinator's job may be traveling to represent their employer at job fairs. The National Bureau of Labor Statistics states that demand for Human Resources Specialists, which includes Recruiting Coordinators, is set to rise 5 percent through 2024.
Need a strong cover letter can help set you apart from the completion. Our professional cover letter builder shows you how.
Recruiting Coordinator Duties and Responsibilities
The Recruiting Coordinator's primary objective is to act as the liaison between a company and job candidates. In order to achieve that objective, they have several duties and responsibilities. We researched several job descriptions to come up with the following list of main Recruiting Coordinator duties.
Schedule Interviews with Candidates
A fair amount of a Recruiting Coordinator's day is spent in email or phone correspondence with job candidates. This is a responsibility that requires excellent written and verbal communication skills. In many ways, the Recruiting Coordinator is the "voice" of an organization's employer brand.
Greet and Orientate Interviewees
This is a duty that usually requires a high amount of professionalism. It is the Recruiting Coordinator's responsibility to great interviewees in a way that matches the vibe of the company culture. They must have good interpersonal skills to adapt their employer's brand into their communication style.
Arrange Travel for Visiting Candidates
Recruiting Coordinators are responsible for ensuring traveling candidates have a smooth trip. This is an important duty, as a candidate is typically highly desirable if a company is willing to pay for their travel.
Track Candidates Using Recruiting Software
This is the technical aspect of the Recruiting Coordinator's job. It involves using Applicant Tracking Software to keep track of where each candidate is in the recruitment process.
Other Recruiting Activities
Flexibility is key for Recruiting Coordinators. In addition to their own duties, they may have to perform other duties within the recruitment process. This could involve things like sourcing candidates and conducting initial interviews.
Recruiting Coordinator Skills
The role of Recruiting Coordinator is one that revolves around communication skills. Most of their day is spent either communicating with clients or communicating with decision makers in other departments in regards to their open positions. Recruiting Coordinators must have a knack for dressing and behaving professionally, as they are the first person a candidate meets. If you' rethinking about becoming a Recruiting Coordinator, then you'll want to work on the following core and advanced skills.
Core skills We analyzed several Recruiting Coordinator job openings to compile the following list of core skills you'll need to get yourself an interview.
Organizational skills
Written and verbal communication skills
Ability to dress and behave professionally
Basic Proficiency with computers
Ability to thrive in a collaborative environment
Ability to multitask
Clerical skills
Advanced Skills If you really want to make an impression when applying to be a Recruiting Coordinator, work on the following advanced skills.
Proficiency in Customer Relationship Management (CRM) software
Proficiency in Applicant Tracking Systems (ATS)
Public speaking skills
Tools of the Trade In order for a Recruiting Coordinator to do their job, they rely on the following tools.
Customer Relationship Management software, such as Salesforce
Applicant Tracking Software, such as AST Staff Matrix
Database User Interface software, such as Microsoft Access
Spreadsheet software, such as Microsoft Excel
Enterprise resource planning software, such as Microsoft Dynamics
GO PRO

Choose from fully customizable

GET PAST THE BOTS

Ensure compatibility with Applicant Tracking Systems

LOOK YOUR BEST

Save time with sleek and stylish professional design templates
Build Your Resume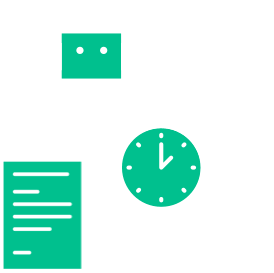 Recruiting Coordinator Salary
According to the Bureau of Labor Statistics, the national median salary for Human Resource Specialists, which includes Recruiting Coordinators, is $58,400. Those in the 90th percentile make more than $99,900, while those in the 10th percentile make less than $34,100. The three states with the highest median salaries for Recruiting Coordinators are New Jersey at $68,200; Maryland at $68,000; and California at $67,500.
Recruiting Coordinator Resources
We put together this list of additional resources to help you learn more about the role of Recruiting Coordinator.
On the Web
TalentHQ
Talent Headquarters is the blog of Jason Buss, who is one of the top influencers in the Recruiting industry. It features regular posts on recruiting trends, and also features regional and state Talent HQ groups that visitors can join.
Recruitingdaily.com
Recruiting Daily is a top industry blog that posts at least one daily article on latest trends and hot topics in the Recruiting industry. They also have a podcast that has over 200 episodes.
Industry Groups
National Human Resources Association
The National Human Resources Association is a professional organization filled with all types of Human Resources professionals. There are hundreds of Recruiting Coordinators amongst their membership base.
Society for Human Resource Management
With over 280,000 members in over 160 countries, the SHRM is one of the largest Human Resources organizations in existence.
Recruiting Coordinator Resume Help
Explore these related job titles from our database of hundreds of thousands of expert-approved resume samples: