What is a Produce Clerk?
Produce Clerks are in charge of managing the ordering and display of fruits and vegetables at grocery stores. Under the supervision of the department or store manager, these employees inspect produce to make sure it is fresh and has no defects, and arrange it in a display case. Additionally, Produce Clerks provide customer service by answering the grocery store's customers' questions, checking stock and providing recommendations about the taste and smell of the items, and advice for recipes.
A Produce Clerk's position is typically entry-level and training is typically on the job. Produce Clerks may work in small grocery stores, specialty stores or large supermarkets and big-box stores, such as Target and Costco. The Bureau of Labor and Statistics expects a 5 percent increase in new jobs for Stock Clerks and Order Fillers, a category that includes Produce Clerks, with 68,900 annual openings becoming available through the creation of new jobs and turnover in existing ones.
Want to add value to your job application? Using a professional cover letter builder can help you stand out from the competition. Use ours to build a stand out letter that will get you noticed.
Produce Clerk Duties and Responsibilities
In order to make sure that produce is ready and able to be sold, Produce Clerks must make sure the right items are displayed in their respective locations and priced correctly. To accomplish this, they fulfill various tasks; the most typical duties include:
Stocking Produce
Produce Clerks are responsible for stocking produce by maintaining inventory control, which requires unloading trucks, receiving and unpacking boxes and crates, code dating, price marking, stocking and restocking shelves, refrigerated sections and displays with fresh produce. Produce Clerks must remove expired, damaged or spoiled produce and ensure that sufficient inventory is out at all times.
Providing Customer Service
Excellent customer service requires having knowledge of different types of produce, and distinguishing between the look, taste, price and use. Greeting clients, providing directions within the store and answering questions is a big responsibility of a Produce Clerk. Checking inventory lists or stockrooms for products not on display is another common duty. Offering knowledgeable advice to increase sales is what often distinguishes a Produce Clerk from the competition.
Handling Food
Following the store's rules for proper produce handling, while adhering to local, state and federal health regulations, is essential for a Produce Clerk. They must be able to set up and manage displays produce tasting displays or distribute produce samples.
Maintaining Equipment
Using equipment and accessories, such as knives, slicers, scales and irrigation to prepare, display and keep the food fresh and properly price-marked is typical for a Produce Clerk. This employee must be able to troubleshoot or perform light maintenance on any broken piece of equipment, or notify management of the problem in a prompt fashion.
Providing General Help
As a store employee, a Produce Clerk may be required to provide general help when necessary, such as sweeping the floors, restocking bags or running the cash register. They may also be asked to fill in for a cashier or another store employee if they are on break of unable to come to work.
Produce Clerk Skills
Being a Produce Clerk requires both knowledge in produce, as well as a customer-friendly attitude. These individuals must be able to multitask in order to make sure the produce aisles are stocked with fresh merchandize, while simultaneously handling customer queries. The type of person right for this role is outgoing, friendly, able to lift heavy items, stand for long periods of time and able to work as part of a team.
Core skills Due to the fact that most store managers offer on-the-job training in many of the job listings we found, there are some basic skills that were required of Produce Clerks, such as
Knowledge of mathematics in order to keep track of inventory and accurately mark prices and calculate discounts
Sales skills in order to recommend products depending on customer needs
Food handling and preparation skills
Communication skills, which include active listening and speaking in a professional way
Advanced skills Although not every job listing required these skills, they may be advantageous in setting yourself apart from others in a job interview.
Creativity in the design of produce displays
Knowledge of recipes using the store's produce as ingredients
Ability to use computer systems to place orders and maintain inventory
GO PRO

Choose from fully customizable

GET PAST THE BOTS

Ensure compatibility with Applicant Tracking Systems

LOOK YOUR BEST

Save time with sleek and stylish professional design templates
Build Your Resume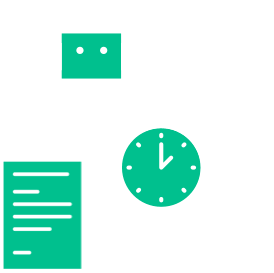 Produce Clerk Salary
On average, Stock Clerks and Order Fillers, a category that includes Produce Clerks, earn an hourly rate of $11.17. The highest-paid 10 percent make $18.68 per hour, while the lowest-paid 10 percent earn $8.52 hourly. In Washington, District of Columbia and Alaska, Produce Clerks make the highest hourly rates – $13.91, $13.83, and $13.73 respectfully.
Produce Clerk Resources
Learn more about working as a Produce Clerk by utilizing the online and print resources listed below.
On the Web
ThePacker.com
The fresh fruit and vegetable industry's leading source for news, information and analysis.
The Produce Blog
A blog with articles, photos and videos helpful to sell produce.
Safe Food Handling Fact Sheets
The United States Department of Agriculture's (USDA) guidelines for handling food.
On Twitter
@NationalGrocers
National Grocers Association, which represents the independent and communityfocused retail & wholesale grocery industry.
Produce Clerk Resume Help
Explore these related job titles from our database of hundreds of thousands of expert-approved resume samples: